Yankees' Mark Teixeira won't play in Grapefruit League games until March
Mark Teixeira will not play in his first spring training game until early March after having season-ending wrist surgery last summer.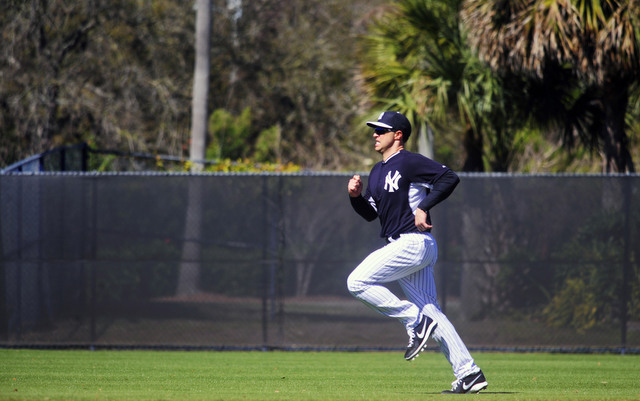 MORE: Spring Training | NYY team preview | NYY likes, dislikes | NYY over/unders
A wrist injury that eventually required season-ending surgery limited Mark Teixeira to only 15 games last year, and so far this spring he is slowly working his way back. He is hitting off a tee and against coaches in batting practice, but facing live pitchers and playing in games is still a ways off.
"Probably a week to 10 days," said Teixeira to George A. King III of the New York Post when asked when he would ramp up his batting practice work. "I am following doctors' orders. The tape feels good and I tape myself."
King notes that Teixeira now tapes both wrists (not just the surgically repaired right wrist) during his batting practice sessions, something he never did before.
Teixeira, 33, is not expected to play in a Grapefruit League game until early March. He said he and the team have mapped out a plan that allows him to get the 50 or so at-bats he will need to be ready in time for opening day.
In those 15 games last year, Teixeira hit only .151 with three home runs. He hit .251/.332/.475 (115 OPS+) with 24 homers in 123 games in 2012 while dealing with a calf issue.
I've only been in the BBWAA three years, but here's what my ballot would've looked like this...

In the last two votes, Clemens has gained nearly 17 percent in Hall of Fame voting

The results of the BBWAA Hall of Fame vote are revealed Wednesday, Jan. 24
Does the Jackson signing mean the Giants are out on Lorenzo Cain?

Acuna edged out Shohei Ohtani and Vladimir Guerrero Jr.

There's no reason to run over the cases for and against Bonds, so let's have fun instead