Yankees now looking closely at Drew with tax no longer major issue
New York has spent $470 million this winter, but money is little object when it comes to plucking players off Boston's roster.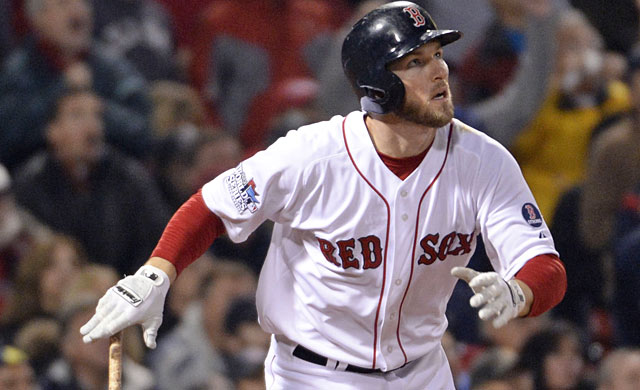 The Yankees are now considering free-agent shortstop Stephen Drew, which could potentially put another dent in the rival Red Sox's up-the-middle alignment only weeks after the Yankees signed Boston star center fielder Jacoby Ellsbury.
There has been a thought the Yankees might be willing to keep spending after landing star Japanese free agent pitcher Masahiro Tanaka. But while there doesn't seem to be a push for another top starter or reliever, Drew is one free agent the Yankees are at least weighing, according to people familiar with their thinking.
The Yankees have spent $470 million already this winter, but there doesn't appear to be a precise limit now that the luxury tax threshhold has already been surpassed -- and that's very likely especially true when it comes to Red Sox players. Although the Yankees apparently aren't quite a bottomless pit of cash, a possible run at Drew "depends on the price" according to a person familiar with their thinking.
The Yankees' biggest remaining issue is an uncertain infield. While their iconic shortstop Derek Jeter will be the shortstop provided he's healthy, second base and third base aren't completely settled. Drew could possibly be used at second base, if signed, with an eye on moving to shortstop if Jeter doesn't prove healthy. The Yankees have previously signed Brian Roberts, who has been penciled in at second base, plus Kelly Johnson, who should get signigicant time at third base.Eduardo Nunezis a holdover.
The Red Sox are believed to have signaled a willingness to do a multiyear deal with Drew, although obviously he is still wondering if there's a better deal for him out there. The Red Sox also have top shortstop prospects in Xander Bogaerts, who'll very likely be their shortstop if Drew signs elsewhere, and slick-fielding youngster Deven Marrero.
The Yankees have a bigger long-term issue at shortstop assuming Jeter doesn't have too many more years left.
The Yankees have had talks about Drew, so this isn't completely out of the blue. The Tanaka signing, which pushed them over the $189-million luxury tax threshhold, has for the most part removed the tax as a major consideration in possible signings for them. There also is said to be a family connection between the Drew baseball family and the Steinbrenner family, although none of the three Drew brothers has played for the Yankees yet.
The Mets have shown some interest in Drew, and their attempt to sign reliever Grant Balfour, offering at least $12 million over two years, suggests they have at least some money left after earlier signing Curtis Granderson, Bartolo Colon and Chris Young. Some other teams could show interest in Drew, as well, possibly including the Blue Jays and A's, who could both also consider Drew for second base.
Drew hit .253 with 13 homers, 67 RBI and a .777 OPS in helping Boston in its World Series championship season.
The Nats will host the All-Star Game in 2018

The Orioles are looking to trade Machado heading into his walk year

The Cardinals have been linked for a while to the Baltimore star
Gallardo spent the first eight years of his career in Milwaukee

MLB revenues are at a record high right now, but teams aren't spending it on players

Chicago added Tyler Chatwood earlier this offseason but might not be done adding to the ro...