Yankees owner calls A-Rod an 'asset,' doesn't rule him out for 2015
Yankees owner Hal Steinbrenner discussed Alex Rodriguez with reporters on Wednesday for the first time since his 162-game suspension was handed down. He did not rule out his return to the team.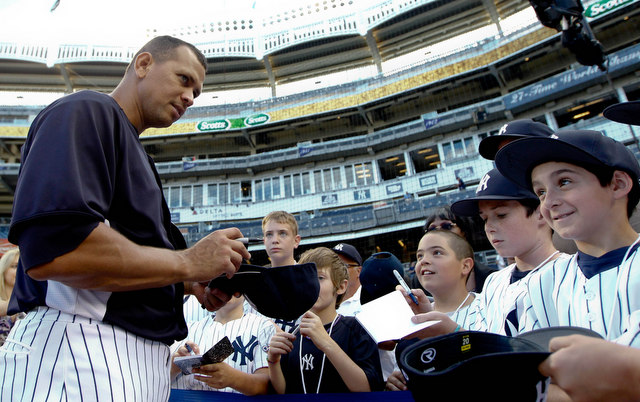 MORE: FA tracker: position players | FA tracker: pitchers
It has been four days since Alex Rodriguez's record 162-game suspension was announced, and, for the most part, things have calmed down. Relatively speaking, of course. A-Rod is still suing everyone in sight and scorching every last bit of Earth. But at least there aren't non-stop reports about it anymore.
At the owners' meetings in Arizona on Wednesday, Yankees' owner Hal Steinbrenner discussed Rodriguez for the first time since the suspension was handed down. Here's what he said, courtesy of Ken Davidoff of the New York Post:
"He's a great player," Steinbrenner said in the Yankees' managing general partner's first public comments since independent arbitrator Fredric Horowitz reduced Rodriguez's suspension from 211 games to 162 games. "I have not thought about 2015, nor am I going to right now. My focus has to be right now. But when he's on and when he's healthy, he's obviously an asset. We'll see what happens."

...

"Those of you that know me, I'm pretty objective in my thinking. This is business. I'm just focusing on the team, a player. Is the player an asset to the club or not? That's about as far as I look. I don't get personal."
That's not a "yeah we'll welcome him back after the suspension," but it's not a "he'll never play for us again" either. Keep in mind that Steinbrenner has no reason to come out and announce their future plans for Rodriguez. Maybe they will release him following the suspension, but there's no reason to say that now.
Personally, I don't think A-Rod will ever play another MLB game. I think the Yankees will cut him loose following the suspension and eat the $61 million left on his contract just to be rid of the headache. No other team will bother giving him a phone call after that. Maybe if it was in-his-prime A-Rod, but the 38 (soon to be 39) year old version isn't worth the distraction.