Yankees place Derek Jeter on 15-day DL with right calf strain
For the third time this season, the Yankees have placed Derek Jeter on the 15-day disabled list with a leg injury.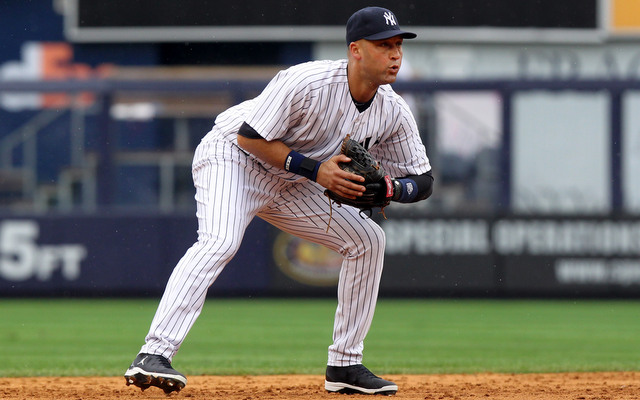 More MLB: Scoreboard | Standings | Probable Pitchers | Sortable Stats | Odds
The nightmare season for Derek Jeter continues. The Yankees placed their captain on the 15-day DL for a third time on Monday, this time with a Grade 1 right calf strain. He has previously missed time with a fractured left ankle and a strained right quad.
"It's been terrible," Jeter said following the MRI on Sunday. "It's been like a nightmare. The whole season has been a nightmare. I really don't know what to tell you. I wish that wasn't the case and we were sitting here talking about something besides another injury. We'll see what happens. I have no idea."
Jeter, 39, has appeared in only five games this year due to the various injuries. He has gone 4 for 19 (.211) with a home run, two walks and no strikeouts. The Yankees told him to scale back his effort level while running on routine plays in an effort to avoid a setback, but obviously it did not work.
By placing Jeter on the DL, the Yankees cleared a roster spot for Alex Rodriguez. He was activated off the 60-day DL and is in Monday's lineup even though MLB suspended him for the remainder of 2013 and all of 2014. A-Rod plans to appeal.
Brent Lillibridge was designated for assignment and David Adams was recalled from Triple-A Scranton as well.
Does the Jackson signing mean the Giants are out on Lorenzo Cain?

Acuna edged out Shohei Ohtani and Vladimir Guerrero Jr.

There's no reason to run over the cases for and against Bonds, so let's have fun instead
The coveted right-hander would certainly be a fit in Milwaukee

We rate the best mustaches from random baseball cards because, why not?

Colon wants to break a Dennis Martinez record