Yankees priciest road ticket; Cardinals, Braves among bargains
What happens to ticket prices based on the visiting team? Here's some research on that very subject.
MORE: Spring Training | Scoreboard | Team previews
Teams these days employ a lot of "dynamic pricing" when it comes to tickets, and one of the primary variables that goes into determining a particular price point is the opposition. Is it a quality team with healthy nationwide "diasporas" of fans? Then the rates will likely go up. Is it the foul-smelling Marlins who are in town? Get 'em on the cheap. 
Beyond those general assumptions, Sreekar Jasthi of NerdWallet undertook a study of the secondary ticket market to determine which visiting teams lead to the biggest increases (or decreases) in prices. Here are the results, in handsome graphical format ...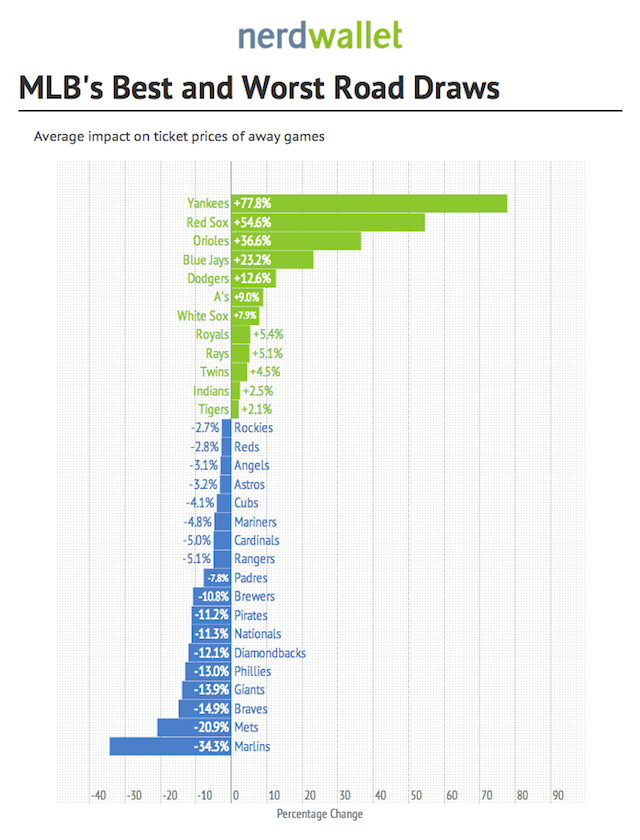 No surprise to see the Yankees atop the list, and, likewise, no surprise to see the Marlins near the bottom. In terms of bargains, you can see some pretty capable baseball played at discounted prices when the Cardinals, Rangers and Braves are in town. 
Elsewhere, those poor, poor Mets ...