Yankees re-sign manager Joe Girardi to four-year contract
Joe Girardi will return as Yankees manager. He has signed a new four-year contract with the team.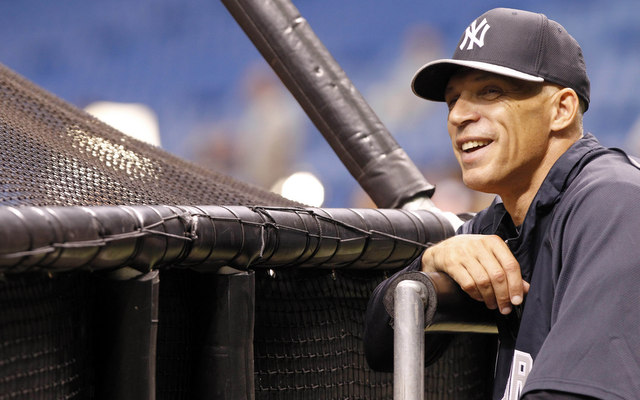 The Yankees have re-signed manager Joe Girardi to a four-year contract that runs through 2017, the team announced. Jon Heyman of CBSSports.com reports the deal is worth $16 million with bonuses, making him the second-highest paid manager behind Mike Scioscia of the Angels.
"We decided this is where we wanted to come back," said Girardi on a conference call. "There were some things I wanted to make sure -- in my home [with my family] -- that people were okay with what I want doing. My kids love what I do. [My wife] is still extremely supportive and continues to love what I do. I had to make sure everyone was still on board."
Girardi, 48, has been manager of the Yankees since the 2008 season. They've gone 564-408 (.580) during his six years at the helm, including 85-77 (.525) during an injury-ravaged 2013 season. New York has won three division titles as well as the 2009 World Series during his tenure.
The Yankees made is very clear they hoped to retain Girardi in recent weeks. GM Brian Cashman said the team would give their manager "a real good reason to stay" during his annual end-of-season press conference. Girardi made it clear he hoped to return as well.
"It was something I definitely thought about," added Girardi when asked about the state of the franchise going forward. "What will the New York Yankees look like in 2014? I don't think you can necessarily expect to have everything you want every year ... To me, I want to be a part of this. I want to get us back on track. That is important to me."
Girardi's contract expired on Oct. 31 and several teams, most notably his hometown Cubs, were expected to pursue him. The Nationals were rumored to have interest as well. The Yankees did not allow Girardi to negotiate with other clubs before his contract expired for obvious reasons.
With that out of the way, the Yankees figure to move onto other important matters like re-signing soon-to-be free agent Robinson Cano and building a pitching staff around CC Sabathia and Ivan Nova.
Does the Jackson signing mean the Giants are out on Lorenzo Cain?

Acuna edged out Shohei Ohtani and Vladimir Guerrero Jr.

There's no reason to run over the cases for and against Bonds, so let's have fun instead
The coveted right-hander would certainly be a fit in Milwaukee

We rate the best mustaches from random baseball cards because, why not?

Colon wants to break a Dennis Martinez record