Yankees record nine consecutive hits against David Price
The Yankees strung together nine consecutive base hits to open the third inning against David Price on Wednesday night.
Former Rays and current Tigers left-hander David Price is a legitimate Cy Young contender this year. He went into Wednesday night's start with a sparking 3.00 ERA and an MLB-leading 221 strikeouts in 201 1/3 innings.
Price's Cy Young candidacy took a bit of a hit against the Yankees on Wednesday, however (GameTracker). New York opened the third inning with nine (!) consecutive hits against the southpaw, scoring six runs and loading the bases with no outs in the process.
Don't believe me? Here's the play-by-play, and the play-by-play never lies: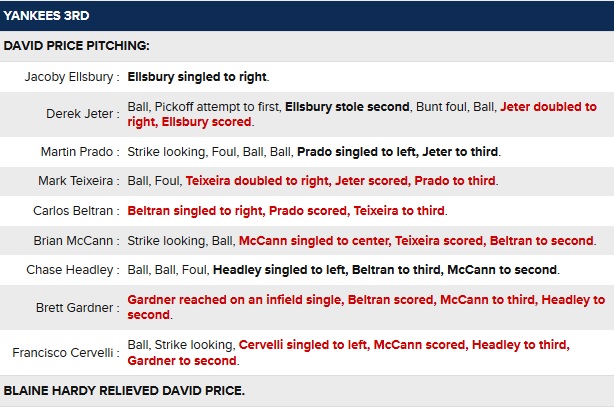 According to the YES Network broadcast, the record for most consecutive hits is one inning is 11 by the 2010 Rockies. Here are some other fun facts:
David Price hadn't allowed 9 hits in any of his last 14 starts - and then allowed 9 hits in a row? How'd that happen?

— Jayson Stark (@jaysonst) August 28, 2014
The Yankees are 8-for-8 with RISP in THIS INNING.

— Mark Feinsand (@FeinsandNYDN) August 28, 2014
approximate odds to record 9 straight hits against david price (considering .237 BAA coming in), as yanks did: 1 in 43,478

— Jon Heyman (@JonHeymanCBS) August 28, 2014
David Price went from a 2.97 ERA to a 3.32 ERA that inning.

— Mike Axisa (@mikeaxisa) August 28, 2014
The nine straight hits were followed with two sacrifice flies and a ground ball, so the total damage was eight runs in the inning. That's a good way to smash an ERA.
The Nats will host the All-Star Game in 2018

The Orioles are looking to trade Machado heading into his walk year

The Cardinals have been linked for a while to the Baltimore star
Gallardo spent the first eight years of his career in Milwaukee

MLB revenues are at a record high right now, but teams aren't spending it on players

Chicago added Tyler Chatwood earlier this offseason but might not be done adding to the ro...