Yankees release Juan Rivera; injury-depleted bench comes into focus
The Yankees released outfielder/first baseman Juan Rivera on Thursday afternoon as their bench begins to take shape in the wake of an injury-filled spring training.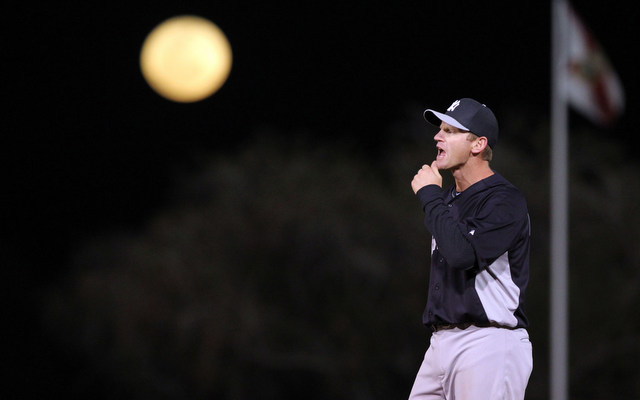 The Yankees lost Mark Teixeira, Curtis Granderson and Derek Jeter to injuries/setbacks in recent weeks, all on top of Alex Rodriguez's offseason hip surgery. They've had to scramble for spare parts to fill in, and it wasn't until Thursday afternoon that their bench started to take shape.
First, outfielder/first baseman Juan Rivera was released. He had to be added to the 40-man roster by Thursday, a move the team decided against. Rivera confirmed the release to reporters and also said the Yankees told him they were planning to use Lyle Overbay at first base and Ben Francisco as the fourth outfielder.
Second, GM Brian Cashman indicated Brennan Boesch was also likely to make the club as a bench player. Utility man Ronnier Mustelier had been in the running for a roster spot, but manager Joe Girardi ruled him out after he suffered a bone bruise in his knee this week. The 28-year-old Cuban defector can play third base in addition to the corner outfield positions, and he's done nothing but hit in the minors since signing in 2011. Alas, it was not meant to be.
Third, Jeter's setback forces Eduardo Nunez to play shortstop on an everyday basis. That leaves the utility infielder's job open for Jayson Nix, who filled the same role with the team for much of last year. Although none of this is official -- players still need to be added to the 40-man roster, etc. -- the Yankees appear likely to open the season with Nix, Boesch and Francisco on the bench along with the backup catcher.
So, after all that plus the recent Vernon Wells pickup, the Yankees are looking at these lineups come the start of the season:
vs. Right-handed pitchers
LF Wells
1B Overbay
SS Nunez
vs. Left-handed pitchers
CF Gardner or RF Ichiro
LF Wells
2B Cano
1B Youkilis
DH Francisco
SS Nunez
3B Nix
CF Gardner or RF Ichiro
C Stewart/Cervelli
None of that is set in stone, obviously, but Girardi has hinted at batting the three lefties atop the order against righties and using Nix at third base against lefties. Of the players expected to make the team following Thursday's news, four players -- Overbay, Francisco, Wells and Boesch -- opened spring training with different clubs. Yikes.
The lefty starter is coming off a terrible season

After acquiring Ian Kinsler and Zack Cozart in recent days, the Angels are trending upward

Cozart's coming off a big season as the Reds' shortstop
The veteran slugger spent the last eight seasons with Cleveland

The Padres may be poised for an active winter

Yes, Bryce Harper is going to make a lot of money next winter