Yankees' Rodriguez (quad) heads for MRI, Monday return less likely
Alex Rodriguez had been hoping to return to play for the Yankees Monday, but he is complaining of quad pain now.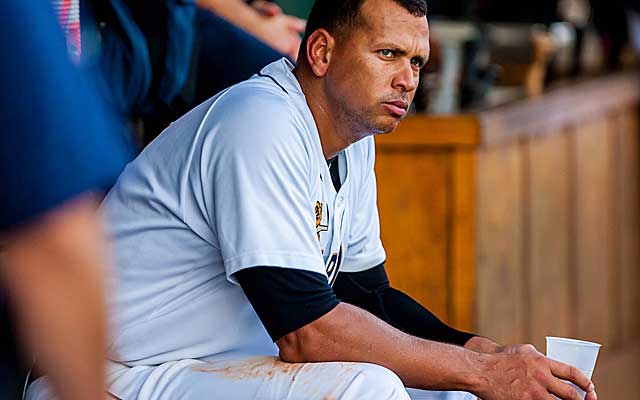 Yankees third baseman Alex Rodriguez is headed to New York for an MRI on his injured left quad, people close to the situation say, further putting in jeopardy his scheduled return Monday in Arlington, Texas.
Rodriguez, in jeopardy of a suspension from MLB within weeks as one of at least 15 players linked to Biogenesis, will be examined at Columbia-Presbyterian in New York, Joel Sherman of the New York Post reported.
If something is found on the MRI, A-Rod will return to the disabled list. If not, he still may not feel he is ready to play Monday.
Rodriguez, who had a second extensive hip surgery, is complaining of quad pain, so the chances for him to be activated Monday appear slim. Originally scheduled to play third base Saturday, he was the DH after first mentioning the quad issue.
Rodriguez's allotted 20-day rehab stay is up Monday, so he needs to be activated by Monday to avoid a return to the inactive list. Players can't simply re-start rehab games but must wait at least another five days before doing so.
The Yankees have been desperate for offensive help, particularly at third base.
Our annual look back at the preseason predictions and rankings shows lots of good and bad

Keep it locked right here for everything you need to know about the world of baseball Tues...

There have been several racially charged incidents at Fenway Park this year
Washington's right fielders have sputtered offensively since Harper went down

The good news? Wichita still has a chance to win the series Tuesday night

The 2017 season is going to shatter the all-time collective home run record