Yankees see Matt Harvey, the one reason they should envy the Mets
For all their success, the Yankees have struggled to develop a homegrown top-of-the-rotation starting pitcher. Someone like Matt Harvey.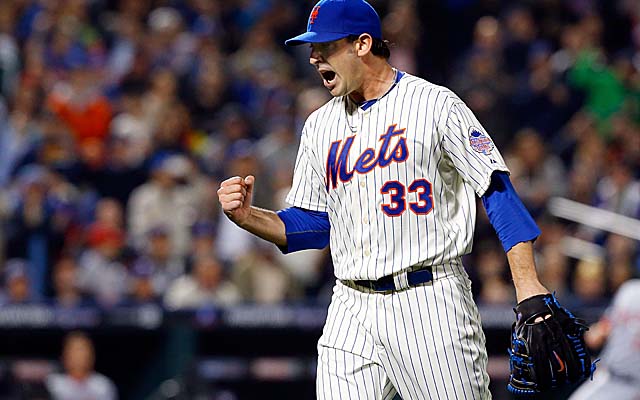 The Yankees had the 32nd pick in the 2010 draft, giving them a perfectly legitimate excuse for missing out on Matt Harvey, who was picked seventh.
But is that enough of an explanation for having so much trouble finding a Harvey of their own?
They've tried. They've promised. They haven't delivered.
This week's Subway Series provides another reminder of how the two New York teams have been existing in the same city but on different planets. But Harvey's start for the Mets on Tuesday night was a reminder of how the Mets may be getting one thing right that the Yankees keep getting wrong.
Are they ever going to develop a top-of-the-rotation starting pitcher?
The Mets certainly seem to have one in Harvey, whose ERA dropped to 1.85 when he allowed one run in eight impressive innings in a 2-1 victory against the Yankees. He has flirted with no-hitters, nearly threw a perfect game and already has two double-digit strikeout games. Tuesday, he was matched up against Hiroki Kuroda, who has been the Yankees' top starter, and he kept the game close enough to set up a ninth-inning comeback win over Mariano Rivera.
The Yankees signed Kuroda as a free agent, of course. They signed CC Sabathia as a free agent, too.
They have the money to do that, but they've also had the need, because they haven't been able to come up with a homegrown ace of their own.
They've tried. They pushed Phil Hughes and Ian Kennedy into the rotation to begin the 2008 season, when Hughes was only 21 and Kennedy was 23. But they gave up on Kennedy before trading him to the Diamondbacks, and they have watched Hughes alternate between very good (as he was Monday against the Mets) and very bad (as when he didn't make it out of the first inning a couple of weeks back against the Mariners).
They promised. Remember the spring when Manny Banuelos was the talk of Florida, and when the Yankees had almost as high hopes for Dellin Betances? Banuelos struggled with command and then needed Tommy John surgery, and the Yankees are now trying Betances in the bullpen.
Oh, and don't forget Joba Chamberlain. The Yankees saw him as a possible top-of-the-rotation starter, too, until they decided that he wasn't a starter at all.
Now some rival scouts are touting Jose Ramirez, a 23-year-old right-hander currently pitching at Double-A Trenton. Perhaps he could be the one, but recent Yankees history offers little hope.
In fact, in the 27 years since Ron Guidry started on opening day in 1986, the Yankees have used a homegrown starting pitcher on opening day only twice (Andy Pettitte in 1998 and Chien-Ming Wang in 2008). In the entire championship run that began with the 1996 World Series, Pettitte is the lone homegrown starting pitcher who got to the big leagues with the Yankees and stuck for any length of time.
They've kept winning, mostly because they have been able to buy enough front-line pitching. The winning has made it harder to draft pitchers like Harvey (the Yankees haven't had one of the top 12 picks in the draft since they took Derek Jeter sixth overall in 1992).
"It doesn't mean you can't run into someone later, but it's harder to do," Yankees general manager Brian Cashman said. "I'm not frustrated by it, as long as we're able to win 95-100 games every year."
But as more teams are able to sign their own top starters (Felix Hernandez and Justin Verlander are two notable examples), and as Yankees ownership demands that the payroll not grow too much (and even decline somewhat), finding high-end, low-cost starting pitching becomes more important.
Cashman understands that, and it was one reason he made last year's Jesus Montero-Michael Pineda trade with the Mariners. Pineda had a bad shoulder and has yet to throw his first pitch for the Yankees, but he's now throwing again and could join the Yankees later this season.
Meanwhile, the Mets have Harvey, who grew up in Connecticut as a Yankees fan but never had a chance at being drafted by the Yanks. The Mets also have Zack Wheeler, who was acquired in the Carlos Beltran trade but could still turn into a home-developed top-of-the-rotation starter.
Over the past two decades, the Mets have had many reasons to envy the Yankees, and the Yankees have had few to envy the Mets.
Tuesday, as they watch Harvey, perhaps they will.
The Red Sox and Cardinals are expected to make trade offers next

The free agent first baseman may be a fit in St. Louis

The front office changes in Atlanta continue
The Marlins are more likely than you think on our list

Judge finished a distant second in the balloting and he paid respect to the winner

Stanton just won the 2017 NL MVP award but could wind up being dealt this offseason