Yankees taking it easy on Pineda despite early season dominance
Michael Pineda has made three excellent starts this year, and the Yankees are being extra careful with him following shoulder surgery.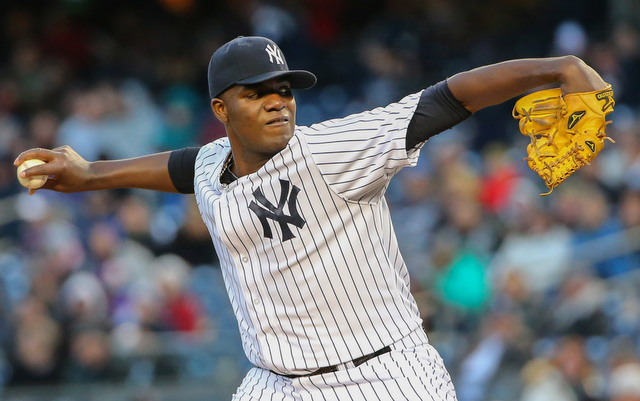 More MLB: Power Rankings | Expert Picks | Latest news & notes | Fantasy news
Over the last two seasons, it looked like there would be no winners in the Michael Pineda-Jesus Montero trade. Montero had a decent rookie season in 2012 but hasn't hit a lick since. That was nothing compared to Pineda, who blew out his shoulder and needed surgery a few weeks after the swap.
Pineda, now 25, was an All-Star as a rookie in 2011, throwing 171 innings with a 3.74 ERA for the Mariners. He was the first and still only rookie pitcher in baseball history to qualify for the ERA title with a 9+ K/9 and a sub-3 BB/9. Pineda wasn't Jose Fernandez, but he was very good in his own right.
After spending the 2012-13 seasons rehabbing his shoulder, Pineda won a rotation spot in spring training and was finally able to help the Yankees. He hasn't just helped them early on either. Pineda has arguably been the team's best starter, allowing two runs total in his three starts. He held the Cubs to four hits and one walk in six scoreless innings on Wednesday, giving him the following season line:
18 IP, 13 H, 2 R, 2 ER, 2 BB, 15 K
Considering he was expected to be the team's fifth starter, that's pretty excellent. Pineda has been New York's co-ace alongside Masahiro Tanaka early on.
The Yankees have been very careful with Pineda these last few weeks and rightfully so. Shoulder surgery is a big deal, and the last thing they want to do is push him too much, too soon. He is only 25, remember. An age when teams still coddle their young hurlers. Here is look at Pineda's workload so far this season:
First Start: 6 IP on 83 pitches with one extra day of rest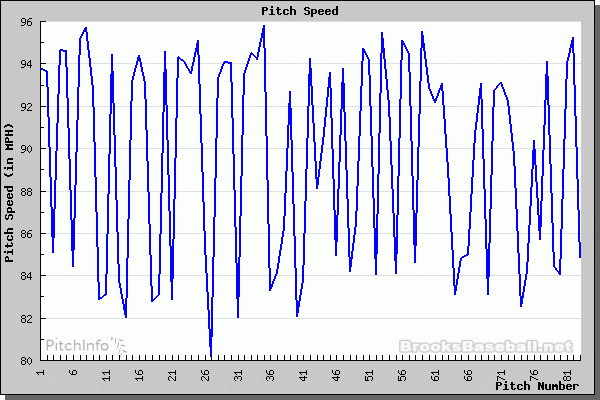 Pineda was pretty clearly pumped up for his first big league start in two years. He topped 96 mph with his fastball several times and generally lived north of 93 mph all night. Not much more to see here.
Second Start: 6 IP on 94 pitches on normal rest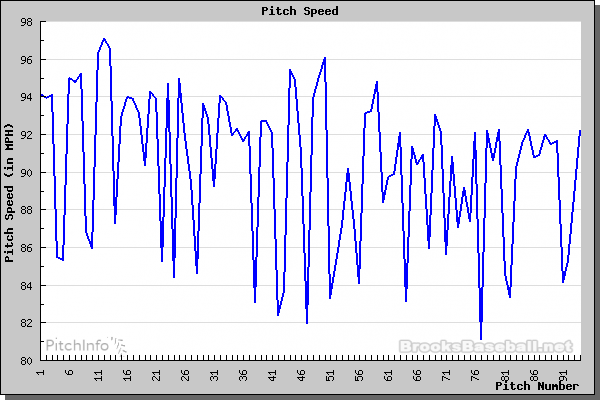 That velocity graph tells quite a story. Pineda came out throwing hard, just as hard as he did in his first start, but his heater tailed off noticeably later in the innings. This was the pine tar game, when he appeared to have a foreign substance on his hand in the first four innings but not in the fifth inning or later. Can pine tar help a pitcher throw harder? Eh. I mean, maybe. It's more of a grip and location thing. Either way, Pineda's velocity definitely fell off in the later innings.
Third Start: 6 IP on 89 pitches with one extra day of rest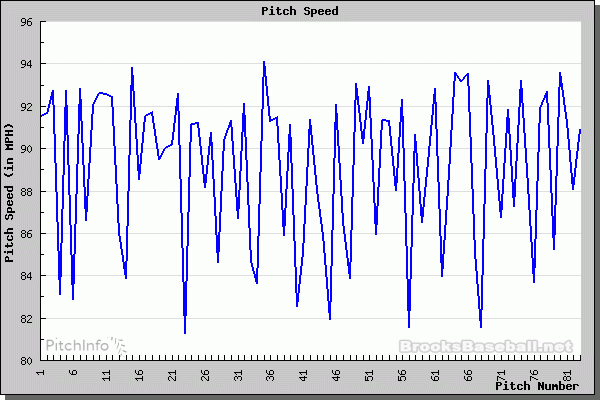 On Wednesday, Pineda's fastball was not where it was in his first two starts. It was a cold night in New York and that probably played a role. Pineda did maintain his velocity throughout the start though, and in fact most of his 92+ mph pitches came towards the end of the outing.
Pineda's first three starts have been very good and I'm sure it has been tough on the Yankees to take him out of the game each time. When a guy is pitching like that, you want to leave him out there as long as possible. At the same time, it's hard not to notice how much his velocity tailed off in the later innings of his only start that did not come with extra rest.
After losing two years to shoulder surgery though, the Yankees have reined in their young right-hander and controlled his workload. They did it in spring training -- Pineda was brought along slowly and was essentially one turn of the rotation behind the other starters -- and they're doing it again during the regular season with relatively low pitch limits. Throwing 85-95 pitches every fifth or sixth day is nothing, unless you're coming off major shoulder surgery and are expected to anchor the team's rotation for the foreseeable future.
The Red Sox and Cardinals are expected to make trade offers next

The free agent first baseman may be a fit in St. Louis

The front office changes in Atlanta continue
The Marlins are more likely than you think on our list

Judge finished a distant second in the balloting and he paid respect to the winner

Stanton just won the 2017 NL MVP award but could wind up being dealt this offseason