Yankees' Teixeira withdraws from WBC with strained forearm
Team USA lost its first player before even playing its first exhibition game. Yankees first baseman Mark Teixeira suffered a strained right forearm before Tuesday's game against the White Sox and has withdrawn from the WBC. Team USA expects to replace Teixeira on the roster by adding another first baseman.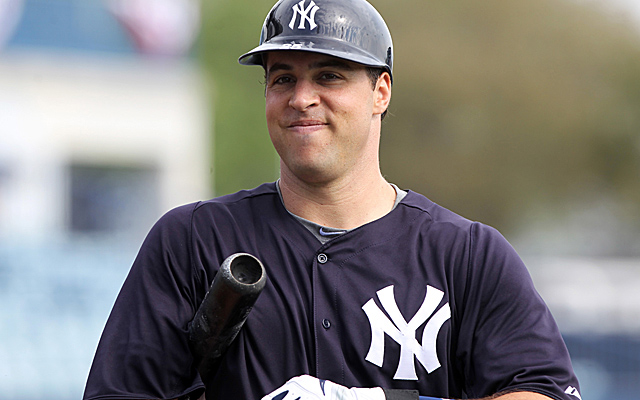 GLENDALE, Ariz. -- Mark Teixeira is out of the World Baseball Classic.
Teixeira suffered a mild strain of his right forearm tendon in batting practice on Tuesday. While X-rays were negative, he will withdraw from the tournament and return to spring training with the Yankees. The initial diagnosis was that Teixeira will be out 7-10 days, which would have him back well before the Yankees open their season on April 1.
Team USA expects to add a first baseman to replace Teixeira on the 28-man WBC roster. Manager Joe Torre and his staff were meeting late Tuesday going over possible additions, but Team USA general manager Joe Garagiola Jr. admitted that one big factor will be who is willing to play.
"This is the all-volunteer army," Garagiola said, after Team USA's first exhibition game, a 4-4 tie with the White Sox. "We can't make anyone play who doesn't want to play."
If they're willing, Prince Fielder, Ryan Howard and Paul Konerko would be among the first basemen that Team USA could call on, but it's almost certain that Fielder would decline, and Howard is still working his way back from the Achilles injury that cost him part of the 2012 season.
Torre and Garagiola refused to publicly discuss any names, and Garagiola said that as of late Tuesday, he had yet to reach out to any teams or players.
Teixeira very much wanted to play, first mentioning the WBC to Torre at a charity banquet the two attended late last year. Torre said he quickly decided that Teixeira would be his first baseman.
That plan fell apart Tuesday morning, when Teixeira went to the batting cage. Torre said Teixeira took only three or four swings off a tee before feeling pain in his forearm. Hewas then sent for X-rays and an MRI, and was on his way to New York to see Yankees team doctors, before returning to the Yankees' spring camp in Tampa.
"I asked him [if there was any prior indication that something was wrong]," Torre said. "He said nothing, that he had never had this before. He was just shaking his head."
Teixeira's injury is another blow to the tournament, which already had trouble attracting some of baseball's biggest stars. While it would be hard to call his injury WBC-related, it will feed the perception that participating in the tournament leads to unnecessary risks in the weeks before the regular season begins.
"Just the way he was hurt, it wasn't anything he wouldn't have been doing over there [in Yankees spring training]," Torre said. "Just a freak thing. He said this is something he does every day before taking batting practice."
Team USA's roster included only one starter at each position, so there was never any question that the team would need to add a first baseman. Ben Zobrist started at first base against the White Sox, but the plan is for him to be more of a utility player.
Because Team USA's lineup is heavy with right-handed hitters, Torre and Garagiola would prefer a left-handed hitting first baseman. But Torre admitted that finding a player who was interested in playing was one of the biggest considerations.
While Torre now needs to find a first baseman, at least he has the U.S. pitching rotation figured out. Torre announced Tuesday that Ryan Vogelsong will start Saturday against Italy and Derek Holland will start Sunday against Canada. R.A. Dickey was previously announced as Friday's Game 1 starter, against Mexico.
Colon wants to break a Dennis Martinez record

The Twins have been rumored to be interested in Darvish all winter

Rolen is one of the best third basemen of all time, but you wouldn't know it based on this...
Neither Josh Donaldson nor Brian Dozier have talked about a new contract extension

Francisco leads the Dominican Winter League with seven home runs

Thome deserves enshrinement and here's why the case against him does not hold up