Yankees, Tigers, Royals among those watching Wandy Rodriguez deliver a clunker
Pfft ... you could hear the air leaking from the Wandy Rodriguez trade balloon as he struggled to get through the fourth inning in San Diego on Wednesday.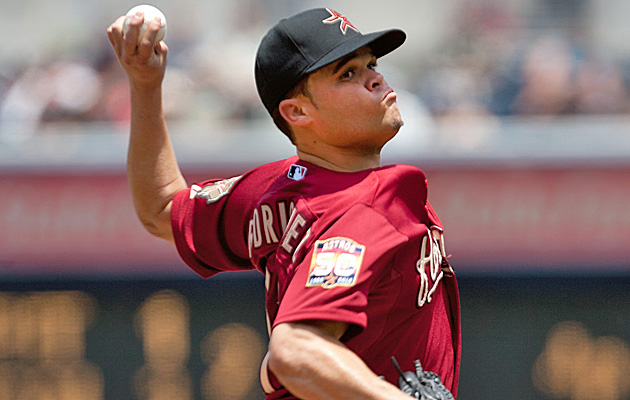 Rodriguez fails to impress in front of Tigers, Yankees and Royals scouts. (Getty Images)
Pfft ... you could hear the air leaking from the Wandy Rodriguez trade balloon as he struggled to get through the fourth inning in San Diego on Wednesday.

Unless ... that was simply San Diego's famous fish tacos in the fryer?

With scouts from the Yankees, Tigers and Royals watching -- among others -- Rodriguez did not turn in his best performance, getting scalded in the Padres' five-run fourth.

Then again, shouldn't contenders searching for starting pitching know what they'd be getting in Rodriguez by now?

Since the start of the 2009 season, Rodriguez's 3.39 ERA ranks third among National League left-handed starters (minimum 75 starts), trailing only the Dodgers' Clayton Kershaw (2.67) and the Phillies' Cole Hamels (3.31).

And his departure after that brutal fourth Wednesday actually accentuated another of Rodriguez's impressive numbers: It snapped Rodriguez's streak of working at least five innings over 48 consecutive starts, which had been the longest in the NL and third-longest in the majors, trailing only the Yankees' CC Sabathia (76 starts) and the Tigers' Justin Verlander (71 starts).

With another year's cycle of trade rumors bearing down on him, Rodriguez hasn't been nearly as good in June (6.00 ERA) and July (4.84), though, as he was in April (1.72) and May (3.07).

"Everything's the same," said Rodriguez, at a loss to explain his recent inconsistency.

Astros manager Brad Mills yanked him after four innings solely because Houston trailed 5-0 and had a runner at second in the top of the fifth and the manager at that point was trying anything to get back into the game.

"He wasn't hurt," said Mills, who sent pinch-hitter Brian Bogusevic to the plate for Rodriguez at that point. "Nothing was wrong with him."

What hampered Rodriguez in another trade audition is what's bitten him before.

"The thing is, he couldn't stop it," Mills said of San Diego's fifth-inning rally. "The inning started with a base hit into the hole. Then he walked the next hitter, single and another walk.

"Both walks scored. The best way to stop an inning like that is to not walk guys."

As contenders scour the market for available starting pitchers, Rodriguez, according to multiple sources, is eminently available. His price tag is prohibitive to the rebuilding Astros ... and the question is, how prohibitive will it be in trade talks?

The Astros owe Rodriguez a little less than $5 million for the rest of this season and $13 million for 2013, the final season of his three-year, $34 million deal. However, if he is dealt, a $13 million club option for 2014 automatically changes to a player option.

The Yankees and Tigers are among many clubs looking for pitching. And the Royals? Yes. They're a surprise entrant in the field of clubs scouring the market for an accomplished starting pitcher this month, as colleague Danny Knobler wrote the other day.

The thing with Rodriguez is, as tantalizing as he can be in some starts, he can be equally as maddening in others. At 33, he likely is what he is.

"It's kind of tough to put a finger on it," Mills said of Rodriguez's past two months not measuring up to his first two this season. "The thing we talk about is being able to stop those innings. That's been his Achilles heel. Whether it's a walk, a big knock ... stopping the big inning, not allowing it to continue.

"His stuff is still good."
Neither Josh Donaldson nor Brian Dozier have talked about a new contract extension

Francisco leads the Dominican Winter League with seven home runs

Thome deserves enshrinement and here's why the case against him does not hold up
The Twins have already fortified the bullpen with Addison Reed, and now they want to address...

The Orioles likely want pitching, and the Indians have plenty of it

Halladay died in a November plane crash off the coast of Florida