Yankees won't get to October without beating Red Sox now
The Yankees have made a real run at a playoff spot, but their big problem is that too many of their remaining games are against the Red Sox.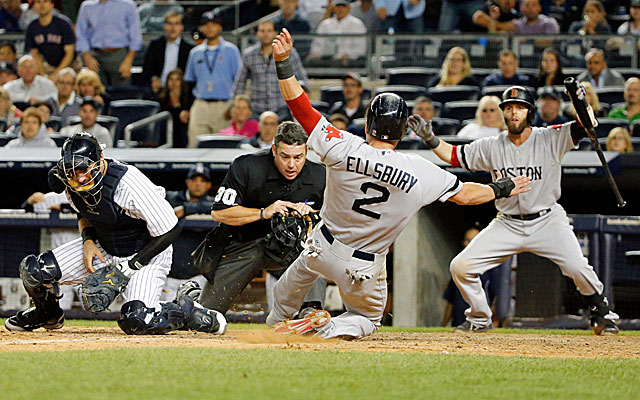 NEW YORK -- Yankees vs. Red Sox would be a fascinating playoff series.
The problem for the Yankees is that they have to play it right now. And it's not best-of-seven, because four wins in seven games likely isn't enough.
The Yankees, with the players they have now, could well be one of the five best teams in the American League. Probably are, in fact.
But when Thursday night's game began, nearly one-third of the Yankees' remaining schedule consisted of games against the Red Sox, who may well be the best team in the league.
Maybe they'll prove good enough to survive that. Much more likely, they won't.
Already, the first game of the seven suggested just how difficult the task will be. Already, the Yankees are down a game in what amounts to a seven-game series, to be played over the next two weekends. Already, they've wasted one big-time comeback, losing 9-8 in 10 innings after rallying from a 7-2 seventh-inning deficit to take an 8-7 lead.
The Yankees certainly aren't done, but all these remaining games against the Red Sox make their task much more difficult than it seems. All these games against the Red Sox are why the computers at coolstandings.com put the Yankees' playoff chances at just 16 percent before Thursday's game, and dropped that to 12.3 percent after it.
We don't know how many more games the Yankees can afford to lose, of the 22 remaining on the schedule (six? seven?). We just know that somehow they still need to make up ground on the Rays (they're still 2 1/2 games behind, after the Rays lost to the Angels Thursday), and also stay ahead of the Indians and Orioles, who both are now just a half-game behind them.
"We have a chance to control our own destiny," Yankees manager Joe Girardi said Thursday afternoon. "We're three games behind [the Rays] in the loss column, and we still have three games left with them."
It's not crazy to think that the Yankees can do this, not with Alfonso Soriano hitting the way he is, not with Alex Rodriguez hitting the way he is, not with a lineup that looks much more Yankee-like.
But nights like Thursday serve as a reminder of how tough and unlikely it is.
These really do have the feel of playoff games for teams like the Yankees, games where you focus on every mistake, every bit of luck, every big hit, every questionable umpire's call.
Soriano gets picked off second base in the ninth inning, an inexcusable mistake (although he insisted he was just trying to be aggressive and that the Red Sox made "a very good play"). Joe West rules that Shane Victorino held up on a check-swing in the 10th, just before Victorino singled in the game-winning run. Mariano Rivera breaks Stephen Drew's bat, but watches the ball sail over Robinson Cano's head for the two-out game-tying hit in the ninth.
If it's a playoff game, we dissect all of it, talk about it for days and maybe years. I know plenty of people say they're tired of Yankees-Red Sox, but at this point these two teams would provide enough storylines for a month, let alone a five- or seven-game series in mid-October.
You can't have that in September, especially when one of the two teams is coasting toward a playoff spot, while the other is fighting what will likely be a losing battle just to try to get in.
For the Red Sox, Thursday's win simply reduced the magic number (now down to 16), while exposing what may well be the biggest Red Sox vulnerability -- middle relief.
Jake Peavy got the Red Sox to the seventh inning with a five-run lead, but by the time Matt Thornton and Junichi Tazawa got out of the inning, the Yankees were ahead 8-7.
The Red Sox lost three key late-inning relievers to season-ending injuries (Joel Hanrahan, Andrew Bailey and Andrew Miller). Koji Uehara has been fantastic as the closer, but figuring out the seventh and eighth innings remains a work in progress.
The nice thing for the Red Sox is they have the rest of this month to figure it out. Rookie Brandon Workman, called on to face Miguel Cabrera in the eighth inning Tuesday (he got him to fly out), could play a big part.
The Yankees, meanwhile, have another injury to deal with. Girardi revealed after Thursday's game that reliever Shawn Kelley has a triceps problem that will keep him out at least until sometime next week. Kelley's injury helps explain why Joba Chamberlain was used (as the seventh Yankee pitcher) in the 10th inning Thursday.
That was one of the talking points after a slow but fascinating game. There were many.
Yankees vs. Red Sox still holds our interest. It would in October, for sure.
Don't count on it happening.
Yankees vs. Red Sox in September is getting in the way.
Dodgers manager Dave Roberts on Sunday announced his World Series rotation for the first four...

How should the Astros play it when one of their two aces isn't on the mound against the Do...

The former big-league infielder also worked as GM of the Puerto Rico national team
The Indians pitching coach would be getting his first MLB managerial job

In the last several years, lots of droughts have ended in MLB

The most likely scenarios are Dodgers winning in five or six games