Yanks game international free-agent system as MLB club disappoints
While the MLB team was losing its fifth straight game on Wednesday, the Yankees spent a record amount of money on international free agents.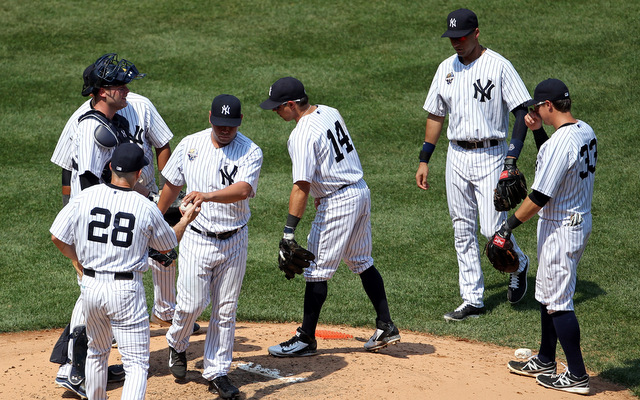 More MLB: Notable international free-agent signings
Despite committing more than $500 million to free agents over the winter, the Yankees lost their fifth straight game on Wednesday to fall to 41-42 on the season. They were swept at home by the last-place Rays and ...  yikes. That's bad. New York has lost nine of its past 11 games overall.
The team's struggles at the MLB level are tied directly to their underperforming free-agent additions. Right-hander Masahiro Tanaka has been truly outstanding and Jacoby Ellsbury has been very good, but Brian McCann (77 OPS+ and 0.2 WAR) and Carlos Beltran (86 OPS+ and -0.6 WAR) have been unmitigated disasters. Those two were expected to carry the lineup. Instead, they're dragging it down.
While the big-league team was losing to the Rays, the Yankees were busy gaming MLB's international free-agency system and hoarding young talent from Latin America and Asia. Well, maybe "gaming" isn't the correct term. The Yankees did not break any rules, they just showed little regard for the league's penalty system.
Under the current system, each team is assigned a spending pool for international players that is based on their previous year's record. The Yankees were slotted roughly $2.2 million for this summer, but they blew right by that when the signing period opened Wednesday. They'll have to pay a 100 percent tax on whatever they spend over their pool.
The Yankees, of course, are flush with cash. Their offseason spending spree was massive by even their standards, but it wasn't unprecedented. They committed almost $500 million to CC Sabathia, Mark Teixeira and A.J. Burnett just six offseasons ago. New York usually uses that cash on MLB free agents though. This is the first time the Yankees used their financial might to land prospects.
Here is a quick look at the international prospects the Yankees signed Wednesday, with their MLB.com prospect rank in parentheses:
• Dominican SS Dermis Garcia (1st): $3.2 million bonus
• Dominican 3B Nelson Gomez (2nd): $2.25 million
• Dominican OF Juan De Leon (5th): $2 million
• Venezuelan OF Jonathan Amundaray (7th): $1.5 million
• Dominican OF Antonio Arias (9th): $1 million
• Korean SS Hyo-Joon Park (13th): $1.16 million
• Venezuelan SS Wilkerman Garcia (14th): $1.35 million
• Venezuelan SS Diego Castillo (16th): $750,000
• Venezuelan C Miguel Flames (25th): unknown bonus
The Yankees signed the two best, three of the five best, four of the seven best and five of the nine best available prospects in the eyes of MLB.com. The combined bonuses of those nine players above is a record $13.21 million with Flames' bonus still unknown. That's roughly six times their assigned spending pool.
The spending spree does not come without consequences. They Yankees will have to pay roughly $11 million in penalties for going over their pool -- just for those players; they signed several other lower-profile guys as well -- or what they will have paid McCann through the end of the month. They'll also be prohibited from signing an international player for more than $300,000 from 2015-17.
So far this season the Yankees have been a total mess at the MLB level. Several of their big-money imports are underperfoming, some holdovers aren't pulling their weight, and injuries have decimated the rotation. There's an excellent chance they will miss the postseason for the second straight season.
At the same time, the Yankees just brought this all-time classic Onion article to life, at least internationally. They ignored MLB's spending limits and used their financial power to expose the silliness of a system designed to suppress the earning potential of players not in the union.