Yanks to make qualifying offers to Cano, Kuroda; only leaning on Grandy
The Yankees appear to be leaning toward making a qualifying offer to Curtis Granderson, but it appears to be a hot topic for debate for them after his recent struggles.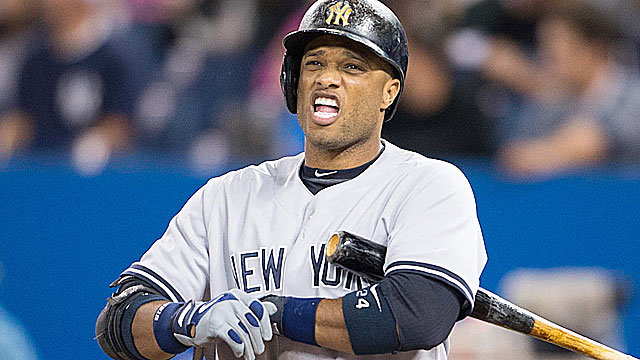 The Yankees will extend qualifying offers to superstar second baseman Robinson Cano and starting pitcher Hiroki Kuroda but appear to be having a more difficult time deciding on Curtis Granderson.
It appears they are leaning toward making a $14.1 million offer to Granderson, but the mere fact they were still debating it Friday is a bit surprising.
If the Yankees offer it, and he declined, they receive a compensatory first-round draft choice, just as they did last year with Nick Swisher and Rafael Soriano. There appears to be some thought he might accept, as they are said to still be discussing the call.
Granderson would logically be able to beat $14.1 million on a free-agent market expect to be flush with cash, but the Yankees may be concerned about his struggles starting in late 2012. Granderson hit .087 between August and September of 2012 before a big few games in the regular season in October preceded a postseason in which he batted .100 (3 for 30) with 16 strikeouts.
Injuries wrecked Granderson's year in 2013, as he finished with seven homers, 15 RBI and a .229 batting average after he hit a combined 84 home runs in 2011-12.
Cano will turn down the qualifying offer, of course, and Kuroda is expected to, as well.
The Yankees will not extend qualifying offers to other free agents Phil Hughes, Joba Chamberlain or Boone Logan.
No, you're not imagining things. This MLB offseason has been very slow compared to the last...

Francesa will retire from radio next month, so he'll have plenty of free time next summer

Get your sports fans something that they'll wear all year
Get 15 percent off any order of more than $75 at CBS Sports Shop

The Twins need help in the rotation, and they may look to the trade market to find arms

Here are the bullet-points of what went down Tuesday regarding MLB and the Braves' punishm...