Yasiel Puig back in lineup Saturday, was apparently on time
A day after being benched due to tardiness, Dodgers right fielder Yasiel Puig is back in the lineup.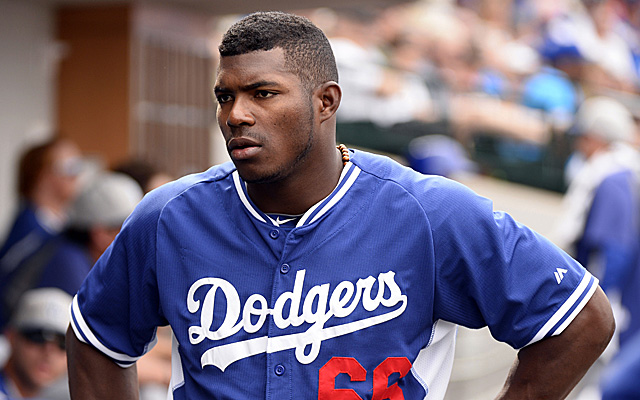 More MLB: Scoreboard | Standings | Probable Pitchers | Sortable Stats | Odds
The Los Angeles media's favorite punching bag, Dodgers right fielder Yasiel Puig, must have shown up to the ballpark on time Saturday, because he's back in the Dodgers lineup.
Puig was benched Friday for the club's home opener due to being late. In fact, the team was already halfway through batting practice when he arrived. He apologized and has vowed to start showing up on time.
Do his veteran teammates have any advice for him?
Adrian Gonzalez, asked if he gave advice to Puig today: "I said, 'Get your ass here on time.'"

— Pedro Moura (@pedromoura) April 5, 2014
Well said.
I'm generally a Puig defender -- if not an apologist -- but arriving on time to work is pretty fundamental and in terms of players getting to the ballpark on time, it's extremely easy to control. Being so late as to miss a significant portion of batting practice is, quite frankly, pretty ridiculous.
Puig did apologize, but he's had to apologize several different times in his big-league career already. It's good that he apologizes, but an apology wouldn't be necessary if he'd stop messing up. Just get to work on time, as Adrian Gonzalez so eloquently put it.
A beardless Wilson says that he tried to outrun the police on the second day he had his driver's...

The Diamondbacks outfielder was not impaired, he was just going way too fast

MLB can unilaterally implement rule changes, which will also include limits on mound visit...
If the MLBPA wants to repair MLB's salary structure, it should push for more money for young...

Fans aren't happy Gerrit Cole and Andrew McCutchen have been traded away

Acuna is arguably the best prospect in baseball