Yasiel Puig has gained 26 pounds since last season
Dodgers outfielder Yasiel Puig has gained 26 pounds since the end of the 2013 regular season. Is this a concern?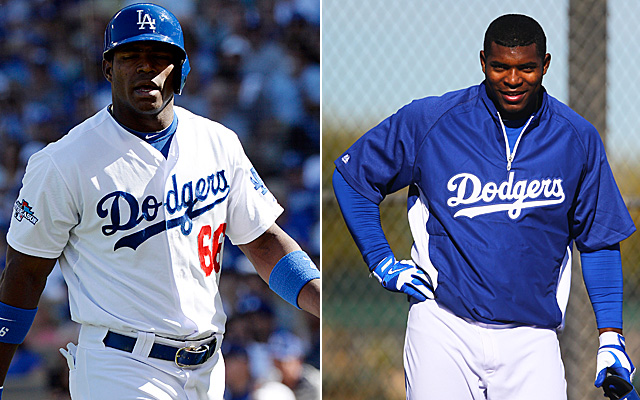 MORE: Spring Training | FA tracker: position players | FA tracker: pitchers
Being that it's early in spring training, we're bound to hear a number of stories about the physical condition of some players. It's only natural. An athlete's body is his instrument and what he does with said instrument in the offseason is always of interest.
And when it comes to Dodgers right fielder Yasiel Puig, he's gained 26 pounds since the end of the 2013 regular season. His manager has noticed, not that he's overreacting just yet.
"We don't feel it's going to be a problem, but we're paying attention to it, put it that way," [Dodgers manager Don] Mattingly told ESPNLosAngeles.com.
Now, I'd hold off concern for a few reasons. First of all, it's not as though Puig is being called out of shape. He was one of the first position-playing Dodgers to arrive at camp and nary a word has been written about him in a negative light in terms of his conditioning or physical shape -- as opposed to, say, Mariners bust Jesus Montero.
Next, I know it's only the eye test on two photos, but look at the photo-split above. Puig doesn't seem to look much different and definitely doesn't look fat.
Finally, let us also keep in mind that not all weight gain is bad. Muscle weighs more than fat and some bulk could be helpful. Let us all remember last spring that Mike Trout gained around 15 pounds. He turned out just fine.
So while Puig's weight is something to watch, Mattingly's approach seems the proper one.
deGrom is set to become a free agent after the 2020 season

Perkins missed most of the last two seasons due to injury

Jonathan Singleton was suspended after a third positive test for a drug of abuse
Rodriguez will join Jessica Mendoza and Matt Vasgersian on the "Sunday Night Baseball" boo...

Jeff Wilpon talked about payroll on Tuesday, and it won't make any Mets fan happy

Yelich's agent recently asked the Marlins to trade him before the spring