Yasiel Puig needs to get a grip before Dodgers lose theirs
What Yasiel Puig has shown us is he can do no wrong even when he does wrong. He's the greatest and most maddening thing to happen to the Dodgers this summer.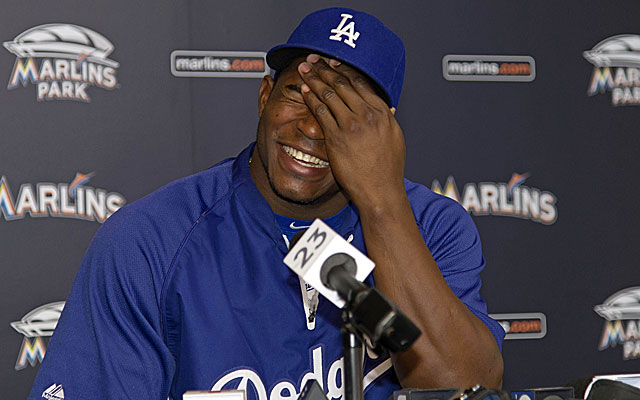 You can see it coming from here to the autumn leaves.
Crowd screaming. National television cameras blazing. Game 4 … or 5 … or 6 of the playoffs. And Yasiel Puig runs into an out, overthrows a cutoff man, commits some egregious mistake that costs the Dodgers the game. Maybe even costs them the playoffs.
The Dodgers go home for the winter. Their fans are left hugging only their chipped and faded 1988 World Series champions coffee mugs.
And Puig jets off to join a South Beach conga line for the winter. Party on!
Hoo, boy.
Talk about win-win and no-win converging at the corner of Chavez and Ravine.
Puig clearly has the talent to lead the Dodgers to an October title. And he clearly contains the recklessness to push the team bus straight over a cliff. Self-made man meets self-destruction, head on.
That said ... this side of the Braves' Turner Field Waffle House, do you know where baseball's biggest pile of whipped cream is located right now? In the admonitions of all of those suddenly scolding the Dodgers to get control of this guy.
Do you think they haven't tried? School is in session every day with Puig. Manager Don Mattingly talks with him. Coaches lecture him. General manager Ned Colletti schools him. Teammates from Juan Uribe to Adrian Gonzalez try to teach him.
So far, Puig doesn't appear to be much for school. Or lessons.
Or umpires, or sleep.
So what do you do if you're the Dodgers?
Wine and dine him even more?
Sit him down indefinitely?
Sit him down for six innings, then insert him into the game in a sixth-inning double-switch?
Wait. They did that last one Tuesday. And Puig emerged from his time out to immediately stroke a game-winning home run. The guy can do no wrong even when he does wrong.
That pretty much was a microcosm of the entire Dodgers/Puig existence.
He showed up 35 minutes late Tuesday. He was in the worst slump of his career, only 2 for 17 in the first four games in Philadelphia and Miami, striking out in four of his previous 11 at-bats.
The weekend Phillies series was a kaleidoscope of errors and misjudgments: Puig missed two cutoff men, was picked off a base and was thrown out attempting to advance on a shallow pop fly.
He also is hitting .352/.412/.567 with 12 home runs and 28 RBI in 68 games. And the once-woeful Dodgers are 28 games over .500 when Puig steps onto the field, 48-20.
The Dodgers owe their season to this guy. Before Puig, they were the Houston Astros in better uniforms.
Yet with each home run and highlight-reel moment, the monster grows.
Biggest question this season now is this: Can the Dodgers eke a Kirk Gibson moment out of Puig this October before they get a Frankenstein moment?
This Tasmanian Devil of a player has mesmerized a community and captivated a baseball nation. He is Must-See TV, one of the game's most exciting talents. What Mike Trout and Bryce Harper were last year, Puig, to some degree, is this year.
Yet this late-night carousing, cutoff-man missing, curfew busting phenom borders on going berserk-o out of control. Did you see the tantrum he directed at plate ump John Hirschbeck after striking out Monday in Miami? Holy smokes.
"All the things that we see are part of the maturity of a guy coming from a different country who is in the major leagues all of a sudden and having huge success," Mattingly told reporters in Miami. "And part of our job is to help him mature and handle all that.
"And I don't know if we can do that overnight."
I think we know that answer to that one.
Scouts last year watched minor-league games in which Puig opted to chill in the bullpen, rather than run all the way to the dugout from right field, during half-innings in which he wasn't going to bat. Playing for Double-A Chattanooga in April, Puig was arrested for reckless driving, speeding and driving without proof of insurance. The police report said he was driving 97 mph in a 50 mph zone.
The Dodgers' task is to keep him playing at close to 100 mph while preventing him from driving 100 mph.
Last thing they want to do is break his spirit on the field, or go all Larry David and curb his enthusiasm.
Best -- and most realistic hope -- simply is that they can smooth out the rough edges. They are not going to completely remake him. You wouldn't want to completely remake him.
Talent like this is rare, and it doesn't play at half-speed.
Problem is, neither do the mistakes.
Chicago added Tyler Chatwood earlier this offseason but might not be done adding to the ro...

The Dodgers and Braves pulled off a whopper on Saturday

Sabathia will reportedly spend a 10th season in the Bronx
Fowler suffered a knee injury at Chicago's Guaranteed Rate Field

The lefty starter is coming off a terrible season

After acquiring Ian Kinsler and Zack Cozart in recent days, the Angels are trending upward