Yasiel Puig sets merchandise record during first week with Dodgers
Yasiel Puig set a Dodgers record for merchandise sales over the weekend.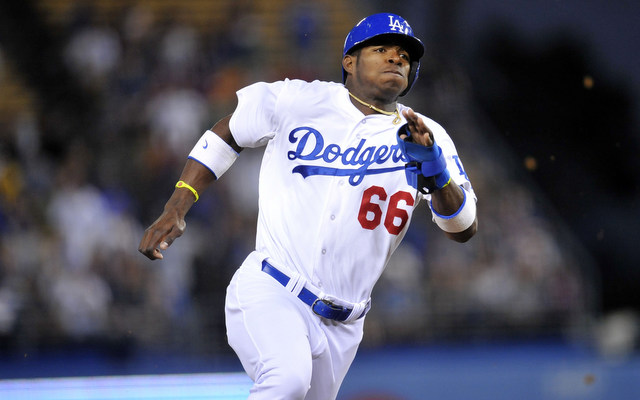 More MLB: Scoreboard | Standings | Probable Pitchers | Sortable Stats | Odds
Yasiel Puig did it all during his first week in the big leagues, hitting homers and making jaw-dropping defensive plays on a daily basis. He's also been helping the team off the field as well.
Dylan Hernandez of the Los Angeles Times reports the Dodgers sold more Puig-related merchandise from Thursday through Sunday than they've ever sold of player-specific goods during a four-day span. That includes everyone from Clayton Kershaw to Manny Ramirez to Fernando Valenzuela. From Hernandez's story:
"He's a real exciting player that drives merchandise," said Lon Rosen, the Dodgers' chief marketing officer. "He's a good-looking guy, great personality. What he does in the batter's box, what he does on the field, he's a five-tool player. He energizes the crowd."

While the Dodgers have already filmed a television commercial that features Puig and Adrian Gonzalez, Rosen said the team hasn't made any plans to make a Puig bobblehead doll or create a marketing campaign centered around him.

"We're not going to throw everything at him at once because that puts a lot of pressure on him," Rosen said. "We want him to have fun playing, keep working hard, learn to deal with the media."
The team sold approximately 3,000 units of Puig-related merchandise during that four-day window, including 2,000 T-shirts and 600 jerseys, according to Hernandez.
Puig, 22, has gone 16 for 32 (.500) with four home runs and 10 RBI during his first eight games in the big leagues. Los Angeles signed the Cuban defector to a seven-year, $42 million contract last summer.
Jonathan Singleton was suspended after a third positive test for a drug of abuse

Rodriguez will join Jessica Mendoza and Matt Vasgersian on the "Sunday Night Baseball" boo...

Jeff Wilpon talked about payroll on Tuesday, and it won't make any Mets fan happy
Yelich's agent recently asked the Marlins to trade him before the spring

I've only been in the BBWAA three years, but here's what my ballot would've looked like this...

In the last two votes, Clemens has gained nearly 17 percent in Hall of Fame voting