Yasiel Puig's escape-to-America story sold to Hollywood
Dodgers phenom Yasiel Puig was held captive by a drug cartel for three weeks before finally getting to America to sign with the Dodgers. His backstory is now going to be a movie.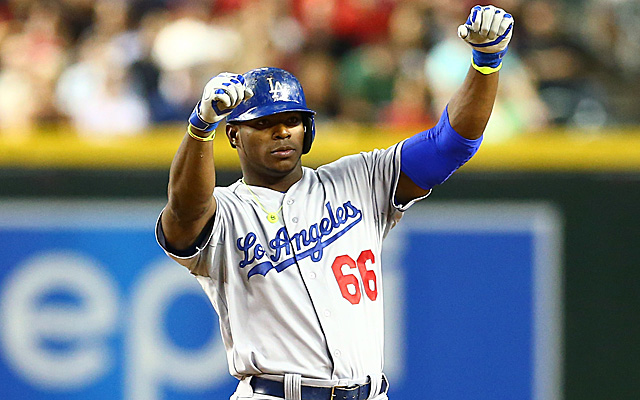 More MLB: Power Rankings | Expert Picks | Latest news & notes | Fantasy news
A Yasiel Puig movie? Yes please.
Now, before we get into all the kicking and screaming, let's be clear that this movie would be about Puig's backstory -- a harrowing affair that most of us dare not even imagine having to go through. That is, his escape from Cuba to America via Mexican drug cartel.
The full story is an outstanding read in Los Angeles Magazine. Please hop on over there and check it out if interested.
Some of the basics are that Puig's final attempt (at least his fifth) to leave Cuba involved a deal with a crook in Miami who agreed to pay Mexican drug lords $250,000 to get Puig out of Cuba. When Puig finally arrived, after a 350-mile boat ride, in Mexico, said crook wasn't answering the phone.
"I don't know if you could call it a kidnapping, because we had gone there voluntarily, but we also weren't free to leave," said boxer Yunior Despaigne, who was with Puig (LAMag.com). "If they didn't receive the money, they were saying that at any moment they might give him a machetazo" -- a whack with a machete -- "chop off an arm, a finger, whatever, and he would never play baseball again, not for anyone."
Puig was held captive for about three weeks before everything got sorted out.
This is just a taste of what the backstory is about. Again, there's a lot more there (please, seriously, read it to learn more about Puig) and it actually sounds like it would make a great movie. That is going to happen, too, as Brett Ratner and RatPac Entertainment have acquired the movie rights, reports The Hollywood Reporter (via latimes.com). Ratner has directed X-Men: The Last Stand, Rush Hour, Red Dragon and several other movies and TV shows.
Also, maybe once reading/seeing in a movie where Puig came from and what he had to go through to get out of it, we'll all be a little less angry next time he has the audacity to enjoy playing baseball. He's living the dream in the land of the free while playing a game for a living. If he wants to celebrate, more power to him. I'm looking forward to the movie.
Iowa and Missouri are two programs mixing technology and analytics

Sunday's MLB roundup features the D-Backs clinching a postseason spot and the Mariners going...

The 2017 season has been, by far, the worst season of Cabrera's career
The Mariners were eliminated from postseason contention with Sunday's loss

Maxwell became the first MLB player to kneel during the national anthem Saturday

The Blue Jays are not expected to bring Bautista back next season