Yaz calls Ortiz second-greatest Red Sox hitter
Behind Ted Williams, who is the best Red Sox hitter of all-time? Carl Yastrzemski believes it's David Ortiz.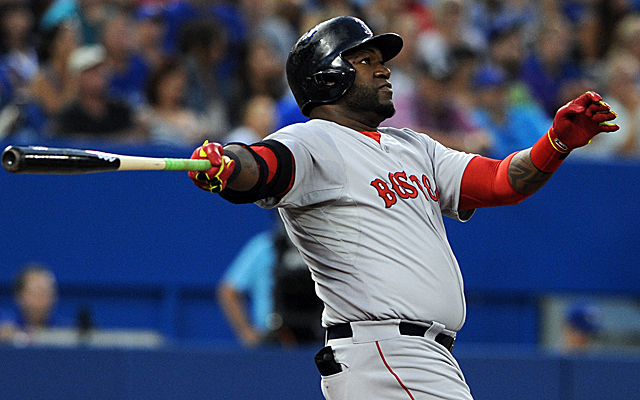 More MLB: Power Rankings | Expert Picks | Latest news & notes | Fantasy news
Trying to figure out the best Red Sox hitter of all-time isn't even a discussion. It's Ted Williams. Second best, though, is certainly up for debate. There are Hall of Famers like Carl Yastrzemski, Wade Boggs and Tris Speaker in the mix and we could probably debate where Manny Ramirez belongs.
How about David Ortiz? He has Yaz's vote as number two.
Me: "Who is the greatest Red Sox player?"

Yaz: "It's got to be Ted. Without a doubt. To hit like he could hit . . . oh, geez.''

Me: "Who's the second-greatest Red Sox hitter of all time?"

Yaz: (laughing) "See you later!''

Me: "No, seriously. There was a lot of sports radio debate about this when David passed you on the all-time homer list this week. Did you hear any of it?"

Yaz: "I really don't listen to 'em.''

Me: "Do you think about your place in Red Sox history?"

Yaz: "Not really. Once I was elected to the Hall of Fame, I never really thought about anything after that.''

Me: "Where do you put David Ortiz in Red Sox history."

Yaz: "I would say as a hitter, I would say he's next to Ted.''

Me: "Better hitter than you?"

Yaz: "I think so, yeah. I would put him ahead of me. He had more power than I had.''

Me: "If you were driving your car and somebody flipped on the radio and you heard people debating the merits of Carl Yastrzemski and David Ortiz, regarding their relative contributions to the Red Sox, how would you feel?"

Yaz: "I'd be glad that they would have me in the same class as him.''
So, just for fun, let's compare the rankings of Yaz and Big Papi in Red Sox history. Each category below lists only stats accrued as members of the Red Sox and the franchise rank is in parentheses. All Ortiz numbers are heading into Sunday's action. Definitely note that Yastrzemski had 13,992 plate appearances with Boston to Ortiz's 6,989. So he has a huge advantage in the counting stats.
Batting average
Yaz: .285 (40)
Ortiz: .290 (t-29)
On-base percentage
Yaz: .379 (19)
Ortiz: .387 (13)
Slugging percentage
Yaz: .462 (27)
Ortiz: .567 (4)
Hits
Yaz: 3419 (1)
Ortiz: 1724 (7)
Doubles
Yaz: 646 (1)
Ortiz: 433 (4)
Home runs
Yaz: 452 (2)
Ortiz: 397 (3)
RBI
Yaz: 1844 (1)
Ortiz: 1264 (5)
OPS+
Yaz: 130 (t-11)
Ortiz: 147 (5)
Offensive WAR
Yaz: 77.7 (2)
Ortiz: 43.8 (8)
Yastrzemski played in two different postseasons -- one ALCS and two World Series. He hit .369/.447/.600 with four homers and 11 RBI in 17 games, but never won a ring. Ortiz has played in 17 different series in eight different postseasons. He's hit .295/.409/.553 with 17 home runs and 60 RBI in 82 games. He was the 2004 ALCS MVP and 2013 World Series MVP. He has three rings.
So ... Yaz or Big Papi? You make the call.
Gallardo spent the first eight years of his career in Milwaukee

MLB revenues are at a record high right now, but teams aren't spending it on players

Chicago added Tyler Chatwood earlier this offseason but might not be done adding to the ro...
The Dodgers and Braves pulled off a whopper on Saturday

Sabathia will reportedly spend a 10th season in the Bronx

Fowler suffered a knee injury at Chicago's Guaranteed Rate Field