Yes, Rays can pitch, but can they score enough to overtake Red Sox?
Tampa Bay tied Boston atop the AL East in late August, only to immediately hit freefall while losing eight of its next 10 games. The Rays offense is scuffling, and manager Joe Maddon is searching everywhere for answers. ...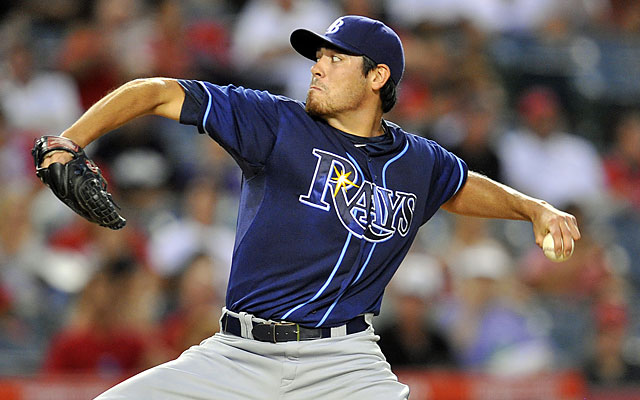 ANAHEIM, Calif. – Sun rises, Red Sox win, sun sets.
Sun rises, Rays lose, sun sets.
This is the way it's been going for more than a week now, seemingly every night. And as Tampa Bay roams around out west, that had better change soon. Or things in the east – the AL East – will be practically settled by the time Tampa Bay finishes this dastardly 10-game trip.
The Rays pulled into a first-place tie with the Red Sox on Aug. 24.
They immediately lost 5 ½ games in the standings over the next 10 days.
All-Star Matt Moore returned Tuesday night in a big way, throwing 5 1/3 shutout innings. Which was better than, say, outfielder Sam Fuld getting the final out of the eighth against the Angels on Labor Day. Talk about laboring. Tampa Bay has lost eight of 10 games while Boston has won eight of 10.
Fuld? Manager/master psychologist Joe Maddon is using every trick he can concoct these days. On Tuesday alone, he dropped references to Winston Churchill, Rogers Hornsby, Syria and Sister Suzanne.
Tampa Bay's offense gets any thinner, Jenny Craig can't be far behind.
"You've got to be patient with all of this," Maddon said of his club's Amazing Disappearing Offense just before it finally flexed, ambushing the Angels' Jason Vargas in a 7-1 blistering. "It can go away. It happens to everybody. It's happening to us right now. The work's been great. The guys have been fabulous. …
"Good part is, it's happening now and not later this month. Because it could be very difficult if it happened in the latter part of September. Let's get it over with now."
Maddon's Rays know their way around September. Nobody who was paying attention will ever forget two Septembers ago, when the Rays chased down Boston after trailing the Red Sox by nine games in the standings as late as Sept. 3.
Two days ago, Maddon tweeted: "It was while managing the London Fog in the British Rounders league that Winston Churchill said 'If you're going through hell, keep going.'"
The Rays promptly dropped each of their next two games.
Over five consecutive losses, the Rays mustered only seven total runs.
While losing eight of nine, they managed just 19. Evan Longoria disappeared for most of July. Rookie Wil Myers is looking a bit frayed at the edges now. The Rays' seven runs Tuesday night equaled the total from their four previous games combined.
More Churchill, anybody?
Maddon made sure to emphasize that he referenced the iconic Churchill's running the London Fog baseball team and "not necessarily the country of Great Britain."
"By pointing out the difference right there, I did not ever want to insult that group that actually goes through war," Maddon said. "I'm very cognizant of that. It's in a baseball sense, a sporting sense, where sometimes your team has difficult moments. While you're doing that you've gotta keep pushing through it."
It's why Maddon spent part of Tuesday reminding his Rays what Hall of Famer Hornsby was about in the 1920s, winning that day's game.
It's also partly why Fuld made his major-league pitching debut Monday.
"I thought this was the right time to do it," Maddon said. "I thought that with all of the tough moments we've had, it might be entertaining. And it turned out to be entertaining."
Goofy as it sounds, in this game, you never know when something as crazy as that might light the spark that turns things around.
"One thing I've always talked about, I never want you to know when you walk in our clubhouse whether we've just won 10 in a row or lost 10 in a row," Maddon said. "I really don't want us to be that group. Things have not gone well, but I think our guys internally have handled it really well.
"I don't like the finger-pointing component, I don't like the searching for superficial reasons as to why … a guy has been doing something in the same manner and then all of a sudden he stops hitting and it becomes an issue. That happens a lot. You have to be careful with all that kind of stuff. …
"Finger pointing. I hate to quote Sister Suzanne, but every time you do that there are three other fingers pointing right back at you. There's bad karma attached to that so you'd better be careful. When you start pointing fingers, man, heads up, there's going to be stuff coming back at you."
Pay attention, back-to-schoolers. Sister Suzanne was Maddon's seventh-grade teacher. You're never too young to learn, nor too old to dig into those lessons from youth.
"She was outstanding," Maddon says. "That was her line and, obviously, I've never forgotten it."
Now, with a season either beginning to slip away or simply setting up for another dramatic September, Maddon is the one imparting the lessons. And looking for a few hits.
He finally got them Tuesday. By the sixth inning, everybody in Tampa Bay's lineup had at least one.
Of course, it was another unfriendly evening on the scoreboard. The Red Sox even beat the Tigers' Max Scherzer. They can't lose.
Unlike many of his peers, Maddon admits to scoreboard watching, and looking frequently.
"All the time," he said.
But one thing changes when the Rays go through a bad run like they've been on recently.
"I like to read when we're doing well so you can read all the good things people are saying about you," he said. "When you're not doing so well, I just let it lie. I go back to the books or the novels. The New York Times, reading about Syria right now is very interesting. I'll go there as opposed to the sports pages when it's not going well.
"I'm not a masochist."
He – and his club – are not much for worrying, either.
"I think it's always going to be a looser vibe when you chase," Maddon said. "It could be a little more tighter vibe when you are being chased. It should be the other way around. I don't think it is."
One of the final memorable moments from that run two years ago came on the second-to-last day of the season, when the Rays turned a triple play against the Yankees in another of a long string of must-win games.
"That's the magical component," Maddon said. "There are always these signs from the baseball gods that it's going to be OK, when you see these positive, magical signs occurring. We're still waiting for those."
Are they coming soon?
"They're on their way."
Marcell Ozuna figures to be the next Marlins star on the move

Several relievers have signed in the last two days

Several teams are interested in the switch-hitting first baseman
Neshek and the Phillies are closing on a two-year contract

And the team that first drafted Cole is interested

This scout was SUPER into Jeter