Yoenis Cespedes is 'still not sure' he wants to sign extension with Red Sox
Yoenis Cespedes is not sure if he wants to sign long-term with the Red Sox or test free agency after next season.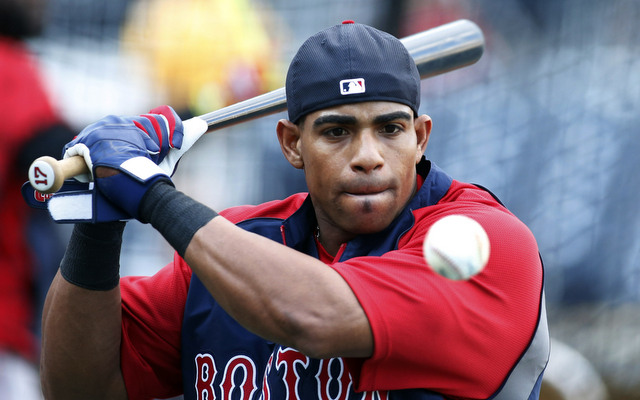 In one of the busiest trade deadlines in several years, the deal that sent Yoenis Cespedes to the Red Sox for Jon Lester and Jonny Gomes stood out as the most surprising. Not because of Lester, he had been rumored to be available for weeks, but because of Cespedes. No one had any idea he was on the block.
The 28-year-old Cespedes brought his huge right-handed power to Fenway Park and he's produced in his short time with the BoSox, hitting .269/.298/.430 (103 OPS+) with five home runs and 31 RBI in 49 games coming into Saturday. He collected his 99th and 100th RBI of the season Saturday afternoon.
Cespedes can become a free agent after next season, and the assumption has been that the Red Sox would lock him up long-term at some point. After all, middle of the order bats are very hard to find these days. Cespedes, however, isn't sure if he wants to remain in Boston long-term. Here's what he told Tim Britton of the Providence Journal:
"I'm still not sure if I want to sign an extension or if I want to be a free agent," Cespedes said through interpreter Adrian Lorenzo. "It's still too soon."

Cespedes had earlier said that, while he was surprised Oakland traded him this season, he did expect the Athletics to explore dealing him sometime before the end of his contract.
The Red Sox will pay Cespedes a $10.5 million salary next season. Because of the way his original contract with the Athletics was written, the team will not be able to make him a qualifying offer and recoup draft pick compensation if he signs elsewhere as a free agent after the 2015 season. The Red Sox could look to trade him if they don't think they can sign him.
Power and offense is general in becoming very hard to find these days, so Cespedes will surely land a monster contract despite his low on-base percentages. Hunter Pence's five-year, $90 million contract with the Giants looks like a decent benchmark. Nelson Cruz will be a free agent this winter and his next contract could tell us something about how teams will value Cespedes.
If the MLBPA wants to fix MLB's economic system, it should push for more money for young p...

Fans aren't happy Gerrit Cole and Andrew McCutchen have been traded away

Acuna is arguably the best prospect in baseball
Kent had a good career, particularly with the bat

This would undoubtedly be the worst trade in Miami Marlins history

The Pirates recently shipped Gerrit Cole and Andrew McCutchen to Houston and San Francisco,...