Yoenis Cespedes tops Bryce Harper in Home Run Derby final
Oakland's Yoenis Cespedes put on an astounding power display at Citi Field on Monday night and won the 2013 Home Run Derby.
More MLB: Goldschmidt OK with not being in Derby | Delabar's remarkable journey
In terms of intriguing, headline-grabbing talent, MLB couldn't have scripted a better Home Run Derby final than the one that unfolded on Monday night at Citi Field. In the end, A's outfielder Yoenis Cespedes topped Nationals phenom Bryce Harper with an astounding power display.
Cespedes, who tallied 32 homers against 25 outs (he needed just five outs to top Harper by a score of 9-8 in the final), hit a number of jaw-dropping shots over the course of the night. Here's the one that clinched the victory: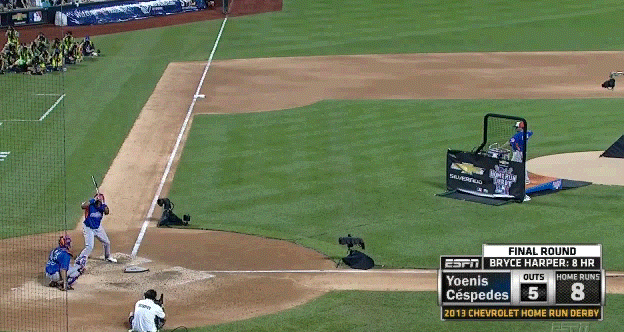 Here's how the entire Derby played out:
Round 1:
Cespedes, Davis, Harper and Cuddyer advance. Round 1 Tracker.
Round 2:
Cespedes, 23 (17+6)
Harper, 16 (8+8)
Cuddyer, 15 (7+8)
Davis, 12 (8+4)
Cespedes and Harper advance. Round 2 Tracker.
Final round:
Cespedes wins Home Run Derby. Final round tracker | Full home run spray chart
We leave you with Mr. Cespedes' celebratory bat flip, which was as majestically soaring as any of his clouts ...
(Wink of CBS eye: @erikmal)
The superstar is one year away from free agency

The Angels knew about it and still wanted to sign the potential ace, of course

The Tigers asking price is supposedly very high, though
Your one-stop shop for all things MLB Winter Meetings-related

Bryan Mitchell also heads to San Diego in the reported deal

The super agent is aiming high for free-agent starting pitcher Jake Arrieta's payday