Youk as a Yank? Really, it's no big deal -- or is it?
It's a little crazy to think Kevin Youkilis will become the seventh member of the curse-ending 2004 Red Sox to later play for the hated Yankees. Some were obscure, while others (like Youkilis, Johnny Damon and Derek Lowe) were Red Sox heroes. So is it still a big deal?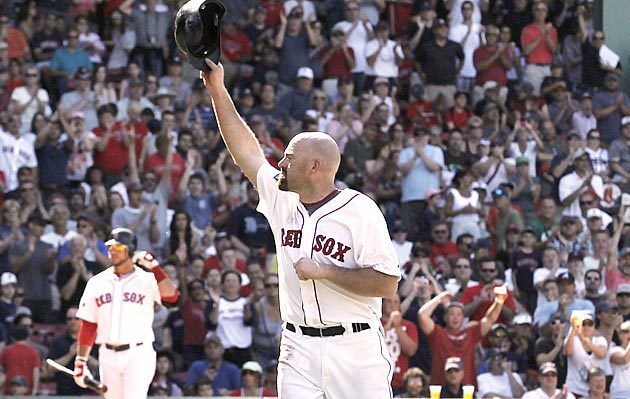 Will Kevin Youkilis in pinstripes get this kind of reception from the Fenway faithful? (Getty Images)

It doesn't matter anymore.
Or does it?

It doesn't matter because the rivalry isn't the same as it once was. It doesn't matter because Kevin Youkilis isn't the first guy to win a World Series in Boston and later put on pinstripes. It doesn't matter because Youkilis only became a Yankee after the Red Sox first rejected him.
More on Kevin Youkilis
Related links

It doesn't matter ... or does it?

Amazing but true stat: When Youkilis plays his first official game for the Yankees -- on April 1 against the Red Sox! -- he'll become the eighth member of the 2004 curse-ending Red Sox to later play in pinstripes.

The list includes some guys you've probably forgotten (and who I initially forgot). But it also includes Johnny Damon, Derek Lowe ... and now Youkilis.

When Damon bolted Boston in December 2005, it was a very big deal. The rivalry was at its peak, the curse-breaking title was just a year behind us and Damon went directly from the Sox to the Yanks.

When Lowe showed up in the Bronx last winter, it wasn't a big deal at all. He'd stopped in Los Angeles, Atlanta and Cleveland before coming to New York, and while the Yankees were battling for a division title, the Red Sox were (unsuccessfully) trying to stay out of last place. The first day Lowe put on pinstripes, a few people asked him if it felt weird, but he said it really didn't.

But this is Youk. This is the guy who had Fenway screaming if he so much as caught a routine pop fly. This is the guy Joba Chamberlain threw at.

This is different. Or is it?

Youkilis isn't years removed from Boston, as Lowe was. But the Red Sox basically rejected him last year, trading him to the White Sox so that Will Middlebrooks could play every day at third base (until he got hurt).

Youkilis isn't the player he once was. The White Sox didn't really want to bring him back, and when I asked a Dodgers scout the other day if his team was interested, his answer was, "I hope not." (As it turned out, they were interested, but not overly interested).

But Youkilis is going to play, and he's going to play a lot, especially until Alex Rodriguez recovers from hip surgery. The Yankees were desperate to find an answer at third base, which explains the $12 million contract (which also means that with $28 million going to A-Rod, the Yankees will be spending $40 million on two third basemen who are on the downside of their career).

Youkilis fit the Yankees because he was willing to accept a one-year contract. That was crucial for a team whose entire winter seems to have been dictated by the need to get under the $189 million luxury-tax threshold in 2014.

They certainly didn't worry that he was an ex-Red Sox, and an ex-2004 Red Sox at that (although Youkilis didn't play in the ALCS that is so fondly remembered in New England and not so fondly remembered in New York). Why would they, after already employing Damon and Lowe and Mike Myers and Mark Bellhorn and Doug Mientkiewicz and Ramiro Mendoza (both before and after he played for the Red Sox)?

Damon went on to become a Yankees fan favorite, and then went on to win a World Series ring in New York to go with the one he won in Boston.

It's hard to imagine Youkilis as a Yankees fan favorite.

Or is it?
The superstar slugger is eligible for free agency after next season

The veteran second baseman remains a useful regular

The Indians may be seeking a left-handed hitter in return
NBC Sports California has cut ties with the former A's slugger after a string of inappropriate...

Pineda figures to miss most of the 2018 season after undergoing Tommy John surgery

Keep tabs on the top 50 free agents right here