Young Cubs All-Stars Rizzo, Castro enjoying bounce-back seasons
The Cubs have two 24-year-old All-Stars, and they're both coming off bad 2013 seasons, too.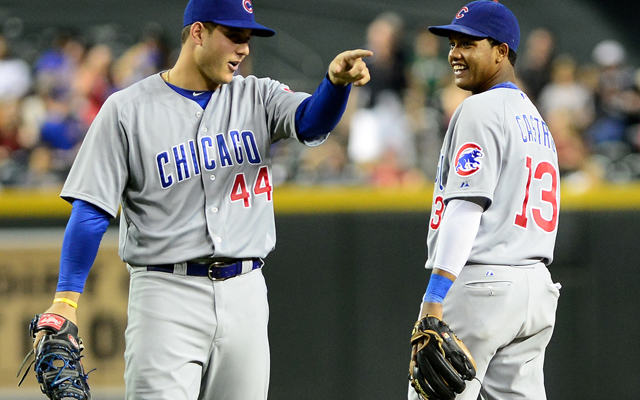 All-Star Game: Starting lineups | AL, NL rosters | Cespedes wins HR Derby
MINNEAPOLIS -- Heading into this Cubs season, perhaps the most important thing for the health of the franchise's future was getting Anthony Rizzo and Starlin Castro back on track after each suffered through a lackluster 2013 season -- which is reportedly at least a part of the reason former manager Dale Sveum got the ax.
Considering both 24 year olds are here for the 2014 All-Star Game, I would say so far, so good.
After hitting .245/.284/.347 with 10 homers and 44 RBI all last season, Castro enters the break a deserved All-Star, hitting .276/.326/.440 with 11 homers and 52 RBI.
Rizzo's first full season was 2013, and he took a big step back from his solid rookie campaign, hitting .233/.323/.419 with 23 homers and 80 RBI. So far this year? .275/.381/.499 with 20 homers and 49 RBI. He won the Final Vote to join Castro in Minnesota.
"It's real good for us, especially since we both had a down year last year," said Castro. "I love being here with Anthony. He's a great teammate and a great person. We do things together a lot, hang out a lot and it's going to be good to be his teammate for a long time."
That's the plan. Rizzo is locked up through at least 2019 with team-friendly club options for 2020 and 2021. Castro is signed through 2019 with a club option for 2020.
Considering that Arismendy Alcantara has been called up -- and is scorching hot already -- while Kris Bryant and Javier Baez are in Triple-A and Addison Russell is in Double-A, the Cubs have tons of hot prospects ready to join Rizzo and Castro very soon. And, again, the two All-Stars are both just 24.
With all this position-playing talent coming up, the nucleus seems to be taking shape with Rizzo and Castro in leadership roles -- not that the humble Rizzo views it that way.
"People put that stamp on us," he said. "Obviously, [Castro and Rizzo] are very close [friends], but it's a 25-man roster. We're all in this together and we want to keep the machine moving forward -- tuned up to the point where we're all on the same page throughout the season."
For now, the machine needs a few more capable members, but with both Castro and Rizzo back on the track, the Cubs are moving in the right direction.
Sunday's MLB roundup features the D-Backs clinching a postseason spot and the Mariners going...

The 2017 season has been, by far, the worst season of Cabrera's career

The Mariners were eliminated from postseason contention with Sunday's loss
Maxwell became the first MLB player to kneel during the national anthem Saturday

The Blue Jays are not expected to bring Bautista back next season

The Dodgers have already clinched the NL West title, so the D-Backs will be a wild card te...