Young starters Harvey, Fernandez have NL East scouts talking
Scouts following the National League East can't stop talking about young starting pitchers Matt Harvey of the Mets and Jose Fernandez of the Marlins. Meanwhile, those same scouts are wondering how to fix Roy Halladay, or if he can even be fixed.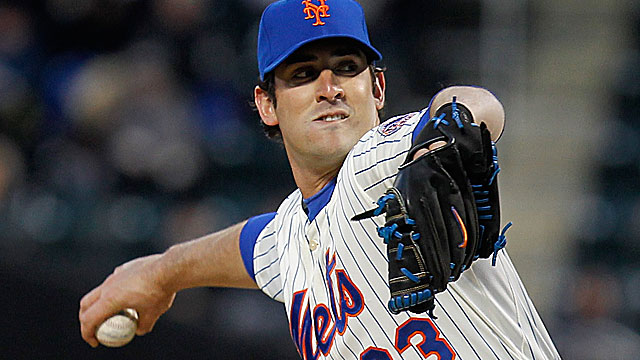 A week and a half into the season, there are two pitchers who have scouts following the National League East talking.
OK, three. But the talk about Roy Halladay isn't good.
The talk about Matt Harvey and Jose Fernandez is.
And while it's easy to look at the box scores and see that Harvey has made two great starts for the Mets and Fernandez made one outstanding start for the Marlins (against the Mets), this isn't just an example of performance-based scouting over a ridiculously small sample size.
After watching Harvey on Monday night against the Phillies, one scout raved that the 24-year-old right-hander already has the best slider in baseball. After watching Fernandez's stellar debut last Sunday, another scout said the 20-year-old right-hander has the potential to be a dominating top-of-the-rotation starter, with three above-average pitches and the poise to use them.
A third scout was so excited about Harvey he predicted the Mets pitcher will hit a home run this year (as he did last season with Triple-A Buffalo).
"He's a great athlete," the scout said.
Harvey has a 0.64 ERA through two starts this year, against the Padres and Phillies. He has 19 strikeouts in 14 innings and has held opponents to a .283 OPS. He's scheduled to make his third start on Saturday in Minnesota, although the Mets-Twins series could be affected by snow in the Twin Cities.
Fernandez is also scheduled to pitch Saturday, in Miami against the Phillies and Cole Hamels. Hamels is off to a terrible start, but scouts who have watched him believe it's just an early-season blip.
Not so for Halladay, with one scout declaring, "He's not hurt. He's just done." Another scout suggested Halladay needs to make drastic changes to have a chance.
"He should forget about trying to find the missing velocity," the scout said. "I know he's been who he is because of his sinker and cutter, but I'd have him go away from those and work on spotting his four-seam fastball."
No one is suggesting drastic changes for Harvey or Fernandez. Instead, scouts simply suggest that you get a look at the two rookies, any chance you get.
Neither Josh Donaldson nor Brian Dozier have talked about a new contract extension

Francisco leads the Dominican Winter League with seven home runs

Thome deserves enshrinement and here's why the case against him does not hold up
The Twins have already fortified the bullpen with Addison Reed, and now they want to address...

The Orioles likely want pitching, and the Indians have plenty of it

Halladay died in a November plane crash off the coast of Florida