Yu Darvish injury a devastating blow to star-crossed Rangers
An elbow reconstruction is recommended, but Yu Darvish is going for a second opinion. Meanwhile, rookie manager Jeff Banister reminds the troops that the Rangers won it all last year without Matt Cain.
PHOENIX -- Baseball's elbow epidemic got a bit worse with the news out here that Yu Darvish, one of the sport's best pitchers, very likely needs Tommy John surgery. The operation has been recommended by noted Rangers surgeon Keith Meister, though Darvish is headed for a second opinion, just in case there may be hope to avoid it.
And Texas' year-plus run of bad luck looks like it just got a little worse.
The Darvish story is a bit perplexing, as it appeared the Rangers were being cautious by shutting him down late last year with what was termed "mild inflammation" in his pitching elbow. Now, six months later, a slight tear to the key ulnar collateral ligament was detected by Meister, who offered the first opinion.
Technically, the injury is being called a sprain, but it's no strain to think this is a devastating blow for star-crossed Texas, which had two straight World Series appearances at the beginning of this decade and now may be headed for a second straight year of pain. Darvish is one of about 10 true aces in baseball.
"I will be disappointed if I have to miss the season, but I want to look at all my options, including getting a second opinion, before I make a final decision," Darvish said in a statement.
Meister's belief that surgery is probably necessary is partly tied to the six-month effort Darvish put in to try to rehab the injury, and fix it that way. So it is hard to see him avoiding surgery at this point. To be sure,  Darvish will get that second opinion from Mets doctor David Altchek on Tuesday in New York.
Maybe there is a miracle out there, but suffice to say, the dreaded, year-consuming Tommy John elbow reconstruction surgery looms. And another potentially wasted year for the Rangers beckons.
For all their offensive stars, from Adrian Beltre to Shin-Soo Choo to Prince Fielder, Darvish is the one indispensable Rangers player on a talented but young team trying to forget its painful, record-setting 2014 season in which they led baseball in injuries, time missed and players used, and even set new marks for bad fortune.
No team was even close in terms of the injury toll, with 2,281 player days spent on the disabled list, compared to the second-place Diamondbacks, who lost 1,448 days. That means Texas lost more than 50 percent more days than the second unluckiest team. The Rangers used a baseball record 64 players, a sport-record 40 pitchers, and a sport-record 11 first basemen.
That last one is like Cy Young's 511 victories or Johnny Vander Meer's two straight no-hitters, a record that will never be broken.
And now a few pitches into spring training, the Rangers have suffered the worst possible loss. It's almost too much to take. In fact, it probably is. If Darvish does, in fact, need Tommy John surgery, it's practically a pipe dream to think the Rangers can win the AL West.
For what it's worth, Rangers rookie manager Jeff Banister seems like the right guy to set a positive tone, however possible that is. Banister reminded the troops that the Giants won the World Series last year without Matt Cain, and the Cardinals did it three years before that without Adam Wainwright. He also mentioned the Rockies getting to the World Series in 2007 after losing three pitchers early.
So theoretically, it's not quite impossible.
"I have great empathy for the whole situation, the man, who he is. However it turns out, it's a tough deal. But one thing we should never lose sight of, there is not one single player who defines a whole team," Banister said. "This just means we have to buckle up and be better. Man down, man up. Nobody in baseball is going to feel sorry for us."
This division is no cakewalk. The Angels had baseball's best regular-season record, the Mariners added Nelson Cruz and have the division's best pitching, the A's always surprise folks and the Astros aren't nearly the patsy they've been in recent years (they actually finished ahead of Texas last year, thanks to the Rangers' ultra depleted roster).
Darvish exited Thursday's game against the Royals in Surprise, but there still seemed to be some hope it was just a blip. He arrived at camp Firday seemingly in fine spirits, Banister said. Then came word he was seeing the team surgeon, and now the news that the ligament is "sprained." The word sprained has rarely sounded more horrific.
The Rangers still have many talented players coming back from injury-riddled years, and that is heartening. But still not enough pitching. Not without Darvish.
 Derek Holland looked good late after returning from a knee injury said to have suffered tripping over his dog at home, but he is returning to spring slowly with what is thought a minor shoulder concern, Martin Perez will himself return this summer from Tommy John surgery. Matt Harrison has had multiple back surgeries and doesn't yet have a timetable. Colby Lewis has weathered a lot and is still hanging in there.
After that, Ross Detwiler, an import from the Nats' bullpen, looks like a lock in the rotation after starting as only a candidate for the fifth spot. Also in that mix are Nick Martinez, Nick Tepesch, Lisalverto Bonilla and possibly others.
The Rangers may take another look at Cole Hamels now after deiscussing him with the Phillies this winter, but it isn't known what their apetite is to surrender one or more of their very best prospects, such as Joey Gallo or Jorge Alfaro. There aren't many great laternatives available, but Hamels could be an interesting one. The others are far less exciting.
Chris Young just signed with the Royals, but the Rangers didn't see him as a fit in their ballpark since he is a flyball pitcher. Dillon Gee is someone they considered in mid-winter but don't plan on pursuing.
"We're going to evaluate guys in camp first," general manager Jon Daniels said when asked whether they may look outside for help.
The one fully healthy proven excellent in-his-prime starter is Yovani Gallardo, the locally raised kid (from Ft. Worth) who has yet to throw a pitch that counts for the Rangers and has spent his whole career to date with the Brewers. Gallardo was imported to fortify a rotation with cracks. Now he may have to lead it.
Darvish's potential loss is a big blow to baseball, as he is one of the game's most talented pitchers, an international star with flair. He looks likely now to join Jose Fernandez, Matt Harvey and many, many others (including Texas' Perez) who fell victim to the ligament issue that seems to be getting worse around the game.
It's rough to be a pitcher these days, but rougher still to be a Ranger. They do have a potentially devastating lineup top with on-base machine Choo (whose own elbow trouble limited his effectiveness his first year in Arlington last year), Fielder (who missed maybe a game or two a year before suffering a shocking neck injury in his initial year as a Ranger), the under-rated Leonys Martin and the amazing Beltre, plus a considerable prospect stash that starts with banger Gallo and catcher Alfaro.
The future looks decent in Texas, but as of today, sadly, this season looks like it may wind up as big a challenge as the 2014 season turned out to be.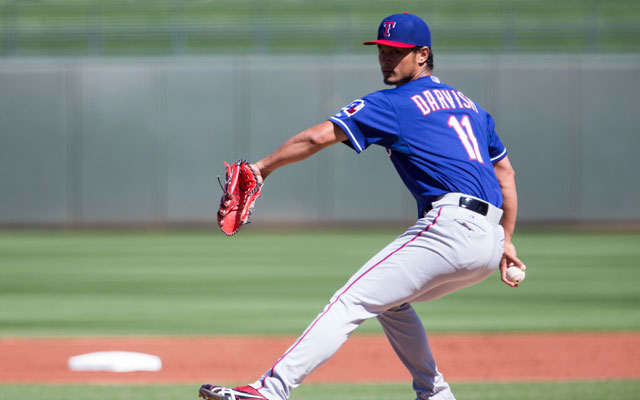 CBS Sports HQ Daily Newsletter
Get the best highlights and stories - yeah, just the good stuff handpicked by our team to start your day.
Please check the opt-in box to acknowledge that you would like to subscribe.
Thanks for signing up!
Keep an eye on your inbox for the latest sports news.
Sorry!
There was an error processing your subscription.
The Nationals outfielder walked it off in front of his fans

Harper rallied to beat Kyle Schwarber in the final round

Happ is expected to be traded before the July 31 deadline
Snell changed his position on the rubber and it turned him into an ace

The Rockies slugger and first-time All-Star cut his strikeout rate quite a bit in 2018

Folty is one of many first-time All-Stars in D.C.