Yu Darvish jokes the Yankees gave Masahiro Tanaka 'too much'
Did the Yankees give Masahiro Tanaka too much money? Yu Darvish thinks so ... lol j/k.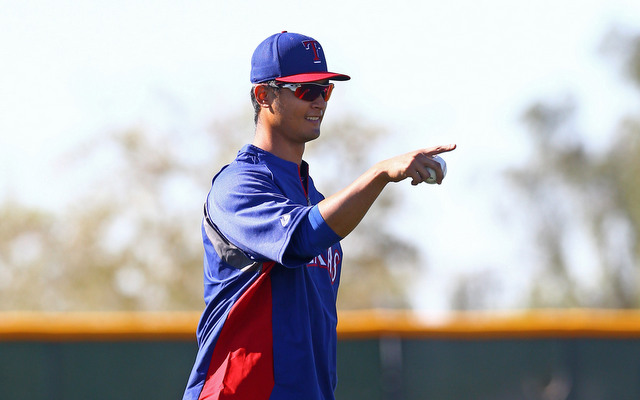 MORE: FA tracker: position players | FA tracker: pitchers
Two offseasons ago, the Rangers signed right-hander Yu Darvish to a six-year, $56 million contract after winning his rights through the posting process. This offseason, the Yankees signed right-hander Masahiro Tanaka to a seven-year, $155 million contract even though he is considered an inferior pitcher to Darvish.
The revamped posting system as well as a lack of high-end free agent pitchers led to Tanaka getting that massive contract, nearly three times what Texas gave Darvish. Things have changed over the years, that's life. On Tuesday, Darvish discussed Tanaka coming over to MLB with reporters.
Rangers Yu Darvish on Tanaka deal: I don't know too much about the new posting system but I think the Yankees gave him too much.

— Anthony Andro (@aandro) February 18, 2014
Naturally, that quote generated some buzz because everyone thought Darvish was saying Tanaka isn't worth the money. Sarcasm doesn't come across Twitter well and since only a small number of people actually heard Darvish say what he said, no one really knew he was joking. Here's the statement Darvish released this afternoon:
"I am sorry if anyone took my comment seriously about Masahiro Tanaka at the press conference today. I assumed by the reaction in the room that everyone knew I was joking."
So lol j/k, basically. Works for me. Another non-story story avoided!
Plenty of other teams are involved, of course

Where might the Orioles third baseman land?

Kinsler will slot in at second base for the Angels
The Marlins got a better return for Ozuna than Stanton or Gordon

The two teams are going about things in very different ways

The Marlins are indeed in teardown mode under new ownership