Zack Greinke to opt out of Dodgers contract, command a big deal
After an outstanding season, Zack Greinke is expected to opt out of the final three years of his contract with the Dodgers.
Zack Greinke will opt out of a contract that has $71 million over three years remaining, according to sources, and one GM suggested he should get multiple offers for $125 million over five years, at a minimum, with the likely winning bid at about $150 million over five years, or perhaps even more.
That is even better than the $147 million, six-year deal he got three years ago from LA. That was a deal that turned out to work for everyone.
Someone connected to Greinke suggested the pitcher shouldn't have any trouble getting a deal of some length (presumably meaning five to six years, at least) even though he turns 32 next Wednesday. The reason he probably isn't a threat to crack the $200 million mark, as his rotation mate Clayton Kershaw did and Max Scherzer also did, is he's seven years older than Kershaw was when he signed with the Dodgers before free agency and a couple years older than Scherzer was when he signed with the Nationals. Free agents David Price and possibly Johnny Cueto are expected to command even more because they, too, are a couple years younger than Greinke.
The Dodgers have been expecting him to opt out from the start of the season, but of course that decision was solidified as Greinke won the ERA title (1.66) with his brilliant season. Greinke, in a typical comment, explained his miraculous season this way: "Not a lot of bad things happened."
It wasn't luck either, though Greinke recalled two hard-hit balls over the course of the season with the bases juiced that were hit right to the fielder, one to second when the shift was on to save him, and one to left.
As far as the contract, Greinke, who will finish either first or second to the Cubs' Jake Arrieta in the Cy Young voting, himself declined comment when asked about it the other day.
In addition to the incumbent Dodgers, several more big-market and others teams are expected to be in the hunt for top starting pitching, including the rival Giants plus the Red Sox, Cubs, Yankees, Tigers, Diamondbacks, Phillies, Marlins, Blue Jays, Cardinals, Braves, Rangers (and more).
Texas, which could lose free agent Yovani Gallardo, finished second last time for Greinke and was willing to offer a similar number to the Dodgers' winning bid. The Braves seem to make geographic sense as they train in Greinke's home area of Orlando (and play not too far away) but he may be a bit pricey for them.
While Price is someone the Dodgers admire (Price pitched for Dodgers team president Andrew Friedman's Tampa Bay Rays), Greinke might actually be more likely for the Dodgers. Although Dodgers people say Greinke didn't necessarily love every faction in last year's semi-fractured clubhouse. He wasn't necessarily down with the hurting and retiring Josh Beckett or the oft-injured Hanley Ramirez last year, according to a Dodgers connected person, but he likes this clubhouse this season, and everyone in there absolutely loves him.
So folks wouldn't be shocked if he wound up staying --- just for a lot more money than $71 million over three years.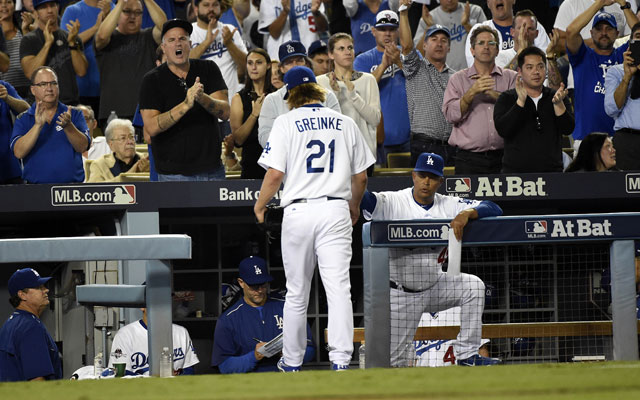 Boston wants to add two big bats to their lineup, not just one

Even more relievers signed on the final day of the Winter Meetings

Keep tabs on the top 50 free agents right here
The league is not happy Ohtani's medical information leaked

Kansas City and Baltimore were quite busy at the Rule 5 Draft

Piscotty's mother was diagnosed with ALS earlier this year