Zack Greinke's comments not sitting well in Australia
Remember how Zack Greinke said there was "zero excitement" for the Dodgers' season-opening series in Australia? Well, some in the Land Down Under aren't too pleased about that.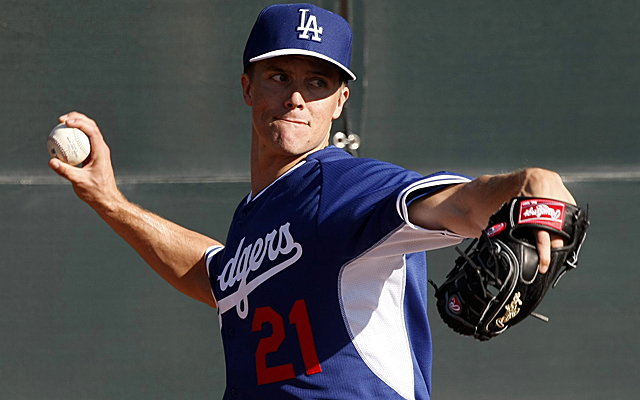 MORE: Spring Training | FA tracker: position players | FA tracker: pitchers
Saturday, Dodgers starting pitcher Zack Greinke made a comment about opening the season in Australia against the Diamondbacks that spread through the Internet quite hastily.
The quote: "I would say there is absolutely zero excitement for it. There just isn't any excitement to it. I can't think of one reason to be excited for it."
Needless to say, those words aren't going over well in the Land Down Under. Here are some excerpts from an article about the comments in the Sydney Morning Herald:
The Dodgers are also reportedly considering leaving their No.1 pitching ace Clayton Kershaw back in the United States, with their March 22-23 opening series against the Arizona Diamondbacks in Sydney looking more like a chore for the powerhouse side than a historic chance to spread the baseball gospel.
Organisers in Sydney are far from thrilled with Greinke's outburst but are holding off on making comment until they've spoken to relevant parties in America.

The opening series at the SCG has been planned in close consultation with the Major League Baseball Players Association and the Dodgers and Diamondbacks clubs, and Australian baseball representatives have now asked for a please explain.
--snip--
Arizona pitchers Brandon McCarthy and Patrick Corbin have spoken of their desire to be a part of history in Sydney, but it seems big brothers the Dodgers may feel the venture is beneath them.
I'm not sure I'd phrase it like that. I don't think Greinke believes the trip is beneath him as much as he probably doesn't want to fly halfway across the world to play two games. Regardless, it's hard to blame those in Australia who are excited to host the opening games for being a bit peeved with the uber-honest Greinke.
Marcell Ozuna figures to be the next Marlins star on the move

Several relievers have signed in the last two days

Several teams are interested in the switch-hitting first baseman
Neshek and the Phillies are closing on a two-year contract

And the team that first drafted Cole is interested

This scout was SUPER into Jeter