Zack Greinke's forgotten Game 1 gem
Lots happened in the 13-inning opener of the 2013 NLCS. So much that it's easy to forget how good Zack Greinke was.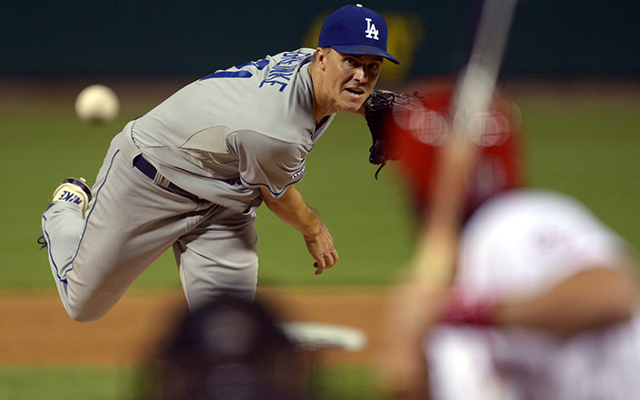 MORE: Game 1 quick hits | Game 1 grades 
ST. LOUIS -- Carlos Beltran's towering performance wasn't the only story from Game 1 of the NLCS. In the course of the Cardinals 3-2 win over the Dodgers in 13 innings, we also witnessed some impressive pitching. 
For instance, St. Louis starter Joe Kelly rebounded from a rough third inning to retire nine of the next 11 batters he faced. He wound up logging a quality start: 6 IP, 6 H, 2 R, 5 K, 2 BB. Even better were the two bullpens in question. In total, 11 Cardinal and Dodger relievers combined to allow only one run -- the final run of the night -- in 11 innings of work. Stellar. 
Above all, though, was Zack Greinke. On the night, the Dodgers' number-two man allowed two runs on four hits in eight innings of work. He struck out 10, walked none and placed 68 of his 104 pitches for strikes. Dodgers manager Don Mattingly lifted his top right-hander for a two-out pinch-hitter in the top of the ninth and with the Cardinals' 2-3-4 hitters slated for the home half -- one of his many dubious decisions on the night. However, after the game Mattingly admitted that Greinke "probably could have kept going ..." 
Greinke's catcher, A.J. Ellis, was also impressed by what he saw on Friday night:
"He was in complete command. That's the best his curve has been all year. Other than that 3-batter stretch [in the third inning], it was as good as I've caught him. ...

"We didn't go in thinking we were going to have a lot of strikeouts. His stuff was so good that the strikeout numbers started adding up."
Indeed, Greinke in Game 1 threw 20 curveballs, 15 for strikes, and batters made contact with his bender just eight times (source: Brooks Baseball). As well, Greinke seemed to get stronger as he went along. After allowing a single, a walk and a two-run double in the third and giving up a single in the fourth, he went on to retire the final 14 men he faced. His last pitch of the night clocked in at 94 mph, and in the eighth inning he recorded his highest strike percentage of Game 1. 
In addition to those nifty curves that impressed Ellis, Greinke also had exceptional command of his changeup and sinker. In a related matter, Greinke's
Game Score
of 75 is easily the best among his five career postseason starts, and it's also his highest such mark since he shut out the Rockies on July 13.  
The prevailing reality is that the Dodgers, in losing Game 1, squandered Greinke's brilliance, but Greinke more than did his part. The cold comfort is that he enters a potential Game 5 start on a roll. Of course, as we learned in Game 1, even another Greinke gem can't guarantee a Dodgers win. 
The Grapefruit League and Cactus League seasons started on Friday

Data will be collected and then used to determine whether humidors are necessary in 2019

Spring training play began on Friday, and the Stoneman Douglas tragedy was on the mind of MLB...
Baseball players forced to take pictures usually lead to fun for all of us

One of the most celebrated programs in baseball is looking to continue its run

A closer look at the teams in the Cactus League and Grapefruit League