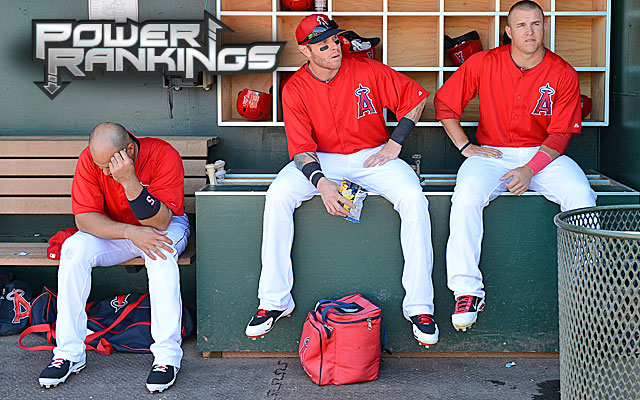 So with the 2013 season winding down, I thought it might be fun to take a look back at my preseason rankings and see how I did.
The purpose is twofold.
One, I pride myself on accountability. For some reason, commenters, tweeters and emailers seem to love accusing me of not admitting at the end of the season when I'm wrong. What's hilarious about this is that it's usually done from an anonymous username where there's a lack of accountability.
Secondly, it's fun. So let's take a look.
I'm going to file these into three categories. The first is relatively accurate -- meaning if I was within a few spots of being correct, it's a wash. Generally speaking, if I pegged a good team in the preseason as being good, that's a success -- even if I had them at No. 7 preseason and No. 3 now. The second is underestimated and the third is overestimated. I'll put preseason ranking in parentheses.
Relatively accurate predictions
Braves (2), Reds (3), Tigers (4), Cardinals(6), Rangers (9), Rays (10), Athletics(11 -- see team comment below), Dodgers (12 -- see team comment below), Orioles (13), Phillies (15), Royals (16), Diamondbacks (19), Padres (23), Mariners (24), Mets (25), Cubs (26), Rockies (27), Twins (28), Marlins (29), Astros (30).
Probably a stretch on a few of those, but generally speaking I was in the right ballpark on 20 of the 30 teams. Oh, and speaking of the Mariners -- of all teams, they are the one that surprisingly (at least to me) inspired the most hate email. Like this one!
"As an old coach talking to the high school and CC coaches I suspect that looking at your rating of the Mariners they would suggest you find something you can do you are capable of. To be as low as #20 at season's end would take every M having a worse season this year than last. Rather improbable."
We had a long email exchange after this where some of the same lame comments I often see were brought forth by Mr. Baseball Coach. Like this one: Guys who played in college or the pros are more suited to analyze baseball than writers -- which is especially funny since I, ahem, played in college (click here to see photo evidence). Also, apparently high school and college coaches are better suited to judge pro baseball teams than writers. At least that's what I heard from this guy. So, by his logic, someone who is paid to spend the majority of his time teaching and coaching teenagers is better suited to judge MLB teams than someone who is paid to spend the majority of his time watching and writing about MLB teams.
Hopefully he's a better coach than debater.
Anywho …
Underestimated
Indians (17), Pirates(20), Yankees (21), Red Sox (22).
I wasn't more wrong about a single team than the Red Sox. I thought they were gonna suck, I'll fully admit that.
On the Yankees, though, I kind of feel like they could be included on the "accurate" list, because I said once they got healthy offensively they'd be in the top 15. I also don't think I missed badly on the Indians because I did think they'd hang around in the race. Being seven spots off from preseason to right now, however, I can't take credit.
Overestimated
Nationals (1), Giants (5), Angels (7), Blue Jays (8), Brewers (14), White Sox (18).
Yeah, yeah, everyone saw all those teams failing to live up to expectations, right? I'll say this: My preseason rankings inspire the largest amount of hate on email and Twitter and not one person -- not a single one -- mentioned the Nationals being No. 1 as stupid. I was attacked -- rightfully -- about the Angels and Blue Jays, but not the Nats.
Please feel free to contact me with comments either on Twitter (@MattSnyderCBS) or via email: matt.snyder@cbs.com.
In sticking with the theme, I'll lean back on my preseason rankings comments and note them below.