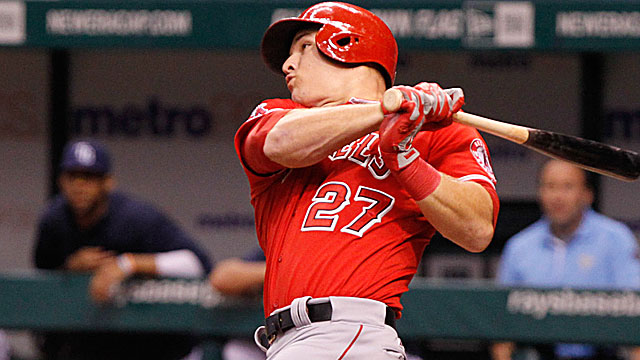 In the Eye On Baseball Top 10, here's what we do: rank players according to criteria. Those criteria change depending upon week and whim, but the Top 10 will always be informed by some angle or another. (Note that the absence of an angle is itself an angle ...)
And that brings us to this week's guiding query: Who have been the best position players and pitchers of the 2013 season?
Obviously, some specific criteria are in order. First, we're talking about 2013 and 2013 alone. These rankings pay no mind to what's happened in previous seasons and no mind to how a given player figures to fare in 2014 and beyond. This is all about performance in the current season.
Second, I don't care how a player's team has performed. This isn't the MVP award, in which some voters penalize or reward a player based on the quality of his teammates. So these selections are informed solely by the performance of the individual player in question without any consideration given to his team's place in the standings.
Third, when it comes to position players, hitting, base-running and defense will all be taken into account. These rankings are about the full complement of skills -- i.e., more than just what a player does at the plate.
Fourth, you'll find no closers on this list. That's because a "merely" good starter is more valuable than even a great reliever -- even one as great as, say, Craig Kimbrel of the Braves. Starters generally work at least three times as many innings as do closers, and that fact alone overwhelms considerations of leverage or the fetish we've made out of the final three outs of the game.
Among the names not on this list? A-Rod! Yasiel Puig! Mariano Rivera! Pete Rose!
So now let us recite even more hot baseball names for purposes of SEO and making you angry. As always, feel free to brandish your incorrect opinions and make idle threats in the comments section.