More MLB: Top 10s: Best of AL Central | Expert Picks | Latest news | Fantasy news
One month ago, the Detroit Tigers were 27-12 and had a seven-game lead in the AL Central. They looked set to cruise into the postseason (again) with ease.
Lots can change in a month, no?
Since then, only the Padres have had a worse record in all of baseball. That's right, in the past month, the Tigers have the worst record in the American League. The Royals, meanwhile, have now won 12 of their past 14 and have (gasp!) taken over first place. The last time they were in first place this late in the season was 2003.
Of course it's possible that the three-time defending AL Central champs flip a switch at some point and bury the rest of the division. I know that. There's tons of talent there and it has happened before. They actually had a losing record in early July in 2012 and trailed in the division until the last week of September. They dropped down to second place in early July last year, too, before getting insanely hot through much of July and August.
I think it's realistic to worry about these Tigers, though.
The bullpen has been a complete mess; outside of a few studs, the offense lacks reliability; and Justin Verlander's struggles are a game-changer. Whereas it looked like -- heading into the season -- the Tigers had a pair of aces and another guy (Anibal Sanchez) not far behind, Verlander is pitching like a below-average hurler.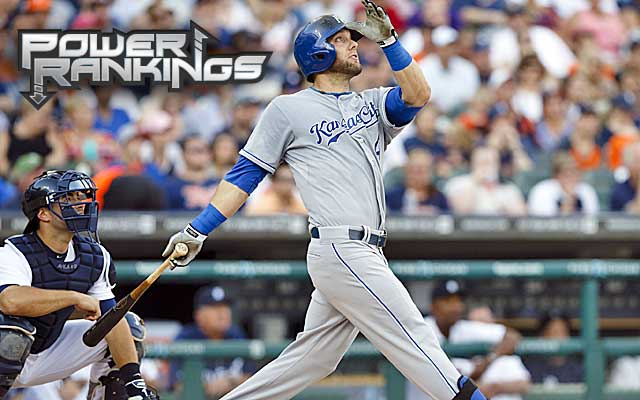 He is leading the majors in a few categories -- but those are hits and earned runs allowed, which isn't where he's used to being. In his past seven starts, Verlander has a 7.83 ERA and only 26 strikeouts in 43⅔ innings. He has allowed five or more earned runs in six of those seven starts. Last time out -- against the Royals -- his velocity was measurably down, too. At age 31 and with 1869⅔ innings under his belt, there has to be serious concerns.
And if Verlander keeps pitching like this in 2014, isn't it possible the Royals can hang around? They're capable of being an elite team when it comes to pitching and defense and just need to hit better than they had the first few months of the season. They're doing it now and turning some heads. Rightfully so.
The Royals, by the way, own the longest playoff drought in baseball. They haven't been to the postseason since winning the World Series in 1985. What a great story it would be for them to make a run -- and, in cases like these, I always think about the fans. For the loyal Royals fans, that would be some sweet relief along with the ecstasy.
I'm not sure the Tigers will cough up their division crown, but for the first time all season, I'm not sure they'll retain it, either.
Please feel free to contact me with comments either on Twitter (@MattSnyderCBS) or via email: matt.snyder@cbs.com. Just please remember these were posted the morning of Wednesday, June 18.