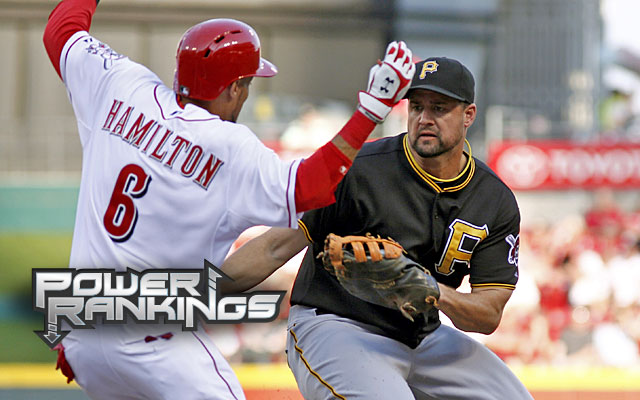 More MLB: Top 10s: Best All-Stars | Expert Picks | Latest news & notes | Fantasy news
What a ride the first "half" of the 2014 season has been. So many different teams have had huge ups and downs. We've unfortunately seen a rash of high-profile injuries -- specifically pitchers needing Tommy John surgery -- but many clubs have overcome adversity and are stronger for it. Scoring is down, but the drama isn't even remotely lacking. And here's the best part: It's going to get better.
There are 11 teams either in first place or within 1½ games of first. There are a whopping 17 teams either in a playoff spot or within just 3½ games of one. Only seven teams are at least 10 games out of a playoff spot.
The races could be the best we've seen in years.
Take the NL Central. Would you feel confident in betting on the Brewers, Cardinals, Reds or Pirates right now? I sure wouldn't. But one of them is going to win and it could well come down to the final weeks or days of the season. As I noted last week in the video, there are 29 head-to-head games among these four teams in September.
How about the NL East? The Braves and Nationals are in a virtual tie right now and have nine head-to-head battles left -- including six in September.
The second wild card in the AL and both in the NL seem completely up for grabs, too, each with more than a handful of teams capable of taking the spot.
No matter how we break it down, I'm finding it rather easy to envision upwards of 15 teams heading into September with a realistic shot at making the playoffs. And what if things come down to the last weekend for some of the following season-ending series: Pittsburgh at Cincinnati, Baltimore at Toronto, Angels at Seattle.
The only thing we know for sure is that it's going to be fun -- 2014 is a great time to be a baseball fan.
Please feel free to contact me with comments either on Twitter (@MattSnyderCBS) or via email: matt.snyder@cbs.com. Definitely remember that if we have differing opinions, it means someone is stupid and/or biased -- and probably doesn't even follow baseball.