Red Sox general manager Cherington: 'We've got to build a better team'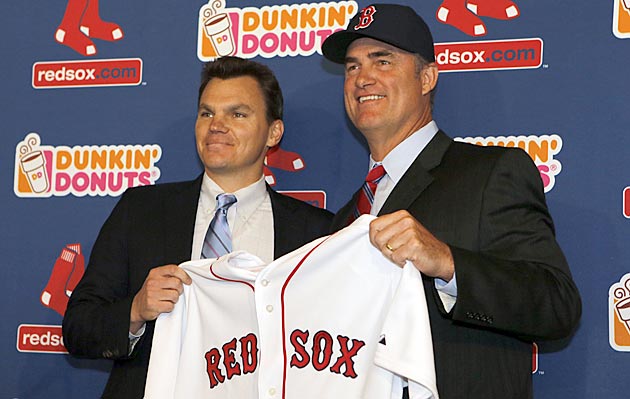 Ben Cherington is assembling a coaching staff. Now it's time to start improving the roster. (US Presswire)
INDIAN WELLS, Calif. -- The Red Sox have a new manager, a new pitching coach and a newly reorganized medical staff.
They'll spend this weekend interviewing candidates to become their new hitting coach.

They've been busy. They'll stay busy.

Eventually, they need to add some players. A lot of players.

After a season in which they lost 93 games, their most since 1965, none of this should come as a surprise. The Red Sox aren't blaming their awful season on bad health or bad luck or bad atmosphere or a bad manager.


"We've got to build a better team," general manager Ben Cherington admitted Thursday.

Cherington and his staff have been linked to many free-agent pitchers (including Hiroki Kuroda), to first basemen who can catch (Mike Napoli) and to outfielders (Torii Hunter). Colleague Jon Heyman reported Thursday that they even have some interest in Russell Martin.
I'm not listing everyone they're interested in. I don't have the time, and neither do you.

They're all over the place, and with good reason. While the Red Sox have some money to spend, thanks in large part to the trade that rid them of Carl Crawford, Josh Beckett, Adrian Gonzalez and bloated contracts, they also have great needs (in part because of that same trade).

Cherington lists the priorities as first base, outfield and starting pitching, although as the potential interest in Martin shows, the Red Sox could go just about anywhere.

The one place they say they won't go is to the aisle marked rebuilding.

"This is Boston, and we're going to build a team as quick as we can," Cherington said. "It's not a two-, four-, five-year plan."

The Red Sox know they need to add pitching. They have Jon Lester and Clay Buchholz, and they believe they'll have a healthy John Lackey. But they know they don't yet have enough.

The Red Sox know they need to add hitting. They could go with Jose Iglesias at shortstop, and they could go young (Ryan Lavarnway) behind the plate. They need to make sure there's enough strength elsewhere in the lineup.

They need to find a first baseman.

They have their manager (John Farrell). They have their pitching coach (Juan Nieves).

They're not too proud to look at guys who are more comfortable in pinstripes. The Red Sox asked for and received permission to talk to Tino Martinez about becoming their hitting coach, even though they knew that convincing Martinez to cross sides in the rivalry would always be a longshot. Before things got too involved, Martinez took the hitting coach job with the Marlins, anyway.

The Red Sox know they still need help. They know they still need to convince people that they're not a 93-loss kind of team.

They've been busy. They'll stay busy.

After 93 losses, they have no choice.