Surprising Red Sox sit atop postseason rankings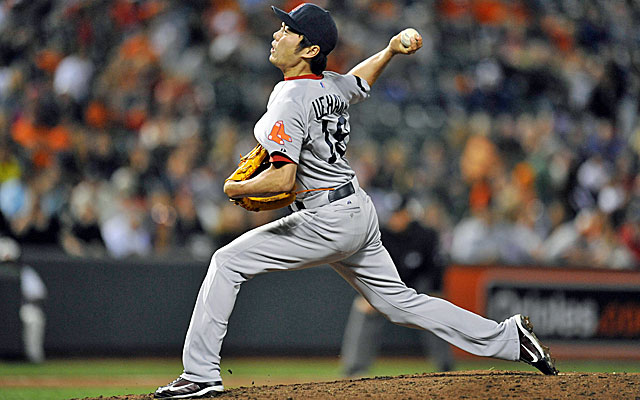 There is no superteam this year, but the Red Sox sure played like one a lot this season. So call them a slight favorite in a wide-open postseason field.
The Dodgers have the pitching and talent, the Cardinals have hitting and history, and the Tigers hitting and pitching. The A's and Braves, meanwhile, are blessed with positive karma. The Pirates, Reds, Indians and Rays all have their strengths, too, but that foursome is handicapped by having to win an extra round.
Here are my rankings entering the postseason, with pluses and minuses listed for all 10 postseason teams …
1. Red Sox: They blew away the AL East, quite likely baseball's best division, after a rare winter where they batted nearly 1.000 in free-agent buys. Beset by bad luck and a rough clubhouse mix last year, they are a lot better than anyone figured. The favorite. Pluses: Very strong four-man rotation, from one-game loser in 2013 Clay Buchholz down to former Cy Young winner Jake Peavy. … Shutdown closer Koji Uehara was the best in baseball over the last several weeks. … Their lineup can wear down a pitcher; in a recent game, one scout noted they didn't swing at a first pitch until the 17th batter. … Gamers Shane Victorino, Mike Napoli, Jonny Gomes and others joined mainstays Dustin Pedroia and David Ortiz to form the perfect blend. Minus: Jacoby Ellsbury's foot could be a concern.
2. Dodgers: Their great second half stamped them as the rightful NL favorite following a rough start, and they wound up running away in the NL West despite season-long injury woes that prevented them from having all their offensive pieces for more than a game or two all year. Pluses: Their rotation, one to four, should be the best in the derby. … Ace Clayton Kershaw is the most valuable piece on any team. … They have dynamic overall talent when healthy, and no one played better in the NL than Hanley Ramirez and Yasiel Puig when they were available. Minuses: There's some question whether their bullpen can maintain its performance. … Ramirez's range is below average. … Matt Kemp is a big loss, so they need Andre Ethier and Carl Crawford to be healthy. … They can make "dumb mistakes," in the words of one NL scout.
3. Cardinals: Baseball's most consistent winner/October threat over the last decade didn't disappoint, posting the best record in the National League. Pluses: "Everyone's a hitter" in their lineup, an NL scout said. … Adam Wainwright is a bona fide ace with excellent postseason experience. … Its history is special, and this team has shown it can hold up through October. Minuses: Clutch hitter Allen Craig will miss the Division Series, and likely much more, due to a dreaded Lisfranc injury. … Closer is a question after Edward Mujica was brilliant much of the year.
4. A's: They have something special going, pulling off back-to-back surprise titles in the AL West, so don't assume they aren't as good as their record. Pluses: Their rotation, led by miracle-working Bartolo Colon and Jarrod Parker, is better than you think. … They have an excellent offensive approach just like you'd expect: lots of patience, which can wear on pitchers. Minuses: Jed Lowrie is an offensive shortstop but doesn't have big range. … Closer Grant Balfour was better earlier.
5. Tigers: Their talent seems overwhelming, yet they have won the AL Central by three games and one game the last two years. Pluses: Any rotation where ERA champion Anibal Sanchez is the No. 3 starter can be nothing short of dynamic. … At full strength, it's the best and most accomplished lineup in the game, with Torii Hunter fitting perfectly into the No. 2 hole. … They are hungry after a bad World Series in 2012. Minuses: They have to be concerned about Miguel Cabrera, the game's best hitter, who wasn't healthy through September. … Generally, as a team they limped to the finish.
6. Braves: They weathered a number of injuries to coast in the NL East, a division that was supposed to be won by the Nats. Pluses: Their bullpen, even without Jonny Venters and Eric O'Flaherty, was the best in baseball. … They are a threat to strike for a homer at any time. … The Braves are one of the youngest teams in the derby, so they shouldn't tire. Minuses: After a decade where they had three aces, they don't have one true ace, as Kris Medlen, a threat to go to the bullpen at one point this year, will handle Game 1. … They rely a bit too much on the home run, and wind up striking out way to much. … Dan Uggla and B.J. Upton have been automatic outs at times.
7. Pirates: The best story of the year, they followed 20 straight losing seasons by earning themselves at least a home game in these playoffs. Pluses: They have captured a city all but ready to give up on them, and their home games should be big advantages. … Their pitching has been terrific most of the year, and rookie Gerrit Cole, added midway through the year, is a big addition with lots of strikeouts lately. … The pen is excellent, especially with Jason Grilli back now. … Likely MVP Andrew McCutchen may be primed for a big October. Minuses: Their offense is better with Marlon Byrd and Justin Morneau but still is below average among the final 10. … They need to fight any urge to feel satisfied after a season that already is a huge success, no matter what happens now. … Postseason experience is naturally limited. … They need to win an extra round.
8. Rays: They nearly blew it with two straight losses in Toronto the final weekend but beat Texas on the road Monday night to extend their season. Pluses: They are a heady team that makes the most out of its offensive talent. … The rotation is very young, but talented. … Evan Longoria could be primed to carry them. Minuses: Joel Peralta and Fernando Rodney haven't been their best lately. … They used ace David Price to win the play-in game. … Need to win an extra-round.
9. Reds: They never really hit their potential but still easily won a playoff spot after a surprisingly ho-hum year. Pluses: There is often someone on base with Joey Votto and Shin-Soo Choo ranking Nos. 1 and 2 in the NL in on-base percentage. … They have five very good starters now that Johnny Cueto, the most talented of them all, is back. … Their overall talent is pretty exceptional , from start to the finish with Aroldis Chapman. ... Maybe they saved their best for last. Minuses: They seemed to sleepwalk through some of this season. … Their lineup is pretty top heavy with a majority of the production coming from Votto, Choo, Brandon Phillips and Jay Bruce. … They need to win an extra round.
10. Indians: They finally captured the attention of the city when they finished with a flourish (10 straight wins) to reach the postseason. Pluses: They are on a roll, having won 10 straight, all of them needed. … The rotation is better than you think, and Ubaldo Jimenez is back to his ace form. … They have a nice veteran mix. Minuses: There is a closer question with Chris Perez struggling … Asdrubal Cabrera and Nick Swisher didn't have the years expected of them … Need to win an extra round.