Hawks-Celtics Game 5: Atlanta wins the battle to force Game 6, but what about the war?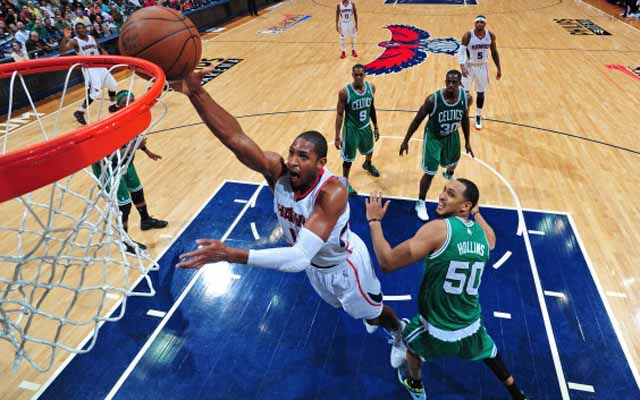 Al Horford and the Hawks slipped past the Celtics Tuesday.
(Getty Images)
The
Hawks
live to fight, or not, another day.
The Hawks nearly choked away another game, this one which would have been the last of their season, but managed to just play unlike themselves
long enough to hold on and get the win, 87-86
. For a brief time in the third quarter, the Hawks were sharing the ball, distributing, sharing, and out-working the
Celtics
. They looked like the younger, hungrier team they should be, and
Al Horford
in his second game back this season from a serious injury, out-hustled the famous hustle team. Maybe Atlanta had it together, maybe they can push this thing to seven and shock the Celtics.
And then they gave up the run. In the end, it came down to
Rajon Rondo
over-dribbling on a possession, getting a bit lost and then
Josh Smith
making just enough of a defensive play to end the Celtics' comeback attempt. The Hawks fought for Game 5, let's not be confused. They did shot grit. They did show grind. They did show heart. But they showed the kind that you see from plucky teams trying to hold on, not from established teams that have been to the playoffs the past five years.
The Hawks should have slammed the door, but again, Boston came back. The fact that the comeback fell short means less than it does Boston was right there. The Hawks had to cling for dear life, at home, against a team up 3-1 with every reason to coast. They turned the ball over, up one, with ten seconds left. They weren't just fortunate to walk out with a win. They were lucky as all get out.
If there's anything to take away from the game, it's that Boston could have won this game despite everything going against them. Atlanta was due for some things to go their way, Boston due for some things to go against them. But the gap was still a point.
There are positives, to be sure, for Atlanta. Ball movement. Balance. Effort. Open looks. Sharing the ball. Less ISO. But then, all that faded and they went back to what gets them in trouble but they can't stay away from, like that sore tooth they can't stop tonguing.
So the series shifts back to Boston for Game 6, with a chance to win at home. They know they have the advantage, they know that if Atlanta gets the lead, they can come back, they know that Atlanta gave everything and still got away... by a point.
The Hawks won the battle. But it still feels like Boston is winning the war.