Phoenix Suns F/C Channing Frye (enlarged heart) out indefinitely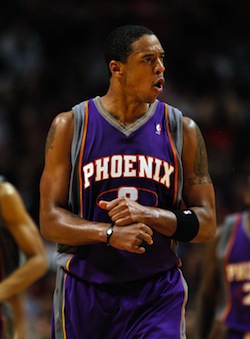 Suns F/C Channing Frye has been diagnosd with an enlarged heart.
(Getty Images)
Another NBA player has been diagnosed with a heart condition that could cause him to miss some serious time.
The Phoenix Suns announced Thursday that forward/center Channing Frye was diagnosed with an enlarged heart. He is officially labeled as "out indefinitely."
Frye has developed a dilated cardiomyopathy, an enlarged heart. The condition was discovered during a screening echocardiogram conducted as part of a routine preseason physical by Suns team cardiologist Dr. Tim Byrne.
Frye will be followed closely by his team of medical specialists. He will not participate in basketball activities and will be re-evaluated in December.
"Nothing is more important to us than the health and well-being of our players," said Suns President of Basketball Operations Lon Babby. "Channing and his family have the full support of our organization. His health is our primary concern and we are committed to helping him in any way he needs."
AZCentral.com reported that Frye said that he is "likely" out for the entire 2012-13 season but that he is "definitely not done" with his his basketball playing career.
"The good news is it is a virus so it does have a good chance of going away," Frye said. "My heart can be normal again."

"It was very shocking and, at the same time, scary," he said of his situation. "It's not like an arm or a knee or an elbow where you're like, 'Maybe I can just rehab this.' It's something that keeps you going."
Frye, 29, signed a 5-year contract worth $30 million with the Suns in 2010. He played his high school and college ball in Arizona before spending the first four years of his NBA career with the New York Knicks and the Portland Trail Blazers. Known for his range and versatility as a big man, Frye holds career averages of 9.7 points and 5.2 rebounds per game.
"Thanks everyone for your support," Frye wrote on his Twitter account Thursday. "I will be OK. It will pass and I'll be back, we have the best staff in the NBA helping me out."
The loss of Frye leaves Phoenix short-handed up front. The Suns will likely start a frontline of Marcin Gortat, Luis Scola and Michael Beasley with reserve big men Markieff Morris and Jermaine O'Neal behind them.
Frye joins a number of players to be diagnosed with a heart condition during the last year. Boston Celtics forward Chris Wilcox and Jeff Green, Sacramento Kings center Chuck Hayes, Portland Trail Blazers forward LaMarcus Aldridge and Toronto Raptors center Aaron Gray have all had heart ailments or scares since the start of the 2011-2012 season.