Miami Heat sign Michael Beasley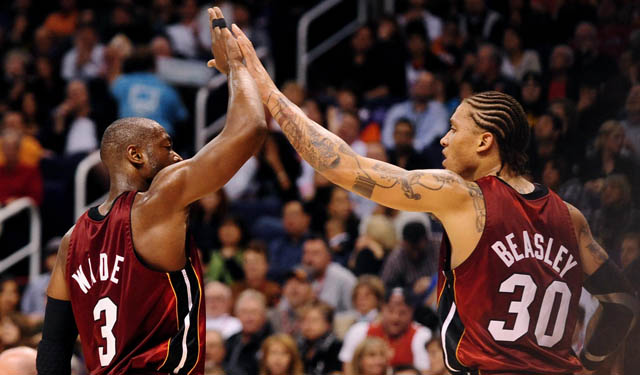 The Miami Heat have won two straight NBA championships behind the incredible play of the Big Three with LeBron James, Dwyane Wade, and Chris Bosh. In order to bring those three players together back in 2010, the Heat had to clear enough cap space to fit their contracts together. As a result, they had to give up on their No. 2 pick in the 2008 NBA Draft, Michael Beasley, trading him to the Minnesota Timberwolves for two second round picks.
Since that trade, Beasley has failed to impress both the Timberwolves and the Phoenix Suns, recently being released by the Suns following an offseason incident that involved charges of marijuana possession. That won't stop Pat Riley and the Heat from giving him a second chance with their organization. The team announced on Wednesday that they signed Beasley.
OFFICIAL: The @MiamiHEAT have signed Michael Beasley.

— Miami HEAT (@MiamiHEAT) September 11, 2013
The understanding appears to be that the Heat are going to give Beasley a chance to prove his worth and earn a spot on a team with their sights set on winning a rare third straight title. Nothing is guaranteed for Beasley in terms of having a spot on a roster that includes 13 players with guaranteed contracts and Javaris Varnado on a non-guaranteed deal.
"Michael had the best years of his career with us," Riley told the Associated Press. "We feel that he can help us."
The Heat are giving him a chance at saving his career on a team that won't have time for any antics or lack of focus, possibly forcing the maturity of Beasley that many fans, GMs, coaches, teammates, and pundits around the league have long been waiting to see. They've also given Greg Oden a chance to rebuild his career that has been marred by devastating knee injuries.
Either the Heat are confident they can help save the careers of both players by incorporating them into a championship environment or they got bored after two straight titles and want to start giving themselves an even greater challenge this time around. Regardless, it's time for Beasley to show whether or not he wants to take his career in a more serious manner than we've previously seen.