Win totals vs. over/under odds for the 2013-2014 NBA season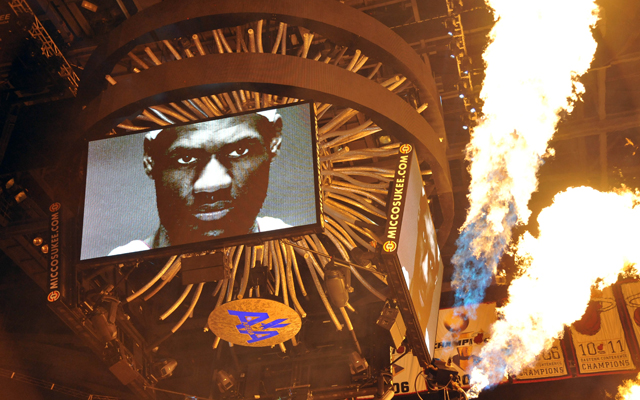 One week from now, the 2013-2014 NBA season begins. Right now, every team has high hopes for exceeding expectations and making a magical run (except for the Sixers). But how are they actually going to do?
We took a look at what Sportsbook.com put its over/unders at for this season and decided to compare it with our own to see what that says about how we feel these win totals will shake out. As always, Sportsbook.com just happened to be the site that we chose and they were largely in line with other books we took a look at. Numbers below reflect the average win totals from the three of us.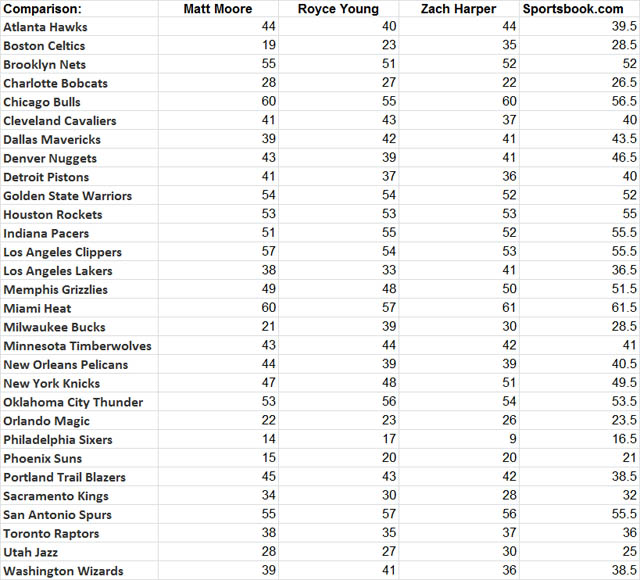 Denver Nuggets (SB: 46.5, EOB: 41): This line just freaked us out when it came out. They lost their best defensive player and third best offensive player in Andre Iguodala, their quality sixth man in Corey Brewer, and their starting center. They added a trick-or-treat Nate Robinson, the defensive question mark J.J. Hickson, a shooter in Randy Foye, and a rotation player in Darrell Arthur.
So how are the winning 47 games?
They still have a lot of talent. That's the rub. You get caught up in what they don't have and forget what they do. Additionally, and this is a big point: GM Tim Connelly took over too late to make significant changes with the roster and needs to give Brian Shaw time to settle in as coach. The point is that this team could look a lot different (and go on a roll) late in the season. I doubt this team goes under .500 (though one of my colleagues does and the other puts them right at it), but 47 seems sky-high.
Philadelphia 76ers (SB: 17, EOB: 13): Can they be that bad? I guess here's a better question.
How bad can an NBA team be when management is actively trying to lose? Bear in mind that the worst NBA team will win about eight games just by showing up because of the schedule and competitive nature of the game. It's like getting points on a test for putting your name in.
One of us thinks the Sixers will actually win just nine games this year. That puts them second all-time on the worst 82-game seasons. This team could get there. It depends on what trades the make and when they shut it down. But let's be clear here. The Sixers have purposefully created a toxic environment by making it clear they don't want to win. That has spiral effects which make a team worse. How do you give effort in that situation, no matter what kind of professional you are? How early does Thad Young shut it down? Or Spencer Hawes?
This could be one of the most fun bets this season, in kind of a cruel way.
Dallas Mavericks (SB: 43.5, EOB: 40.6): Oddsmakers remain surprisingly strong on this Dallas team. They think Monta Ellis have it all and the defense will hold up. We are not convinced.
We have them close to the mark, but all three beneath. I'm the lowest on them at 39 wins. There's the Dirk Nowitzki injury issue, the Rick-Carlisle-gets-frustrated-and-ruins-everyone's-life issue, and their center rotation.
For some reason this one set off alarms in my head that make me think they could be the team you look back on and go "Oh, that's how Vegas makes so much money."
Phoenix Suns (SB: 21, EOB: 18.33): This ain't tough. The Suns don't want to be good, could wind up moving Goran Dragic and Marcin Gortat, are in a full rebuild and play in a division with three possible playoff teams.
Los Angeles Clippers (SB: 57, EOB: 54.6): Sportsbooks are crazy hot for the Clippers right now and Sportsbook.com is no exception. Can they make that kind of a jump? Will Chris Paul really play the whole season out and not take his midseason rest? Can Doc Rivers really make DeAndre Jordan live up to his potential?
I think they can hit this on the dot, but my colleagues are more reserved. The Clippers are a great team at running it up on regular season teams and catching them at the wrong time. I have questions about their playoffs, but this makes for a really great debate at that number.
Miami Heat (SB: 61.5, EOB: 59.3): Are they going to rest? That's it. They won 60-plus last season due to the streak, otherwise they would have coasted a lot more on the back end. Expect a lot of that this season as the team tries to focus on keeping its attention until the playoffs. They have nothing left to prove, and that can usually hurt win totals, especially in a more competitive East.
Detroit Pistons (SB: 40, EOB: 38): We're not strong on this team, as a unit. I've got them one win over, the other two behind, with one writer at just 36 wins. This team is much like the rest of that middle pack in the East. It could be a surprisingly great year of plus-.500 basketball. It could be a trainwreck. Where you stand makes this a great bet, either way.
Indiana Pacers (SB: 54.5, EOB: 52.6): I still don't understand why the Pacers never get elite billing, but they don't. Our thinking on why they fall short varies a little bit, but mine comes down to this: They're not a regular season team. This is a monster playoff team who plays a style that can win. But in the regular season they tend to have a lot of weird things happen do their inconsistent offense and relative inexperience in their core.
We love this team's playoff chances, but not their odds to run up the regular season wins.
Boston Celtics (SB: 27.5, EOB: 25.6): One of us thinks they clear the bar by eight games, the other thinks they're below it by four. I think this team has the wheels come off early, Rondo could miss the entire season, and even if he comes back, it will be too inexperienced and lack so much talent that they'll struggle to win 18 before they go into full tank mode.
Memphis Grizzlies (SB: 50.5, EOB: 49): This one's almost in that stay-away category. Don't go near it. It's a fun bar debate though. It comes down to what kind of coach Dave Joerger will be and the answer is we don't know. They have a little more talent than last year when they made their run. But the West is so much tougher and Zach Randolph is getting up there.
This over/under sounds like the rattle of a snake in the grass.
Houston Rockets (SB: 54.5, EOB: 53): We all agree on 53 wins. That's just a win and a half short of their total. It's a new superstar team with some depth issues and a lack of leadership infrastructure.
That said, this team is stacked. Probably better to be wary of it.
New York Knicks (SB: 49.5, EOB: 48.6): The East got better. This is a huge drop, but you really have to back and compare the first and last month of the Knicks' season last year with the rest of the year. They are neither as bad as they were in February nor nearly as good as they were in November.
This team is going to be a playoff team, it could make some noise in the postseason. But putting them over 50 seems awfully tough with where the roster is at. That said, factor the number of random games and you don't want go near it. Melo goes ballistic for an extra four games and there it is.
Washington Wizards (SB: 38.5, EOB: 38.6): We're all over the map on this one, but that kind of tells you what you need to know. It's not that this team will probably finish right around here, it's that they'll either wildly overachieve or massively disappoint. Determining which is soothsaying.
Orlando Magic (SB: 24, EOB: 23.6): We're all in the same range on this, though one of our writers thinks 26 wins is possible. They just don't have enough invested in winning this season to make that possible. Victor Oladipo looks like he'll show some things but there will be some growing pains. They play in a division with three teams with realistic playoff hopes and could see some roster moves. Too unstable.
Charlotte Bobcats (SB: 26, EOB: 25.6): They'll be bad, they won't be that bad, and two of us think they go just over, one way under.
You can't feel good enough to put them at 20 wins, and you can't think they'll be the disaster they usually are with Al Jefferson and the young players' improvements. This line's about perfect.
Sacramento Kings (SB: 31, EOB: 30.6): Too much roster instability here with a new GM added late in the game, and too much upside cross-hatched with a roster that has never accomplished anything. Stay away.
Brooklyn Nets (SB: 52.5, EOB: 52.6): We all think they're right in this range, but I'm the only one over. This just seems to me like a team that will run up the score in the regular season to prove a point and test how good they are. There are injury issues, though, and superstar teams have never fared as well as expected in their first seasons together.
Cleveland Cavaliers (SB: 40, EOB: 40.3): Another Eastern mud puddle team. They stay healthy and they could win 44-45. Things go bad and this team's going to collapse into the middle-30's. You want a sure bet?
This is Andrew Bynum and Cleveland's sports luck we're talking about.
San Antonio Spurs (SB: 55.5, EOB: 56): 55, 56, 57. Those are our scores. They won't win fewer than 55. They won't win more than 60. Throw a dart at a board to figure the rest.
Los Angeles Lakers (SB: 36.5, EOB: 37.3): We lean towards the over, but there's just so much instability here. Not just Kobe Bryant, but Pau Gasol and Steve Nash.
Milwaukee Bucks (SB: 29, EOB: 30): Good defense, bad offense. That's usually good for 25-plus. Is it going to be good enough with the kind of talent they brought in? The rookie, Giannis Antetokounmpo could be the swing vote here. If he shows out like he is preseason, they could slide past 30 wins easily.
Portland Trail Blazers (SB: 38.5, EOB: 43.3): We're loaded up on the Blazers wagon and riding for glory.
The Blazers' starting five had the third best raw plus/minus figure for any lineup in the league last season according to NBA.com. They upgraded J.J. Hickson with Robin Lopez and have a significantly improved bench. They play in a division going downhill (Thunder Westbrook injury, Wolves defensive issues, Nuggets turnover, Jazz rebuilding).
They are well coached, have star power, and no age or injury issues. So why are the oddsmakers plotting them at 38.5 wins? It's so low it makes me nervous, but my colleagues and I agree: the Blazers re going over.
Utah Jazz (SB: 25, EOB: 28.3): Once again, all three of us were above the oddsmakers on this one, by at least two wins. Utah lost Al Jefferson and Paul Millsap, and watched Mo Williams take off. But even with an injured Trey Burke, they have a Rookie of the Year candidate, and two promising big men in Enes Kanter and Derrick Favors coming into their primes. They have Gordon Hayward who is wildly underrated and Brandon Rush to shoot from the outside. They're going to be bad, but we think they creep up to just under 30 wins. The West is tough, it isn't that tough.
... Buuuuuuuuuuut, this is also a team who could tank out. If they are at 25 wins on March 1st, are they more likely to try and make-up what is likely a 20-win gap for the playoffs or shut down Favors and Hayward? Buyer beware a bit with any team around 30 wins in the year of the Great Tank War.
Atlanta Hawks (SB:39.5, EOB: 42.6): This seems awfully soft. Josh Smith was really good, but so was Joe Johnson and the Hawks were still the sixth seed last year. The Hawks upgraded at a lot of positions, they play in the heavier tank conference and in a heavy-tank division (Charlotte and Orlando could both be swinging for lottery balls and no one knows where Washington will be).
Jeff Teague, Al Horford, Paul Millsap, Lou Williams, Kyle Korver, Elton Brand. That's four quality veterans right there. They do have some youth they're dependent on, but they've got an eight man rotation that is quality enough to win half their games at least.
Oklahoma City Thunder (SB: 51.5, EOB: 54.3): Russell Westbrook practiced on Monday. You assume, given his work ethic and age, he can make a recovery. You assume that even if they miss Kevin Martin from last year, that he won't be enough to make an 8.5 win differential for OKC.
They would have to get out to a disastrous start without Westbrook, and have a huge dropoff without Martin, and then probably have some bad luck or coast out the end of the season in the middle of a race for homecourt. This is 1.5 games more than OKC won in 2010 as an eighth seed. Have they really fallen that far?
Minnesota Timberwolves (SB: 41, EOB: 43): I was red hot on the Wolves over the summer, and then the more you look at the roster changes and how the defense has changed... there's some concern. They still should be very good, it's just that an offensive-centric, defensive-vulnerable team tends to have a wider variance in result and that can swing a few games.
Factor in their injury troubles recently and this one moves more towards a stay-away than we're likely comfortable with.
Chicago Bulls (SB: 56.5, EOB: 58.3): When healthy, Derrick Rose has never won beneath a 62-win pace under Tom Thibodeau. The Bulls may have a better roster than 2011. They play in a conference with multiple tank teams. And they play to the bone in the regular season, it's just how they're wired.
It's a high mark, but there's no reason to think a team this mentally tough will stand for anything lower than 58 wins. They want homecourt. Rose is back. Over.
Golden State Warriors (SB: 51.5, EOB: 53.3): This seems insanely low, but I've been drinking a lot of Warriors Kool-Aid this month. We've all got them for the over, two of us with 54 wins.
There are two lines of thought to get you to the over. 1. The Warriors continue their playoff success, that was the real Golden State and they carry that momentum to 52-plus wins which is pretty standard for a good Western Conference team. 2. Golden State won 47 games last year, added Andre Iguodala and get a healthy Andrew Bogut. The math here seems simple.
But the injuries are a real thing. Steph Curry has an ankle injury that constantly gives him issues. Andrew Bogut is apparently cursed by some sort of dark voodoo no man in the NBA has ever seen. That could swing six wins. Important to keep in mind.
New Orleans Pelicans (SB: 40.5, EOB: 40.6): I'm higher on the Pelicans than my cohorts, as each of them pegged New Orleans on the line at 39. (The line bumped a win and a half since we did projections.) This is based primarily on the sneak-attack factor (it takes opponents a while to adjust to the idea of taking an opponent seriously and Anthony Davis is still young enough to be under the radar), and the good chance the middle part of the West is softer than anticipated, softening the win ceiling.
Close enough to warrant avoiding it, but a sneaky good pick if you like the talent.
Toronto Raptors (SB: 35.5, EOB: 36.6): Two of us over, one of us under. They land here primarily on the idea that there's a 50/50 chance they crack .500.