Report: Knicks exploring trade options for J.R. Smith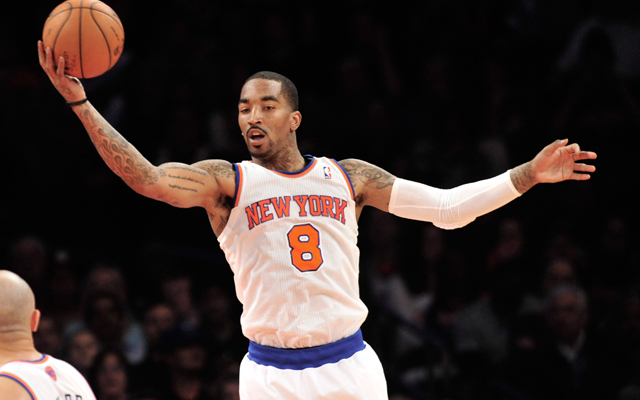 Anyone want J.R. Smith?
According to ESPN New York, the Knicks have begun exploring trade options for Smith, who won Sixth Man of the Year last season.
Smith, who is fresh of being fined $50,000 for repeatedly untying opponent's shoes at the free throw line, has become a bit of a headache for the team.
"It's unacceptable. It really is. It's unprofessional," coach Mike Woodson told 98.7 FM in New York on Wednesday. "There's no question he's done a lot of things this year that has put him in a bad position and our team in a bad position ... This is unacceptable. It's just got to stop. I keep saying this every time something pops up, but it's got to stop.
"At the end of the day, he's got to grow up"
The shoelace incident might just be the straw that finally breaks the Knicks' back though as Smith has been a problem for them for a while. It started in the summer when he signed a contract extension and then had knee surgery a few days later. Then, mysteriously, his brother Chris was signed by the team, a player some executives called "the worst player in summer league." After his brother was recently cut, Smith posted a cryptic Instagram picture insinuating betrayal.
Smith missed the first five games of this season for violating the league's substance abuse policy and was also fined $25,000 for threatening language in a Twitter beef with Brandon Jennings (about his brother Chris, naturally).
Smith signed a three-year, $18 million contract in the summer, which makes him a very difficult player to trade. To which the Knicks realize, according to the report.
On the season, Smith hasn't been near as productive as he was a year ago, averaging 11.3 points in 29 games. Last season, Smith averaged 18.1.
Basically, the Knicks want him to be someone else's problem. But with that contract, and his recent history, good luck with that.