Bucks' O.J. Mayo upset with team's direction, wants an identity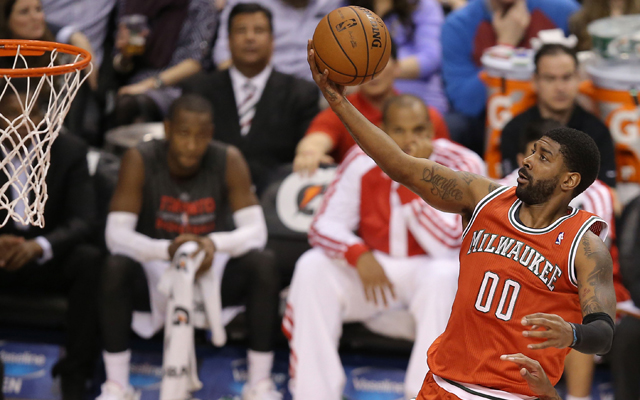 The Milwaukee Bucks are the worst team in the NBA and it hasn't been particularly close for a while now. At 7-33, they have the worst record in the league and are 3.5 games behind the Orlando Magic for the second worst record. They're mired in a nine-game losing streak, have the worst offense in the NBA, the ninth worst defense, and the worst net rating out of any team. At this point, they seem beyond repair unless they make a big splash in the upcoming draft.
Shooting guard O.J. Mayo is fed up with his team's lack of consistency and their lack of identity. He unloaded with veiled shots at coach Larry Drew, citing inconsistent playing time making it tough to find a rhythm on any given night. The Bucks have no idea who they are as a team, other than a doormat for the league and it makes it tough to grab some victories. From the Journal Sentinel:
"It's the same thing it's been night in and night out," Mayo said. "It's been the same result, whatever the game plan has been.

"It's hard to get a rhythm when you don't know what's going to happen for you night in and night out. You may get 6 minutes, 30 minutes. There's no staple to what we're doing. You can hang in there, compete and keep it close.

"If you don't have a backbone to what you do, whether it's going to be a defensive thing, an up-tempo thing, a pound-it-in-the-paint thing, a drive-and-kick thing. We've got to find a staple as a team."
Mayo signed a three-year, $24 million deal with the Bucks this past offseason and projected to be the No. 1 scoring option in a core that was seemingly built with young defensive role players. He's taken the most shots on the team this season and is the second-leading scorer on the team at 12.9 points per game. He's shooting 40.0 percent from the field and 37.6 percent from 3-point range.
His playing time has consistently gone down each month with Drew playing around with lineups and rotations. His minutes per game have gone from 31.0 in November to 27.2 in December to 23.1 in January.
The Bucks have had plenty of controversy this season too with Larry Sanders' bar fight that resulted in a torn thumb ligament and Gary Neal getting into an argument with Sanders in front of the media recently following a loss. The only identity they have right now is being a guaranteed victory for their opponents. Mayo wants something the team can hang their hat on.
"You look around the league, you've got some teams that are defensive teams," Mayo said. "You've got some teams like (Houston) and the Warriors that are offensive-minded, like Portland and Denver, they're going to get up and down, spread the floor.

"You've got teams like Memphis, Chicago, physical, defensive-minded. Here we are at game 40, we don't know what we are right now. It's going to be hard to collect wins when you don't know what to expect."
Probably the best thing for the organization moving forward is figuring out what their young players can do over the second half of the season and hope they land the top spot in the lottery in May. Then they can draft a potential superstar and truly start the rebuilding process. It's probably not what Mayo signed up for this summer but he'll have to find a way to contribute no matter what.