Which directions have the Knicks pointed themselves in?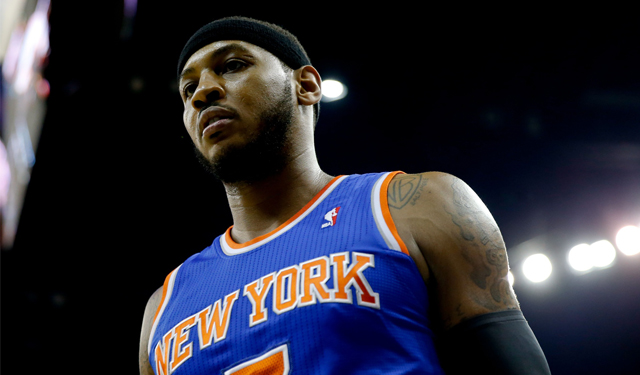 This isn't an article about whether or not the New York Knicks should try to re-sign Carmelo Anthony. He's their franchise player and he's still one of the best and most feared players in the NBA. It doesn't mean he's a superstar on par with LeBron James and Kevin Durant, but it does mean he's a guy who commands attention both on and off the court.
Anthony is a cash cow, drawing people into arenas, getting them to buy his jersey, and providing a brilliant weapon on the court. The tricky thing is that this brilliant weapon is an imperfect weapon. And because of the flaws in having Anthony as the primary player on your team, you have to build an attack and a philosophy around him in a patient and nuanced way. You can't just throw talent around him; you have to throw the correct talent around him. For the most part, George Karl had a pretty good plan of this in Denver; they just didn't have the success to trump Melo wanting to be in New York.
That's the conundrum with the Knicks and where they go after this season. A year ago, they were in the middle of a 54-win season that had Madison Square Garden buzzing with a little bit of bravado. They were firing 3-pointers at a historic rate and had just enough pizazz to move the needle again on a positive national scale. The Knicks were possibly back to respectability with their star finding his stride.
Fast-forward a year and we don't have that anymore. The franchise made some questionable moves this offseason, the roster couldn't endure important injuries that came in abundance, and things just generally fell apart all over the court. The Knicks are in the middle of embarrassing chaos, as opposed to the euphoric chaos experienced last season.
Moving forward, it doesn't really matter that this team is looking like they'll miss the playoffs. Sneaking in to be feed for the predatory Pacers or Heat doesn't actually accomplish anything other than avoiding questions all offseason about not making the postseason. What matters is figuring out if there is a plan, and if so what does that plan entail?
There are essentially three scenarios that could shape the future of this Knicks' franchise.
1. Re-sign Carmelo Anthony to a five-year max or a four-year discount: The money is there for Melo if he wants it. He can re-sign for five years and nearly $130 million or he can take a "discount" like he floated over the All-Star weekend and possibly give the Knicks an easier time rebuilding the franchise. But how much easier? Taking up $20 million of the cap is still a significant chunk of change and building with players on that pay scale looks to be hard in this collective bargaining environment.
The Knicks would basically be punting in the first year of Anthony's new deal, when he turns 31 in the playoffs, unless they can catch lightning in a bottle like they did in 2012-13. This way, the Knicks wait for the expiring deals of Amar'e Stoudemire ($23.4 million), Tyson Chandler($14.5 million), and Andrea Bargnani ($11.5 million) to come off the books.
2. Carmelo opts in for the 2014-15 season and takes the lay of the land: I would imagine this scenario isn't terribly likely because the idea of getting as many contract deals under your belt in your playing career means opting out this summer for Melo and finding that max deal. But if he really wants to make it work in New York without committing himself to a complete demolition derby on the roster, he could wait a year and see how their plan for putting a contender looks. The risk of injury is big for a guy who is about to turn 30 this May but it would allow him to see how patient James Dolan is after such a disappointing year.
Considering a 54-win season, a second round appearance, and the Brooklyn Nets acquiring past stars in the 2013 summer led to Dolan and the front office moving a first round pick in 2016, second round picks in 2014 and 2017, Marcus Camby, Quentin Richardson, and Steve Novak for the honor of paying Andrea Bargnani $23.3 million over two seasons to be a running Twitter joke on defense. Maybe the "looking to see patience" route isn't such a realistic thing for Anthony?
3. Carmelo leaves and the Knicks-pocalypse begins
The third scenario is hard to gauge how likely it is. Anthony could up and leave for the Lakers, being the 30-year old apprentice to Kobe Bryant, and allowing the prime of his career to end in Los Angeles. While this isn't an ideal scenario for the Knicks and their bottom line (financial, not basketball), it does allow us to take stock of the Knicks' current core assets and upcoming picks. As you can imagine, the cupboard is pretty bare.
The Knicks don't get a draft pick in this supposedly loaded 2014 draft class. They still owe their 2014 pick (top 7 right now) to Denver for acquiring Melo. They currently don't own a second round pick in the 2014 draft because the pick owed to them from Sacramento via Boston is top 55 protected. They'll get their 2015 first round pick, which will likely be much worse than what it is in the 2014 draft. They don't have a second round pick in 2015 because it's owed to Houston.
Their 2016 first round pick will end up with the Toronto Raptors, regardless of where it falls in the draft. Their 2016 second round pick is owed to the Kings. Their 2017 first round pick they'll have to keep unless they can acquire a second first round pick in that draft. Their 2017 second round pick goes to the Raptors. They can move their 2018 first round pick in a trade but at some point, you'd like to see the Knicks stop lighting these on fire as if they're playing with firecrackers in the yard.
Outside of the picks, Iman Shumpert (restricted free agent in 2015) and Tim Hardaway Jr. (restricted free agent in 2017) are their only two young assets they can move in a deal. They've all but destroyed Shumpert's trade value on the market with how he's been handled since returning from his knee injury and Hardaway, while very talented, hasn't proven enough to be worthy of moving a key player for. Their only international prospect is Ahmad Nivins, a 27-year old power forward in France.
The core of the Knicks isn't even a core. It's basically two young shooting guards that can't get consistent run or a consistent role in the rotation, Spike Lee's cartoon outfits, the hope of Carmelo Anthony re-signing, and whatever mystique they can sell to their free agent targets in 2016. Ideally, they'd preach patience to Melo if he decides to stay and recognize they need to take bullets for him as they continue to be mediocre until the summer of 2016.
They'd move Chandler for a future first round pick before the next trade deadline and not make any major moves outside of one-year commitments. There would be no more Bargnani-type trades that simply bring in once intriguing names for future assets. They'd let Melo know that if he sticks around they'll be ready to attack the NBA in 2016-17 by trying to convince some mega star to sign with them for a max deal.
More than likely, they'll keep hemorrhaging future assets, re-sign Melo to the five-year max, and hoping to trick Knicks fans that the shuffling deck chairs on the deck of the Titanic aren't soon to be under water with their season ticket money.
It doesn't matter whether or not the Knicks re-sign Melo; it really doesn't. They don't have a future to build regardless of what happens. They've left themselves without a direction to move and hoping to catch lightning in a bottle once again.