Report: Phil Jackson received Knicks offer in meeting with Dolan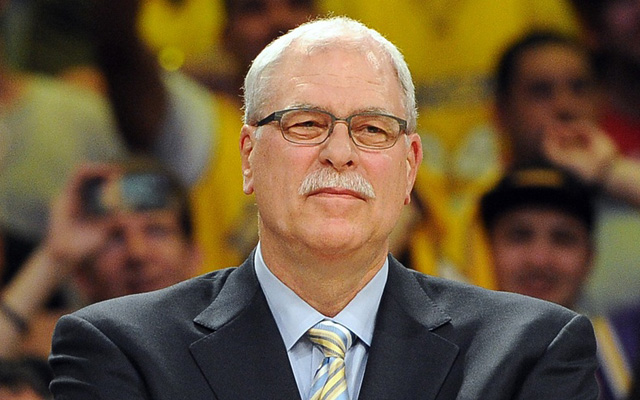 More Phil: Jackson 'serious' about offer | Jackson 'considering' | Latest news
On Saturday, Ken Berger of CBSSports.com reported that former Lakers and Bulls coach Phil Jackson is "serious" about a potential front office position with the Knicks if the perameters are right:
Jackson, 68, is said to be leaning toward taking the job if the structure is right, said the source, who has been briefed on the Knicks' conversations with the 13-time NBA champion.

Jackson is considering a front office structure with Steve Mills and Allan Houston handling the day-to-day duties while reporting to Jackson, the person said. At this point, it is not clear whether the rest of the Knicks' front-office lieutenants would stay if Jackson were to take the job.

Jackson, an 11-time champion as a coach -- and two-time champion as a player for the Knicks -- has stated he is finished on the sideline. The Knicks' front-office job is extremely appealing to him "if the setup is right," the person briefed on the discussions said.

But that, according to league sources, may be a big obstacle given Madison Square Garden's complicated corporate structure and the overbearing influence of owner and Garden chairman James Dolan.
via Phil Jackson serious about Knicks' front-office offer if 'setup is right' - CBSSports.com.
Now it appears Dolan has decided to become involved, as the New York Daily News reports Dolan himself met with the Zen Master:
Phil Jackson has been offered a front-office position with the Knicks and is expected to give the club a decision sometime next week, the Daily News has learned.

According to an NBA source, Garden chairman James Dolan has met with Jackson about a potential return to the franchise with which he won the Knicks' only two championships as a player. Jackson also won 11 titles as a head coach with the Chicago Bulls and Los Angeles Lakers but apparently has no interest in coaching the Knicks.
via Knicks offer Phil Jackson a front office position, expect a decision from Basketball Hall of Famer next week - NY Daily News.
Now it's up to Jackson to decide if he wants to wade into the messy marshes of the franchise that drafted him in 1967. Reports conflict over the level of involvement Jackson is seeking in decision making, as well as what his involvment in the day-to-day operations would be.
The bigger question is whether his influence could help accelerate a rebuild and help secure Carmelo Anthony's signature on a new contract should he decide to opt out this summer. From the sounds of all the reports, it seems Jackson is looking for a six-to-seven figure salary for him to dish out zen koans and have general ideas on the direction of the franchise. Then again, that's pretty much what he did the last two season as Lakers coach.
Now the wait begins to see if Jackson is really ready to re-enter NBA life.