Report: Timberwolves want Dave Joerger as new coach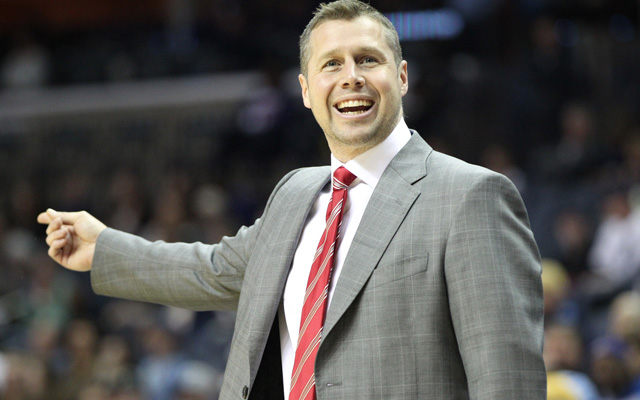 More postseason coverage: Playoff schedule, results | Latest news, notes
The Minnesota Timberwolves met with Memphis Grizzlies' coach Dave Joerger this past week with one of the meetings going over two hours between him and Wolves' owner Glen Taylor. With the Grizzlies' owner Robert Pera potentially cleaning house and the Wolves looking to grab the best coach available to attempt to convince Kevin Love he should want to stay with this organization, the potential for a match made on the sidelines seems to be a likely reality in the near future.
According to Jon Krawczynski of the Associated Press, the Wolves have decided they want to bring Joerger, the Minnesota native, on to be the coach of the team. They still have to hammer out a contract with the new coach and possible compensation to give the Grizzlies in return for taking their coach.
The Minnesota Timberwolves have decided they want to bring Dave Joerger home to be their coach. Now all that stands in the way is agreeing on a contract and any possible compensation with the Memphis Grizzlies.

The Timberwolves decided on Joerger as the replacement for Rick Adelman on Saturday night after the Minnesota-born Grizzlies coach met with team leadership, including owner Glen Taylor, two people with knowledge of the situation told The Associated Press.
Considering the Grizzlies have granted permission to the Wolves to interview Joerger and there are rumors of him being fired regardless, the issue of compensation shouldn't be too steep for the Wolves. They possess three second round picks (Nos. 40, 44, and 53) in the 2014 draft and one of those should suffice for proper compensation. There's no way they'd give up a first round pick like the Clippers got when they essentially traded for Doc Rivers last summer.
In his one year with the Grizzlies, Joerger coached the team to a 50-win season and the 7-seed, despite missing Marc Gasol for 23 games. The Wolves are coming off a 40-win season in which they had playoff aspirations but couldn't win close games throughout most of the season. Rick Adelman retired after the campaign and the Wolves' most successful season since 2004-05 was yet another wasted opportunity for the organization. There are rumors of Kevin Love requesting a trade because he won't re-sign with the team when he opts out of his contract next summer, but the Wolves are currently scrambling to put together a situation he'll want to come back to if they don't trade him.
Other candidates the team has been considering trying to bring to the sidelines are Sam Mitchell, Tom Izzo, and Fred Hoiberg.