Danilo Gallinari hopes to be back by training camp, but no guarantee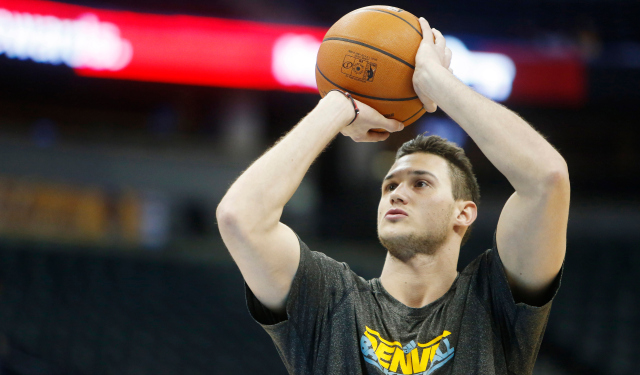 More Offseason Analysis: Coaching changes, news | Free Agency | Draft
Denver Nuggets forward Danilo Gallinari is still recovering from two surgeries on his left knee, but said at Eurocamp in Treviso, Italy, that he is hopeful that he will be fully cleared to play by the start of training camp in September, via NBA.com's Scott Howard-Cooper.
Gallinari is still recovering from two operations on his left knee that has sidelined him for more than a year and remains 2 1/2 months away from his next rehabilitation benchmark. He said he is ahead of schedule in being able to run and jump without limits in June — after surgery in January that marked the second procedure on the knee within nine months.

Next, he plans to join the Italian national team for seven to 10 days of practices, but not games, in mid-August.

Those would be his first full workouts, free of restrictions, and become a major progress report. If there are no setbacks in his native Italy, and the scheduled visit with his doctor in late August in Colorado goes well, Gallinari is hopeful of being cleared for Day 1 of Nuggets camp and the chance to play in exhibition games.
Gallinari didn't play a single minute in 2013-2014, and he initially hurt his knee late in last year's regular season. Denver missed him badly and dealt with an assortment of other injuries, failing to qualify for the playoffs for the first time since 2003. Naturally, he is dying to get back on the court and compete.
"I think training camp is realistic," he said. "It's something that we really talked about with the doctor. It's something that we really want to achieve and we believe is going to be possible."

…

"I'm not feeling any pressure," Gallinari said. "The only thing that I'm feeling is that fire that I have inside right now. I never had it before in my career. When you cannot do what you love for more than one year, it's like I was saying to the Italian media, it's like, I don't know, a mom that doesn't see her son for more than one year. When you see him, it's one of the best feelings ever. That's what I feel right now.
While the Nuggets have to hope that he continues to improve, there's no sense rushing him back. Training camp is a good goal, but it's just a goal. The most important thing is that he feels comfortable when he is able to play, and that he's able to regain his form while adjusting to a new system. If Denver wants to return to the playoffs in the West and put up a fight when it gets there, he will need to be at his best.