The Forgotten Finals
Two of the greatest of all-time battled for the NBA title... and the world watched something else.
When the day came for the two giants to be enshrined in the Naismith Memorial Basketball Hall of Fame, the long, intertwined paths traveled by Hakeem Olajuwon and Patrick Ewing collided once more.
It happened in an intersection on a sunny day in September 2008 as they strolled through Springfield, Mass., to the ceremony. Olajuwon trailed Ewing into the crosswalk; one was always chasing the other, forever trying to close the gap.The man they called Dream was awestruck by what he saw."We were crossing the street and I was walking behind Patrick, and I saw his physique from the back," Olajuwon said. "And I said, 'How did I ever get my shot over this guy?' That just shows you how super imposing Patrick really is. How did I battle this guy?"How? Long and hard and wonderfully -- but, alas, not as often or as memorably as they deserved.The only time the arguably two best centers of their generation collided with an NBA championship on the line happened 20 years ago this month. For reasons beyond their estimable powers, it has become the Forgotten Finals. In a cruel collision of events, their long-anticipated showdown was overshadowed by more memorable clashes and pre-empted by one of the most compelling news stories of the 20th century:
the pursuit of murder suspect O.J. Simpson
, right at the apex of their championship series.That, and Michael Jordan's three championships on either side of the Rockets' two-year reign as the best team in the NBA. That, and the hard-knuckle, unappealing style of play.Everything except the exquisite rematch itself between Ewing and Olajuwon, 10 years after they'd first clashed in the NCAA title game -- another event that slipped off the arc of history.Jordan was retired from the NBA and playing minor-league baseball, shagging flies and swinging at curveballs in Birmingham, Ala. The NHL's New York Rangers were closing in on their first Stanley Cup in 54 years. Simpson, the Pro Football Hall of Famer, was on the run -- a trail of blood leading LA cops on a slow-speed chase beamed to millions of living rooms during Game 5 of the Finals.With Jordan gone and the Larry Bird-Magic Johnson era over, the NBA was trying to find its center of gravity. It was left with what should've been a gift: Ewing vs. Olajuwon, a clash of all-time centers that comes once or twice a generation. The nation averted its eyes."People say that this is not great theater or does not have the drama of other Finals; they're not feeling what the players and coaches are feeling," Knicks coach Pat Riley said at the time. "There's enough drama and theater in here to last us a lifetime."
"Everybody was complaining that the scoring was low, but what the hell you expect? You had the two best defensive teams in basketball going at each other."
The 1994 Finals pulled no punches with a bruising, no-blood, no-foul style. The series also pulled a dreary 12.3 national TV rating, a 30 percent decline from the previous summer's clash between Jordan's Bulls and Charles Barkley's Phoenix Suns. Every game was decided in the final two minutes, but no team scored more than 93 points in any of the seven games. Forty percent shooting was an accomplishment; in four of the seven games, the losing team's field goal percentage was in the 30s."Everybody was complaining that the scoring was low, but what the hell you expect?" said Sam Cassell, a rookie guard for that Rockets team and now an assistant coach for the Washington Wizards. "You had the two best defensive teams in basketball going at each other."Appointment television? More like disappointment television. Then, just as the series arrived at its tipping point, a white Ford Bronco cruised into America's living rooms and captivated the nation."I couldn't believe it was happening to us," said David Stern, who had escorted Olajuwon and Ewing into the NBA with the first two No. 1 draft picks of his 30-year reign as commissioner. "It was just surreal."Stern couldn't have known it at the time, nor could we. This long-awaited NBA battle between Ewing and Olajuwon, this clash of basketball giants, would never happen again.

In 1994, Houston's Hakeem Olajuwon and New York's Patrick Ewing were the premier centers in the game. (Getty Images)
THE BEGINNINGIn this era, NBA stars grow up together. They play AAU ball together, communicate on social media and join powerful marketing agencies together. When Ewing and Olajuwon first squared off in the 1984 NCAA title game at the Seattle Kingdome, 30 years ago this spring, they didn't know each other at all.
They'd emigrated to the United States -- Ewing from Jamaica, Olajuwon from Nigeria -- and hadn't started playing basketball until they were teenagers. They dominated the spotlight in leading their teams to three Final Fours in the early 1980s. Before Jordan was Jordan, Ewing and Olajuwon were the giants of the sport. Combatants and tragic figures in some of the greatest and most memorable games in
NCAA Tournament
history,
they did as much as anyone to usher in what we now know as
March Madness
.The madness began in the '82 championship game, when Jordan's North Carolina Tar Heels -- who had beaten Olajuwon's Houston Cougars in the semifinals -- stunned Ewing's Hoyas 63-62. Jordan provided the deciding jumper before Georgetown's Fred Brown infamously threw a pass directly to UNC's James Worthy in the closing seconds.Olajuwon's Cougars made it back the following year, only to see NC State's Lorenzo Charles convert Dereck Whittenburg's air ball for that iconic, buzzer-beating dunk. The Cougars of Olajuwon and Clyde Drexler -- Phi Slama Jama -- became a historical footnote to Jim Valvano's mad dash onto the court as he looked for someone to hug. It was a forever moment in basketball history, crushing Olajuwon's dream."People up to today remind me of that loss," Olajuwon said.Olajuwon made it back to the Final Four in '84, and this time he would go toe-to-toe with Ewing in the championship game. Hoya Paranoia came at the Cougars in waves, and Ewing's supporting cast -- MVP Reggie Williams, David Wingate, Michael Graham -- elevated him to what seemed sure to be the first of multiple championships in an 84-75 victory. Ewing had 10 points and nine rebounds; Olajuwon 15 and nine."That was my first time ever playing against him and seeing him face-to-face back then," Ewing said. "He was big. He was strong; a lot stronger than I was back then."Said Olajuwon: "I never really faced that kind of competition before, so I never really knew what to expect. When you play against your match, that's a different experience."Heartbreak loomed on the other side of that showdown for Ewing. With Olajuwon now in the NBA as the No. 1 pick in the '84 draft, Ewing's Hoyas lost to Villanova 66-64 in the '85 title game -- one of college basketball's most memorable upsets."You had to bring up that Villanova game, huh?" Ewing said. "I should've had three rings. I was only able to come away with one."With the NBA soaring to new heights in the Magic-Bird era, surely the two of the best big men of their generation would wage many more epic battles with championships on the line.Or so it seemed.
ROAD TO THE REMATCH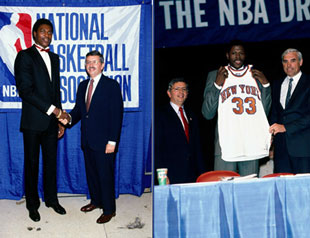 As back-to-back No. 1 overall draft picks in 1984 and 1985, Hakeem Olajuwon (Rockets) and Patrick Ewing (Knicks) were expected to transform their teams and battle each other for championships for years to come. (NBAE/Getty Images)
Someone was always standing in their way.For Olajuwon, paired so imposingly with Ralph Sampson in Houston, it was the Celtics of Bird, Kevin McHale, Robert Parish and a fading Bill Walton who beat them in six games in the 1986 Finals. For Ewing, it was the Bad Boy Pistons, Jordan's Bulls and, in the end, Reggie Miller's Indiana Pacers.But the arms race for supremacy in the paint was on. Eight of the first 17 picks in the '85 draft were centers, including, of course, Ewing, who went to the Knicks first overall. Conspiracy theories suggesting that Stern had manipulated the lottery with a frozen envelope to steer the undisputed best player in college -- the reincarnation of Bill Russell -- to the big-market Knicks persist to this day. Stern, now retired, fails to see how that theory reconciles with the notion that he also had it in for the Knicks in 1997 when he suspended five New York players -- including their top two scorers, Ewing and Allan Houston -- over the final two games of the conference semifinals against Miami for leaving the bench during a melee in Game 5."Both," Stern said, "are ridiculous."Olajuwon had his own problems. His team was weakened by Sampson's premature decline because of injury. Teammates Lewis Lloyd and Mitchell Wiggins were banned for positive cocaine tests in 1987, at a time when drugs were threatening the fabric of the sport. Point guard John Lucas had been waived multiple times for positive drug tests.A decade passed. Ewing had been unable to get to the Finals, and the burden of carrying the Knicks to their first championship since 1973 was becoming unbearable. Despite the absence of Magic and the dissolution of the Lakers' dynasty, Olajuwon had been unable to get back. Jordan ruled the league.The decision by Jordan to retire after winning three consecutive titles from 1991-93 stunned the world. It also meant Ewing's path to the Finals had been cleared of his most vexing adversary.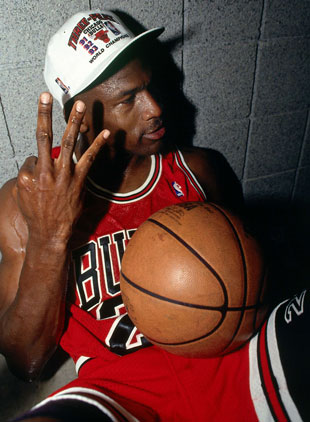 With Michael Jordan retiring to go try baseball in the minor leagues, the door was open for the NBA's premier big men to take center stage. (NBAE/Getty Images)
"We felt like our time has arrived," the Knicks' John Starks said. "It was our time to get over the hump."
NOT AN EASY TASK
The Rockets (58-24) and Knicks (57-25) entered the 1994 playoffs as the No. 2 seeds in their respective conferences. Each had to endure seven-game series on their way to the Finals.In the conference semifinals against Phoenix, the Rockets blew an 18-point lead at home in Game 1 and a 20-point lead in Game 2 to fall behind 0-2. The famous "Choke City" headline adorned the sports front of the
Houston Chronicle
. The Rockets rallied, won the series in seven and had little trouble with the Jazz in a five-game Western Conference Finals.Ewing's Knicks needed seven games to get past the Bulls -- even without Jordan -- and were pushed to seven games by the Pacers in the Eastern Conference Finals.When it was over, when Ewing had finally led the Knicks to the Finals, he stood atop the scorer's table at Madison Square Garden with his arms held aloft in a 'V.'"Just one step away from finally achieving my dream," Ewing said.The rematch 10 years in the making was set.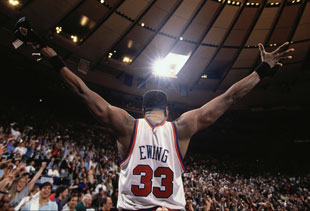 Ewing was brought to New York to deliver a championship. Finally, he was getting his chance ... with a familiar adversary blocking his path. (NBAE/Getty Images)
THE BUILDUP
As Kenny Smith remembers it, Olajuwon was always quiet on the team plane. He'd find a seat, put on his headphones and read. But as the Rockets made their way through those 1994 playoffs, on their way to a showdown with Ewing's Knicks, Olajuwon abandoned his routine and started a new one."Kenny, sit next to me," Olajuwon would say to his point guard.This would continue on those long trips between Houston and New York during the Finals, Olajuwon filling Smith's ears with his thoughts on how to attack the great Ewing and the rugged defensive schemes of Pat Riley. Much of the knowledge Smith now imparts as an analyst on TNT, he said, came from those conversations with the man he still calls "Dream.""I was like, 'He's ready,' because he never talks on the plane or the bus; he just sits in his own world and he kind of goes around," Smith said. "But it was so business-like and it was so much fun to kind of talk basketball with him."The driving force for Olajuwon, as always, was Ewing.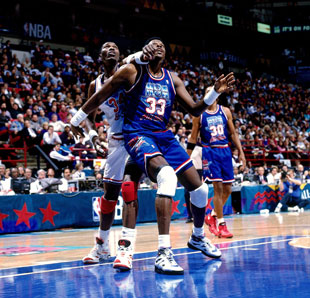 Facing fellow All-Star Ewing brought out the best in Olajuwon, the NBA's MVP for 1993-94. (Getty Images)
"He knew that was one of the guys that he could not take a play off," Smith said. "He understood that. I don't know if he had an obsession, but he had a mutual and a big respect for Patrick."The first clue as to how focused and prepared Olajuwon was for this playoff run actually had come much earlier. Hungry to avenge their seven-game loss to Seattle in the conference semifinals the year before, the Rockets peeled off 15 consecutive wins to start the '93-'94 season -- culminated by a nine-point victory against the Knicks at the Garden."I remember when we came to town," Rockets coach Rudy Tomjanovich said, "the headline was, 'Not in our house.' "In the uncertainty of a post-Jordan NBA, a new rivalry was born.For Smith, an even more telling sign of Olajuwon's championship drive came after the regular season, when he received the MVP trophy. At the award ceremony, Stern tried to hand the trophy to Olajuwon, who wouldn't accept it until his teammates joined him on stage."Go back to the video," Smith said. "He wouldn't pick up the award. Otis Thorpe actually is holding the award over his head. If you watch any picture, Otis Thorpe is holding the award more than Hakeem because he was embarrassed about taking an individual award. So that's when I knew, 'Oh, we're not gonna get beat. There's no way. Our best player includes us, and he knows he can't do without us.' "The Knicks' practices leading up to Game 1 of the Finals were like rugby matches. The intensity level -- a given with Riley under normal circumstances -- was beyond reckless. The usually taciturn Ewing was more vocal, finding his voice as he finally sensed the opportunity to deliver on his mission.
The Knicks' practices leading up to Game 1 of the Finals were like rugby matches.
"He knew that it was on his shoulders," Starks said. "He wanted to win this not only for the team but for the city of New York. People always like to put labels on Hall of Fame players, that their career is not complete unless they won a championship. Obviously, that's something that he wanted very badly."Olajuwon wanted it, too."Facing Patrick in the Finals, for the NBA championship, is, 'Wow,' " he said. "Because for me, coming to the US, hearing about the NBA, you hear about Bill Russell, who is a champion. These are the pioneers, the grandfathers of the big men. So I look at this series, for me, Patrick is like that."
A SPRING LIKE NO OTHER
The first two games went as you might have expected -- low-scoring, errant-shooting affairs. Ewing and Olajuwon played to a draw in Game 1,
won by the Rockets 85-78
in Houston. Olajuwon got the better of the matchup in Game 2 with 25 points, seven rebounds, four assists, four blocks and two steals. Ewing had 13 rebounds and six blocks, but only tallied 16 points on 7-for-19 shooting with six turnovers. The Knicks
won anyway, 91-83
.Between the games, the Knicks had a party for the media -- one of the many signs of how much has really changed in 20 years. The shindig was set for a ranch about 40 miles outside Houston. Back in New York, the Rangers, who shared the Garden with the Knicks, were playing Game 5 of the Stanley Cup Finals against the Vancouver Canucks."We had a barbecue and chased cattle around, and this is what I'll never forget," said Dave Checketts, then the president of the Knicks and later, president of the Garden. "We hired someone to bring out one of those great big old dishes that you don't see anymore and hook it directly up to a big screen television -- and big screen in those days was probably 35-40 inches. We set it up during dinner so we could all watch the Rangers."Spike Lee was there. So was Neil Best, on assignment with
Newsday,
where he now covers the sports media beat."So it's me, Dave Checketts and the Knicks City Dancers in the middle of a field in Houston, watching Game 5 of the Rangers-Canucks series," Best said. "They just loved throwing parties for us back then."The Rangers lost Game 5, but still held a 3-2 lead in the series. In New York, the city was in a frenzy over the possibility of the Rangers winning their first Stanley Cup title in 54 years. When the Knicks came home with the Finals tied 1-1 for the middle three games in New York, the possibility of not one, but two, championship parades through Manhattan's Canyon of Heroes began to build.
In New York, the city was in a frenzy over the possibility of the Rangers winning their first Stanley Cup title in 54 years.
"I remember going one night hockey, the next night basketball, back to hockey, back to basketball," said longtime sports talk host Mike Francesa of WFAN in New York. "It was an amazing spring, a spring like we will never -- I don't care if we do this for a hundred years, there will never be a spring like that."The Rangers lost Game 6 in Vancouver, setting the stage for the fourth Game 7 of those hockey and basketball playoffs for the New York teams. The next night, the Knicks returned to the Garden for Game 3 of the Finals -- which turned out to be the pivotal game of the series."If we could've got Game 3," Starks said, "we thought Game 4 was ours, and obviously, Game 5 more than likely would've been ours."Derek Harper's pressure defense was destroying Smith in the series, but the Rockets had a rookie backup point guard who didn't act like one. The Knicks led 88-86 with 32 seconds left when Cassell stepped into a 3-pointer -- and into the forgotten history of these Finals."People don't realize, we went like eight minutes without scoring," Cassell said. "Not even a (expletive) free throw. Eight minutes! But we're still in the game. Why? Because our defense allowed us to be in the game."The ball went in to Olajuwon in the post, and he spun into the lane with an up-and-under move on the massive Ewing."Did I think he could've taken that shot?" Cassell said. "Yeah, he could've made a running jump hook; that was his shot. But he found me."Cassell was alone at the 3-point arc in the left slot when Olajuwon made a one-handed kick-out pass from the lane. Cassell said he remembered Tomjanovich telling him, "If you're open, you've got to take the shot." So he did.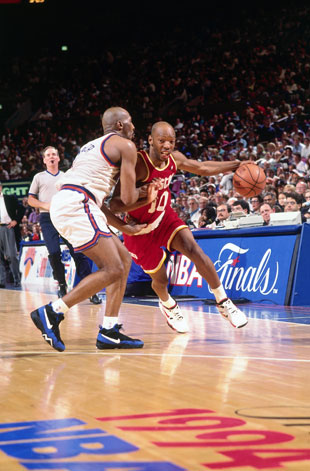 Both the Rockets and the Knicks say the biggest shot of the series was hit by Houston rookie guard Sam Cassell, shown here driving to the basket in Game 3 against New York's Derek Harper. (NBAE/Getty Images)
"I remember Hakeem posting up and turning to the middle like he was getting ready to shoot," Starks said. "Then he kicked it back out to Sam and he just stepped into a three and knocked it down."Cassell also drained four free throws in the final 22 seconds as the
Rockets won 93-89
. It was the only game they won at the Garden in the series -- and as it turned out, the only one they'd need."After winning that first game in New York, we gained that confidence that we're going home," Olajuwon said. "If they're going to beat us, they're going to have to beat us at home."The Knicks bounced back to
win Game 4 at the Garden, 91-82
, tying the series at 2-2. It was June 15, a delirious Wednesday in New York. Fans had awakened to the newspaper tabloids celebrating the Rangers' victory in Game 7 against Vancouver the night before, securing their first Stanley Cup since 1940."IT'S OURS!" proclaimed the front page of the
New York Post.
A small sub-head at the bottom of the front cover stated: "Trail of blood leading cops to O.J."
GAME 5: THE WHITE BRONCO
Two days earlier, June 13, the bodies of Simpson's ex-wife, Nicole Brown Simpson, and a 25-year-old man named Ronald Goldman had been found at her home in the Brentwood section of Los Angeles. The gruesome scene, and the impending national spectacle surrounding the suspected involvement of Simpson, the Pro Football Hall of Famer and NBC broadcaster, barely registered in the New York news cycle.That is, until Friday, June 17, when it stole the news cycle all over the world -- and Game 5 of the NBA Finals.That morning, Checketts and Knicks GM Ernie Grunfeld were in downtown Manhattan for the Rangers' championship parade. In the evening, the Knicks would host the Rockets in Game 5 of the Finals. As if ending one half-century championship drought weren't enough, the fans in the city during this spring for the ages wanted more.
"The city was at an all-time high"
"All these New Yorkers were patting us on the back and saying, 'You guys are next!' " Checketts said. "We'll be down here with you next week!""The city," Ewing said, "was at an all-time high."The euphoria spilled over to the Garden, with the Knicks' lead fluctuating between five and eight points late in the second quarter. In a suite high above the Garden floor, Checketts saw something he never imagined he'd witness in a Finals game in his own building."A lot of people were not in their seats, and I didn't really know why," Checketts said. "I couldn't tell exactly what happened, so I did what I did all the time, which was turn around in my chair to watch what was happening on the screen. I turned around, and all I could see was the white Bronco.""At first," Grunfeld said, "I thought it was a commercial."

Police pursue O.J. Simpson's white Ford Bronco driven by his long-time friend Al Cowlings. (Getty Images)
At the NBC broadcast table, Marv Albert was getting frantic instructions in his ear from the production crew. What made the moment even more unsettling for Albert was that he knew Simpson personally. The man fleeing in the white Bronco with a gun to his head, having left what read like a suicide note, was a friend and fellow NBC employee."He was the sideline reporter on the (NFL) games I was doing at the time with Paul McGuire," Albert said.Best, watching from the press seats in the 200 level, noticed that Bob Costas -- the pregame and halftime host in the arena -- had his back turned to the game and was huddled with his staff watching a TV monitor. Costas had suddenly become the traffic cop for NBC's split coverage of the Finals and the O.J. chase, the middle man between Albert, color commentator Matt Guokas and Tom Brokaw at NBC News.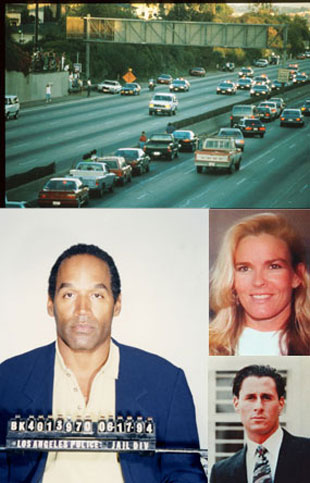 During the middle of Game 5, the nation watched via television as a white Ford Bronco carrying NFL great O.J. Simpson led California Highway Patrol on a low-speed chase; Simpson would turn himself in to police after being accused of murdering his ex-wife, Nicole Brown Simpson, and Ronald Goldman. (Getty Images)
"The most bizarre telecast that I've ever been involved in," Albert said. "It was like early reality TV."In the fourth or fifth row opposite the Knicks' bench, Stern sat next to Dick Ebersol, the president of NBC Sports. Stern and Ebersol had negotiated the four-year, $600 million deal that moved the league's network coverage to NBC in 1990 -- more than tripling the previous deal with CBS (four years, $173 million). The two executives were witnessing the first Finals of the post-Jordan era, and it wasn't easy on the eyes.Now, this.Simpson was being driven by friend Al Cowlings along the San Diego Freeway in Los Angeles, with the California Highway Patrol in slow-speed pursuit. Ebersol was on a hard phone line from his seat with the news executives at NBC. In his other ear, of course, was Stern."Don't do it! Don't do it!" Stern recalls shouting at Ebersol."I always thought that because I was sitting with him they hung onto our game a little bit more than they would have," Stern said.In the final minute of the half, Olajuwon and the muscle-bound Anthony Mason squared off after Olajuwon had caught Mason on the chin with an elbow as he made a move in the post. The national TV audience didn't see the scrum live because NBC was tracking the white Bronco. The Knicks led 45-37."Frankly with that basketball, you weren't missing that much," said Sam Smith, who covered that Finals and many others for the
Chicago Tribune.
"They might not score for five minutes."There were times when Albert and Guokas sat courtside with the game unfolding before their eyes and no viewers to describe it to; in those days, there was no international feed, no MSNBC or NBC Sports Network to switch to. Print reporters who'd opted for deadline reasons to watch the game on TV in the press room under the Garden stands had no choice but to make their way into the arena so they could see what was going on. At the same time, fans were streaming up the aisles in search of any TV they could find on the concourse."The only people in the country who were seeing the game," Best said, "were the people in the arena."The game would register a pathetic 7.8 Nielsen rating, the lowest-rated Finals game of the decade and, at the time, the worst since the Bird-Magic era began in 1979."The topic was not about the Finals," Olajuwon said. "This was a shock to the nation. It shifted the focus, the attention, from the Finals to that incident for a while."
BLOCKED BY A FINGERNAIL
With the Knicks' home-court advantage in danger of being sabotaged, Checketts considered whether he had the power or capability to cut off the TV signal into the arena. "It was our building, right?" said Checketts, who decided against the idea. Upstairs in the press seats, longtime NBA reporter Mike Monroe was getting hassled by some Rockets employees who were angry that some writers had switched their TV monitors to CNN."Of all the NBA Finals I've covered -- dozens and dozens -- there was nothing like it," said Monroe, then with the
Denver Post
. "The game was secondary, really, to what was going on."NBC switched between Game 5 of the Finals and the Bronco chase, an unprecedented moment in sports television. Eventually, most markets got the infamous split screen -- the Knicks and Rockets relegated to a small box, superimposed on the Bronco chase. About 10 percent of NBC's markets stuck with the chase, according to a 1994 story in the
Los Angeles Times.
"You just saw the televisions on the sideline and the chase going by. And I'm screaming on the bench, 'Hey guys, O.J.'s on the run!' And they're like, 'What?' " In the middle of the NBA Finals, we're talking about O.J. on the run."
"I was just more worried that it was sad that our fans weren't going to get to see the game," Stern said. "It was completely disruptive."The players and coaches were largely oblivious, though Smith, the Rockets' point guard, remembers glancing at the TV monitors at the scorer's table as he went to and from the bench for timeouts. "There wasn't Twitter; there wasn't Instagram," Smith said. "We're getting bits and pieces of what was going on. You just saw the televisions on the sideline and the chase going by. And I'm screaming on the bench, 'Hey guys, O.J.'s on the run!' And they're like, 'What?' " In the middle of the NBA Finals, we're talking about O.J. on the run."At halftime, the Knicks walked off the court to a standing ovation with a 48-37 lead and quickly learned what the buzz in the arena was all about."Coach Riley is going through all his halftime preparations and guys are walking through the players' lounge and we're all looking at the TV," Starks said."When you mention the 1994 Finals," Cassell said, "that's what comes to mind -- the O.J. -- chase."
The Knicks won 91-84
, behind Ewing's best game of the series with 21 points, 12 rebounds and eight blocks. Olajuwon had eight turnovers."They were celebrating, like the Finals were over," Olajuwon said.The series would shift back to the Summit in Houston, where some of the most unforgettable moments in the history of both franchises would take place -- and where Ewing and Olajuwon would embrace in a moment of exhaustion and respect when it was over.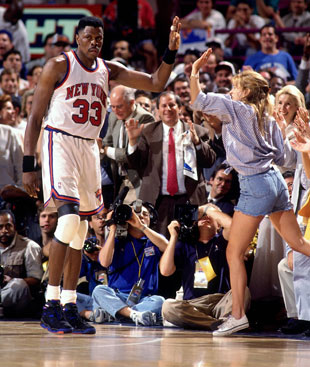 Ewing's best game of the series had New York one victory away from a long-awaited championship. But the series' most dramatic moment, and Knicks' heartbreak, awaited in Houston. (NBAE/Getty Images)
With the Knicks one win away from ending New York's second decades-long championship drought in a matter of days, Checketts had a vivid dream the night before Game 6 in Houston."I don't have dreams, but this was unmistakable," Checketts said. "I was in the locker room in Houston in my dream, wearing this blue sports coat that I wore once in a while with Knick colors and I was just getting sprayed with champagne like crazy. So I made sure I wore that sports coat to Game 6."Deep into the night, Checketts' premonition had a chance to come true on the wings of an electrifying performance from the Knicks' heart and soul. Starks, the feisty guard from Tulsa, Okla., couldn't miss in Game 6. He had already etched his name in Knicks history in the previous postseason with his iconic, left-handed dunk on Horace Grant and Jordan in Game 2 of the Eastern Conference Finals. He was just the sort of streaky, combustible performer who could shoot you into a playoff series -- and shoot you right out of one, too."It was very difficult watching him take tough shots and make them," Olajuwon said.Despite Starks' onslaught, the Knicks trailed by seven with 3:18 left. The normally dependable Charles Oakley had grabbed a defensive rebound and thrown a court-length outlet pass for Starks out of bounds. Smith, who'd been handcuffed all series by Harper, drilled a 3-pointer at the other end for an 84-77 lead.Starks brought the Knicks back, scoring 16 of his 27 points in the fourth in a stunning display of shot-making and playmaking. He also had eight assists. He was unstoppable."He was as hot as anybody I've ever seen in the Finals," said Carroll Dawson, Tomjanovich's lead assistant who would later become the Rockets' GM.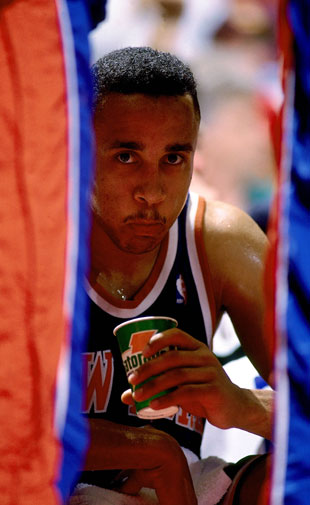 In the fourth quarter of Game 6, not even Gatorade could cool off hot-shooting Knicks guard John Starks. He and his team stood one made basket from a championship when Pat Riley called a pick-and-roll that changed the course of history ... and Starks' career. (NBAE/Getty Images)
The Knicks trailed 86-84 with 5.5 seconds left. Starks and Ewing have been living with what happened next ever since.Checketts, in the blue blazer from his dream, was sitting in the first row of permanent seats at midcourt, opposite the benches. Perhaps only Tomjanovich had a better view of the play that would turn the Finals in the Rockets' favor."It was right there in front of me," Tomjanovich said.Out of the timeout, Oakley inbounded the ball to Starks on the left wing. The Rockets were expecting a pick-and-roll, and that's exactly what they got when Ewing loped out of the lane with those long strides and set a screen on Vernon Maxwell.Riley got two unintended consequences out of the play that he'd drawn up. First, by using Ewing to set the screen, he lured Olajuwon into the play. Second, when Ewing set the pick on Starks' left side, Olajuwon's belief that Starks would take the shot only grew."He'd normally come up and set the pick on the right side and I'd normally come off to my right hand," Starks said. "This time, I came off to my left hand. Normally, when I come off to left hand, I'm going to shoot the ball."The Rockets played it the way they had all series, with what they called a "contact show." Olajuwon would show hard on the screen and make contact with the screener to obstruct his roll to the basket, then close out to the ball-handler."I wasn't going to stick with Patrick because of the way (Starks) had been shooting," Olajuwon said. "He was shooting it. So that's when I switched and tried to get to him, just to distract him. That was a golden opportunity."Starks came off the screen and took two dribbles to his left. The graceful Olajuwon briefly stumbled as he tried to change direction and get to Starks, who rose up from beyond the 3-point line. He was only 6-foot-3, if that, but Starks had uncanny lift on his jump shot."I had stood up, ready to celebrate; ready for my dream to come true," Checketts said. "It was literally a nail on one of his fingers that got it. That one fingernail took it away from us."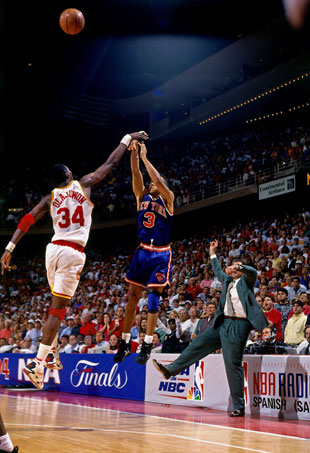 Starks was open briefly, coming off a screen by Ewing, but the agile Olajuwon closed the ground quickly to deflect the shot and force a seventh game in Houston. (NBAE/Getty Images)
Years later, Ewing found himself working as an assistant coach with the Rockets under Jeff Van Gundy, who was an assistant under Riley in '94. Every day when he came to work, Ewing had to look at a still photo in the players' lounge of Olajuwon lunging toward Starks and deflecting that shot."The first day I got there, I called up John," Ewing said. "'You S.O.B., I'm standing there at the free throw line, wide open, and you didn't throw it to me!' I was wide open, but hindsight is 20-20.""He tells me that all the time," Starks says, re-living the
86-84 Game 6 loss
, "that he's driving down the lane, rolling down the lane, and that he was open."None of this was a surprise to Kenny Smith, who'd seen Olajuwon make dozens of plays in practice just like this one."No other center was able to guard the pick-and-roll for a dribble and then block the shot," Smith said. "No one else in the league at that time could do that. There's no one today who could do that. Zero."
Between Games 6 and 7 in Houston, the Knicks had another party for the media -- this time, renting out the Johnson Space Center. Stern remembers the streets of Houston being abandoned in the hours before the seventh game.
And if Starks had passed to Ewing? In the what-if world where Starks and Ewing have been living for 20 years, Smith said it wouldn't have mattered."He would've been able to get back and block the shot," Smith said. "I've seen it. We saw it in practice. He was a point guard in a 6-10 body."Tomjanovich can only laugh now as he recalls the elation he felt -- the enduring image of him running onto the court in "that weird green suit," he said."Boy, what a relief that was," Tomjanovich said.
GAME SEVEN: DREAM'S REDEMPTION
"The town was as quiet as can be," Stern said. "There was nothing on the streets. People were either going to the arena or going to their homes to watch the game. Weddings were canceled, as I recall."For Starks, who's been running Olajuwon's block back in his mind for 20 years, those two days between games had been impossibly long."I didn't go out there and play a relaxed game like I did in the six games before then," Starks said. "I just was thinking about that game for the last two or three days before (Game 7) started. And when I come into a game not relaxed like I normally am, I don't play as well. And obviously, it showed."The clutch, confident player who'd shot the Knicks to the brink of a title in Game 6 didn't make it to Game 7. Starks' body did, but there was nothing inside."For so long, I was just running away from that game," Starks said. "And when you run from things like that, it tends to come back and bite you."The shots that had gone in with such deadeye precision for Starks, at such crucial moments of Game 6, were clanging off the rim in the series' deciding game. One after another after another after another, he kept shooting -- and kept missing.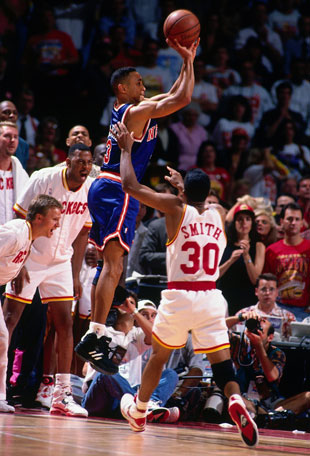 In Game 7, Starks kept shooting ... and missing ... and shooting ... and missing. (Getty Images)
When it was over, Starks was 2-for-18 in Game 7 -- 0-for-11 on 3-point attempts and 1-for-10 in the fourth quarter. Ewing and the Knicks
had fallen short, 90-84.
"They staggered us," Ewing said, "and we weren't able to recover."The enduring moment of the series came after the horn, when Ewing and Olajuwon embraced on the court. Starks never saw it; he was so distraught that he walked off the floor without stopping to shake anyone's hand."It was just something that was like turning my soul, because this is something that as a kid you dream about doing -- playing in a Game 7 and performing at a high level," Starks said. "And unfortunately, I wasn't able do that."
"It was just something that was like turning my soul, because this is something that as a kid you dream about doing -- playing in a Game 7 and performing at a high level. And unfortunately, I wasn't able do that."

Starks stayed in the shower for well over an hour, trying to wash the game away. Best and David Steele of
Newsday
-- which had earlier final deadlines than the other New York tabloids -- were the only New York-based print reporters in the Knicks' locker room when Starks finally emerged, crestfallen but ready to talk. Of course, there was no website on which to publish their scoop."He comes strolling out at like 1 in the morning, and nobody else had him," Best said. "We had John Starks and nowhere to put it."Starks, who now does alumni relations and fan development for the Knicks, still gets asked more on the street about his famous dunk against the Bulls than about his meltdown in Game 7. He was never the same player -- never made another All-Star team or averaged close to the 19 points per game he averaged in '93-'94. No goat in NBA Finals history is more beloved by his team's fans."It's just impossible to get angry at John Starks, because John played with his whole heart and soul every game," Checketts said. "But I was really angry at Riles for leaving him on the floor in the fourth quarter when he was 1-for-10 and Hubert Davis and Rolando Blackman were on the bench."Riley, now the president of the Miami Heat, declined to be interviewed for this story. Over the years, though, he has admitted that not playing Blackman -- a savvy, sharpshooting veteran who'd had success in his career against Olajuwon's Rockets -- was a mistake."The biggest mistake I ever made," Riley told the
New York Daily News
in 2006.Blackman, who has served as an assistant coach, broadcaster and now director of basketball development for the Mavericks, has moved on to more satisfying pursuits. His 13-year NBA career -- 11 with Dallas and two with the Knicks -- ended with all zeroes next to his name after the '94 Finals. He didn't play a minute in the series."I was hoping like hell that John would be able to come through," said Blackman, who now serves as global ambassador for the United Nations' Office of Drugs and Crime. "Life is life. The important thing is, we were all squarely behind John. Those of us on the bench didn't earn enough trust from the coaches to get in the game."Blackman finished his career in Europe, winning the Italian League championship with Milan. He and Riley have never spoken about the decision to leave him on the bench in Game 7 while Starks shot the Knicks out of the Finals."I was ready to perform, ready to try and do my very best," Blackman said. "Don't look for someone who was scared on the bench. That wasn't me."He's received letters from Riley over the years, to which he never responded."He knows I was a warrior, ready to go," Blackman said. "No grudges whatsoever."Statistically, Olajuwon had dominated Ewing, averaging 26.9 points, 9.1 rebounds, 3.9 blocks and 3.6 assists while shooting 50 percent from the field. Ewing averaged 18.9 points, 12.4 rebounds and 4.3 blocks while shooting only 36 percent. For Olajuwon, it was redemption for his loss to Ewing 10 years earlier.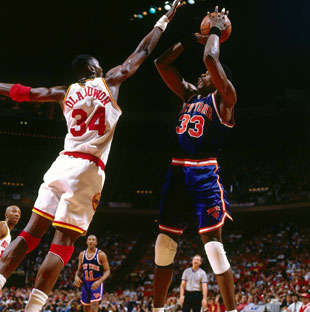 Ten years after losing to Ewing in the NCAA Championship Game, Olajuwon won the individual duel and the team championship in the NBA Finals. No one knew it then, but they would not meet again with a championship at stake. (NBAE/Getty Images)
"All eyes were on us," Ewing said. "He was just able to outplay me in that series."For Dawson, the Rockets' top assistant, the memory that will stick with him forever came long after the celebration and the champagne."I was walking out of the arena underneath the Summit and I was with Olajuwon and we were leaving," Dawson said. "And he saw Patrick over there under the awning, and he walked over and they hugged and they talked a minute. And I thought, 'Wow. Patrick won the big prize in the NCAA and Dream won the big prize in the NBA. I guess they're even.' "Little did Dawson know that it would be the last time the two giants would battle for a championship -- or that seven years later, he'd be the GM of the Rockets when they would have to trade Hakeem Olajuwon. Glen Grunwald's phone rang, and it was Dan Fegan on the other end.
UNHAPPY ENDING
Fegan, one of the most influential NBA agents, represented Olajuwon in the summer of 2001. The Rockets had just finished their second consecutive season out of the playoffs. This is what Fegan was calling to discuss.Grunwald, the GM of the Toronto Raptors, flew to Houston with coach Lenny Wilkens. Olajuwon was a free agent and didn't want to re-sign with the Rockets. The growing perception was that the fading Olajuwon had reached the end of a brilliant career. Olajuwon and Fegan thought otherwise. Grunwald and Wilkens thought they'd been given an unexpected gift."We never really thought that Olajuwon would leave Houston," Grunwald said, "so it wasn't really at the top of our plans."The Raptors had a strange team anchored by the high-flying Vince Carter and some castoffs from past contenders -- Charles Oakley and Chris Childs from the Knicks, Antonio Davis from the Pacers and Kevin Willis from the Rockets. Toronto had won 47 games in 2000-01 and lost in the second round in seven games to Allen Iverson's Philadelphia 76ers, who later lost to the Lakers in the Finals."We thought maybe if we had a center, it would give us a little more versatility on the front line," Grunwald said.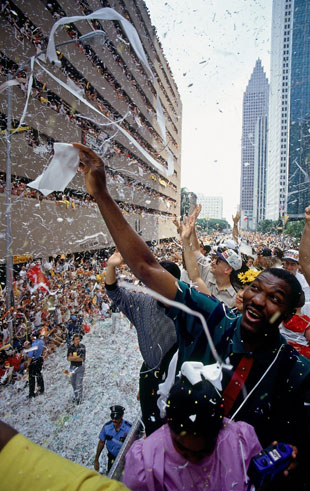 Olajuwon and the Rockets celebrated another championship in 1995 but that was the peak of his powers. (NBAE/Getty Images)
They met at a Houston hotel and had lunch or dinner; Grunwald doesn't remember which. Whatever it was, it went well. Wilkens had coached Olajuwon on the 1996 U.S. Olympic team, and the two men reconnected with ease."We tried to sell Hakeem that he could help push us to the next level and play a prominent role on our team," Grunwald said. "And being an international player and helping an international franchise improve was another aspect of it."And of course, there was something else."I think we were willing to pay more money," Grunwald said. "Our cap situation was different than Houston's at that time."The other party to the negotiation was Dawson, who'd moved from assistant coach to GM of the Rockets in 1996. Years earlier, Dawson and Tomjanovich had been playing golf when Dawson got hit by lightning. He lost the vision in his left eye, and his right eye was in bad shape. It was Dawson who'd persuaded Tomjanovich to take over as head coach of the Rockets during the 1991-92 season after Don Chaney had been fired."I couldn't take the job; it got to where I couldn't see the other side of the court," Dawson said. "I wound up saying to Rudy, 'Listen: We've got 30 games left this year and I'll teach you everything I know and you'll do this.' He looked at me and said, 'You don't know enough to get me to take this job.'"But Tomjanovich did, and the rest was Houston history. The Rockets made it back to the Finals in '95 and swept the Orlando Magic of Shaquille O'Neal and Penny Hardaway for their second straight title. Now, Olajuwon's time in Houston was coming to an end."I wasn't trying to get rid of him; I was trying to keep him," Dawson said. "I was trying to get every bit of money I could."
"In a perfect world, you wish it would've ended a different way. But that's the way it ended."
But on Aug. 2, 2001, the Rockets agreed to send Olajuwon to Toronto for a first- and second-round pick. Olajuwon agreed to a three-year, $17 million deal with the Raptors as part of the sign-and-trade arrangement, but was only able to play one more season. Hobbled by the scars of an 18-year career, including a blood condition that forced him to miss the final month of what turned out to be his last season with the Rockets, Olajuwon averaged only 7.1 points and six rebounds in his only season in Toronto."In a perfect world," Tomjanovich said, "you wish it would've ended a different way. But that's the way it ended."PROMISE UNFULFILLEDOver the years, Checketts and the Knicks had flirted on two occasions with losing their own franchise player. In 1991, the Golden State Warriors were plotting to restructure Chris Mullin's contract so he'd push Ewing out of the four highest-paid players in the league -- which would've triggered a clause making Ewing a free agent."He could've gone to Golden State for a huge number and played with Tim Hardaway and Chris Mullin," Checketts said. "I'm sure they would've won it."The Knicks threatened to slap the Warriors with a tampering charge, so Golden State backed off. New York then won a related arbitration case, keeping Ewing in a Knicks uniform. Without having to, Checketts signed Ewing to a two-year extension as a show of good faith."Dave was pretty loyal to Patrick," said Ewing's longtime agent, David Falk.Five years later, in the mammoth free-agent summer of 1996, O'Neal's agent, Leonard Armato, called Checketts and said that if the Knicks traded Ewing, Shaq would sign with New York."Leonard was telling me in no uncertain terms that he wants to come to New York," Checketts said. "And I was just trying to figure out how I'd live with the headlines if I'd traded Patrick and hadn't signed Shaq. That's a career-ending move."Checketts engaged in trade discussions -- but quietly, so as not to upset Ewing."We only dealt with GMs we trusted," Checketts said. "Because we knew there were certain guys in the league that if you placed one call, it was going to be in (New York Postwriter) Peter Vecsey's column the next day."The trade talks never got serious, and Ewing stayed. O'Neal left Orlando and signed with the Lakers. The Knicks added Houston and Childs in free agency and acquired Larry Johnson from Charlotte for Mason. Even with Jordan back with the Bulls, the Knicks felt they had their best chance yet to deliver on the championship mandate that had come with drafting Ewing in 1985.Oh, that's right: Jordan was back.When Ewing and Olajuwon had battled for the '94 championship, Jordan's absence somehow diminished the event. In retrospect, Jordan even overshadowed the Rockets' second title in '95, when Houston easily handled the Orlando team that had beaten the Bulls, with Jordan wearing No. 45."We wanted to play the Bulls; we really did," Kenny Smith said. "We swept the team they couldn't beat."With or without Jordan, Smith said the Bulls of that era "could not handle us." Of course, we'll never know -- a part of the story that Olajuwon has come to accept."I don't think I have to prove my championship," Olajuwon said. "When you talk to people that have been there (and know) what it takes to win a championship, they appreciate it."With Jordan back at the height of his powers by '96-'97, the Knicks believed they finally had enough talent to get past him. Instead, it was the old Knicks coach, Riley, now with the Miami Heat, who stood in the way. To this day, Checketts blames Stern for denying the Knicks their best chance at a title with all those suspensions in the conference semifinals against Miami."That team, before the commissioner derailed it, was one of the best teams of the whole decade," Checketts said.It was also Ewing's last, best shot to win a championship. The Knicks made it back to the Finals only once, in the lockout-shortened '98-'99 season. They lost to the Spurs without Ewing, who was sidelined with a partially torn Achilles' tendon."Losing to Houston was tough," Ewing said. "But the one that hurts the most was losing to San Antonio and not being able to play."Like Olajuwon, the great Ewing was breaking down. As it turned out, he had only one season left in New York, and it ended with more heartbreak -- a 4-2 loss to the Pacers in the conference finals. That summer, Ewing decided he wanted out."There was a lot of grumbling by some of the other players that he was getting old, he was clogging up the middle, getting too many shots," Falk said. "And it came back to him , and I think it just became a situation where he'd been there a long time and he'd always loved basketball and it wasn't fun. It wasn't fun for him to play in that type of environment."The people grumbling really had no right to grumble," Falk said. "They weren't of his stature."One was Latrell Sprewell, Falk said. He wouldn't name the other one. Nonetheless, with so much invested in Ewing's career in New York, Falk tried to talk his client out of leaving."I lobbied Patrick as hard as I could to stay," Falk said.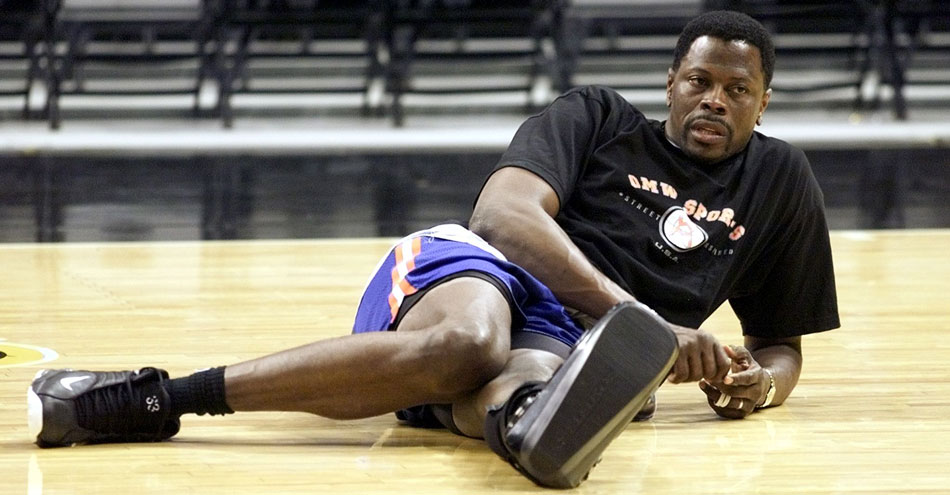 A partially torn Achilles' tendon kept Ewing from playing in the 1999 Finals. (Getty Images)
It was no use; Ewing was done with the Knicks. After a meeting between Falk and Checketts, they concluded it was time for a change. On Sept. 20, 2000, Ewing was sent to Seattle in a massive, three-team deal that signaled the end of an era."It was a mutual decision, and I think, a mutual mistake," Falk said. "I don't blame anyone for that. I don't blame Patrick, I don't blame Dave."Like Olajuwon, Ewing would play out his days in the shadow of greatness, in a city not his own. Neither found what he was looking for. After a nondescript season in Seattle and another in Orlando, Ewing retired in 2002 as one of the all-time greats -- who never won an NBA title.
STILL FRIENDS, FROM A DISTANCE
They're not the type of friends who call each other on the phone. Their connection is so much deeper than small talk, so much more enduring than a text message. When they see each other -- when Ewing travels to Houston as the lead assistant with Jordan's team, the Charlotte Hornets -- they smile and embrace and talk about the memories that have forever tied them to each other."You can't talk about my career without talking about Patrick," Olajuwon said.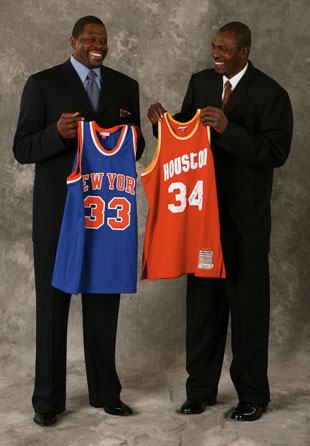 Ewing and Olajuwon went into the Hall of Fame together in 2008. (NBAE/Getty Images)
They reminisce about the old days, and lament how much the game has changed. Almost all the big men are gone."They're extinct," Olajuwon said.A dinosaur they called Dream returned for a cameo in 2013, joining Stern for his final draft as commissioner. Thirty years earlier, Stern's career had begun with a coin flip in his office -- with former commissioner Larry O'Brien's carpeting still on the floor -- to award the No. 1 pick to the Rockets over the Trail Blazers. Now, here came Olajuwon onto the stage once more to usher him out. After Stern had announced his last pick, Serbian guard Nemanja Nedovic, incoming commissioner Adam Silver introduced the surprise guest -- wearing the same combination of black tux and red bow tie that he'd worn on draft night 30 years ago."He still fits into the same tuxedo he wore in 1984," Stern said.Olajuwon now works for the Rockets, mentoring players and doing summer coaching sessions with such stars as LeBron James, Carmelo Anthony and Dwight Howard -- teaching the lost art of playing in the post. He wants no part of the day-to-day coaching life that Ewing has embraced; there are real estate deals to make and a new apparel line coming out. Last month, the NBA named Olajuwon its Ambassador to Africa. A devout Muslim, he also spends several months a year at his mountain home in Amman, Jordan."I really enjoy that freedom," Olajuwon said.Ewing keeps grinding, keeps searching for the championship that got away. As Charlotte's associate head coach, his days are filled with video breakdowns, on-court drills, and most important, the competition that sustains him. For Ewing, there is still work to be done, a goal unfulfilled."I enjoy the fact that I'm still giving back to the game," Ewing said. "If I wasn't doing this, what else am I going to be doing? I'm still young. I'm still living a productive life. And I have a goal to try to become an NBA head coach. That's my desire, my dream."During his 15 seasons in New York, the Knicks made the playoffs 13 times, the Finals twice and the conference finals four times. In the 14 seasons since, they've made the playoffs five times and advanced past the first round only once. Despite a decade of experience as an NBA assistant, the only job the Knicks have ever offered the greatest player in franchise history is coaching their D-League team. Insulted, Ewing declined."It's fair to say the fans appreciate Patrick way more after he left than when he was there," Falk said.The appreciation and bond that Ewing and Olajuwon have for each other, though, can never be broken.
"I beat him in college, he beat me in the NBA. I'm still mad about it. I got him on one level, he got me on the next level."
"When we both got inducted into the Hall of Fame, we were both reminiscing about the battles that we had and how much we respect each other and the fact that we brought it out in each other," Ewing said. "I told him once, I beat him in college, he beat me in the NBA. I'm still mad about it. I got him on one level, he got me on the next level."From the '84 championship game to the '94 Finals to the Hall of Fame and beyond, Ewing and Olajuwon walked side by side, though not full circle. There was one more chapter we needed and wanted as much as they did, the only way to settle a score that will never be settled.